For complete online access to
new issues of Touchstone, subscribe today!
---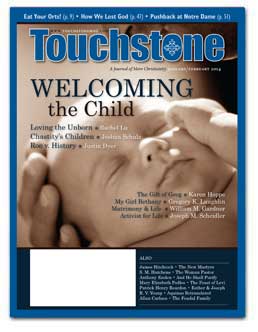 The New Martyrs
by James Hitchcock



Contours of Culture /
From Heavenly Harmony
It's a Wonderful World
by Ken Myers

Mortal Remains
The Quandary of the Good Woman Pastor
by S. M. Hutchens

Illuminations
And He Shall Purify
by Anthony Esolen

A Thousand Words
The Feast in the House of Levi
by Paolo Caliari (Veronese)
by Mary Elizabeth Podles

As It Is Written...
Esther & Joseph
by Patrick Henry Reardon



Forward Progress
Return to Order: From a Frenzied Economy to an Organic Christian Society
by John Horvat II
A review by Allan Carlson

Fallen Family
How the West Really Lost God: A New Theory of Secularization
by Mary Eberstadt
A review by C. R. Wiley

A Science of Man
Treatise on Human Nature: The Complete Text (Summa Theologiae I, Questions 75–102)
by Thomas Aquinas, translated by Alfred J. Freddoso
A review by R. V. Young

For Notre Dame
Battling for the Heart and Soul of a Catholic University
by Wilson D. Miscamble, C.S.C.
A review by James Hitchcock



Chastity's Children
Sexual Reality, Procreation & the Wisdom of Virtuous Love
by Joshua Schulz

Love's Beckoning
Loving the Unborn Is Difficult but Necessary If Human Love Is to Survive
by Rachel Lu

Roe v. History
How the U.S. Supreme Court Falsified the Record of Legislation Protecting Life
by Justin Dyer



The Gift of Greg
Karen Hoppe on My Special-Needs Son as an Agent of Grace

Worthy of Life
Gregory K. Laughlin on the Wrong Choices Given to Parents of Disabled Children

Multiplication Tabled
William M. Gardner on the Problem of Preaching About "Responsible Parenthood"



Activist for Life
An Interview with Joseph M. Scheidler



Every issue of Touchstone also contains short commentaries by our editors, notices of books you should know about, and our spirited letters section.