For complete online access to
new issues of Touchstone, subscribe today!
---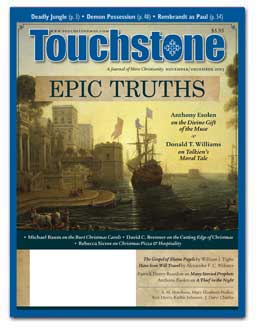 At Dusk in the Jungle
by Anthony Esolen



Contours of Culture /
From Heavenly Harmony
On Earth As It Is in Heaven
by Ken Myers

Mortal Remains
What the Documents Say
by S. M. Hutchens

First Books
A Change of Place
by Kathie Johnson

Illuminations
Like a Thief in the Night
by Anthony Esolen

A Thousand Words
Rembrandt van Rijn's Self-Portrait as the Apostle Paul
by Mary Elizabeth Podles

As It Is Written...
The Many Storied Prophets
by Patrick Henry Reardon



The Christian Reason
Imaginative Apologetics: Theology, Philosophy and the Catholic Tradition
edited by Andrew Davison
A review by J. Daryl Charles

The Devil, You Say
I Am Not Afraid: Demon Possession and Spiritual Warfare
by Robert H. Bennett
A review by Timothy R. Furnish



A Divine Gift of the Muses
The Great Epics Are Theological & Mark the Hard Path to Beatitude
by Anthony Esolen

The Gnostic Evangelist
The Neo-Gnostic "Alternative Christianity" of Elaine Pagels
by William J. Tighe

Have Icon, Will Travel
The Ministry of an Orthodox Army Chaplain in Southwest Asia Post-9/11
by Alexander F. C. Webster



The World of the Rings
Donald T. Williams on Why Peter Jackson Was Unable to Film Tolkien's Moral Tale

Grace & Truce
David C. Brenner on the Cutting Edge of God's "Peace on Earth"

The Burt Carols
Michael Baum on the Musical Gifts of a Jazz Musician's Christmas Cards

My Favorite Party
Rebecca Sicree on Christmas Pizzas, Hospitality & the Best Gift of All



Every issue of Touchstone also contains short commentaries by our editors, notices of books you should know about, and our spirited letters section.