For complete online access to
new issues of Touchstone, subscribe today!
---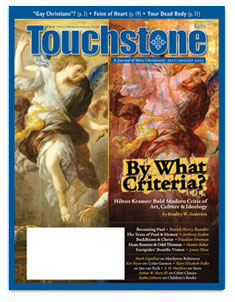 Just Christians
by S. M. Hutchens



Contours of Culture /
From Heavenly Harmony
Trinity & Modernity
by Ken Myers

First Books
Cooney & Rylant
by Kathie Johnson

Illuminations
Patriot Dust
by Anthony Esolen

A Thousand Words
Jan van Eyck's The Madonna in a Church
by Mary Elizabeth Podles

As It Is Written...
Amos into Scripture
by Patrick Henry Reardon



God's Child
The Odd Thomas Series
by Dean Koontz
A review by Hunter Baker

Primary Graces
When I Was a Child I Read Books
by Marilynne Robinson
A review by Mark Gignilliat

Can These Bones Live?
The Anticipatory Corpse: Medicine, Power, and the Care of the Dying
by Jeffrey P. Bishop
A review by Raymond Barfield



Pauline Scholar, Meet Homeric Scholar
How Textual Analysis Misses Authorial Genius & Literary Inspiration
by Anthony Esolen

Euripides' Beatific Vision
An Ancient Greek Drama Awakened a Powerful New Longing in Its Audiences
by James Ware

Kramer's Criteria
Hilton Kramer's Life of Cultural Discernment Meant Speaking Truth to Art
by Bradley W. Anderson

The Door to Paradise
A Christian Reflection on the Attractions & Shortcomings of Buddhism
by Franklin Freeman



On the Road to Paul
Patrick Henry Reardon on Why the Apostle to the Gentiles Changed His Name

Notes on the Sect System
S. M. Hutchens on the Unchristian Maneuvers of the Sectarian Mind

Cyber Schooling
Arthur W. Hunt III on Internet Universities & Flesh-and-Blood Teachers

Feint of Heart
Kenneth D. Whitehead on a So-Called Truce in the War Against Marriage



Every issue of Touchstone also contains short commentaries by our editors, notices of books you should know about, and our spirited letters section.