For complete online access to
new issues of Touchstone, subscribe today!
---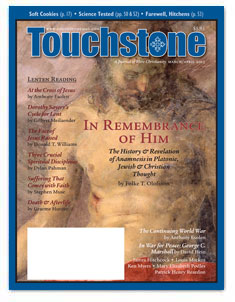 The New Heretics
by James Hitchcock

The Fog of Money
by S. M. Hutchens



Contours of Culture /
From Heavenly Harmony
Mission Conversion
by Ken Myers

Illuminations
At the Cross of Jesus
by Anthony Esolen

A Thousand Words
Poussin's The Holy Family on the Steps
by Mary Elizabeth Podles

As It Is Written...
The Gospel of Isaiah
by Patrick Henry Reardon



The End Is Clear
Death and Afterlife: A Theological Introduction by Terence Nichols
A review by Graeme Hunter

Imperial Science
Where the Conflict Really Lies: Science, Religion, and Naturalism by Alvin Plantinga
A review by Louis Markos

Diabolical Science
The Devil's Delusion: Atheism and Its Scientific Pretensions by David Berlinski
A review by Matthew Dowling

Not Lost for Words
Mortality by Christopher Hitchens
Farewell Fear by Theodore Dalrymple
A review by Matthew Walther



All This in Remembrance
The History & Revelation of Anamnesis in Platonic, Jewish & Christian Thought
by Folke T. Olofsson

Faith Against Faith
Whittaker Chambers, Potemkin Villages & the Ongoing War
by Anthony Esolen

In War for Peace
General George C. Marshall's Core Convictions & Ethical Leadership
by David Hein



Hard to Reach
S. M. Hutchens on Clarity, Mystery & Their Demands on Preachers & Hearers

The Greatest Drama Ever
Gilbert Meilaender on Reading Dorothy Sayers's Play Cycle for Lent

Body of Evidence
Donald T. Williams on Liberal Klingons & the Hard Facts of Christian Faith

The Yeast We Can Do
Dylan Pahman on Two Kinds of Leaven & Three Spiritual Disciplines

No Dead Man's Prayer
Stephen Muse on the Suffering of Faith & the Paradox of Psalm 88



Every issue of Touchstone also contains short commentaries by our editors, notices of books you should know about, and our spirited letters section.