For complete online access to
new issues of Touchstone, subscribe today!
---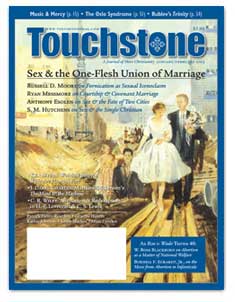 Same Country, Different Worlds
by Anthony Esolen



Contours of Culture /
From Heavenly Harmony
Recognition of Disconnection
by Ken Myers

First Books
Reliable Authors of Picture Books
by Kathie Johnson

Illuminations
A Musical Work of Mercy
by Anthony Esolen

A Thousand Words
Andrei Rublev's The Trinity
by Mary Elizabeth Podles

As It Is Written...
The Reader of Hearts
by Patrick Henry Reardon



Shared Treasure
Luke
by David Lyle Jeffrey
A review by Graeme Hunter

Matter & Humanity
The Mind and the Machine: What It Means to Be Human and Why It Matters
by Matthew Dickerson
A review by J. Daryl Charles

Heart Work
Mere Apologetics: How to Help Seekers & Skeptics Find Faith
by Alister E. McGrath
A review by Louis Markos

The Oslo Syndrome
Peace, They Say: A History of the Nobel Peace Prize, the Most Famous and Controversial Prize in the World
by Jay Nordlinger
A review by Bradley W. Anderson



Scarborough Needs Men
Manly Chastity, Hedonism & the Law of Non-contradiction
by Anthony Esolen

An Engaging Proposal
Lessons on Courtship & Covenantal Marriage from Ancient Israel
by Ryan Messmore

Lost & Found in the Cosmos
The Alternate & Alternative Worlds of H. P. Lovecraft & C. S. Lewis
by C. R. Wiley



The Destroyer of Peace
W. Ross Blackburn on Abortion as a Matter of National Welfare

Interlocking Hearts
S. M. Hutchens on the Consequential Metaphysics of Sexual Union

Sexual Iconoclasm
Russell D. Moore on Christian Honesty About the Harm of Fornication

Nursery Crimes
Burnell F. Eckardt, Jr on the Move from Abortion to Infanticide

Going Home
Brian Crocker on Hometown Reunions & the End of All Our Foes



Every issue of Touchstone also contains short commentaries by our editors, notices of books you should know about, and our spirited letters section.