For complete online access to
new issues of Touchstone, subscribe today!
---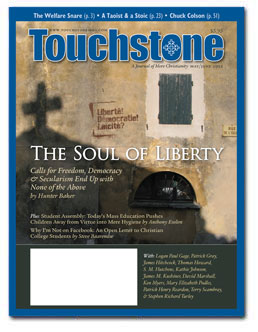 The Welfare Snare
by James Hitchcock

Party Over Time
by S. M. Hutchens

If They Perish
by James M. Kushiner



Contours of Culture /
From Heavenly Harmony
Musical Measures
by Ken Myers

First Books
You Decide!
by Kathie Johnson

Illuminations
In the Key of Christ
by Anthony Esolen

A Thousand Words
Leonardo da Vinci's Vitruvian Man
by Mary Elizabeth Podles

As It Is Written...
The Victorious Procession of Christ
by Patrick Henry Reardon



America's Theologian
The Theology of Jonathan Edwards by Michael J. McClymond and Gerald R. McDermott
A review by S. M. Hutchens

Life on Purpose
The Good Atheist: Living a Purpose-Filled Life Without God by Dan Barker

Surprised by Meaning: Science, Faith, and How We Make Sense of Things by Alister E. McGrath
A review by Logan Paul Gage

Silenced Partner
Alfred Russel Wallace: A Rediscovered Life by Michael A. Flannery
A review by Terry Scambray

Knowledge Revival
Beauty for Truth's Sake: On the Re-enchantment of Education by Stratford Caldecott
A review by Stephen Richard Turley



Student Assembly
Today's Mass Education Pushes Children Away from Virtue into Mere Hygiene
by Anthony Esolen

The Soul of Liberty
Calls for Freedom, Democracy & Secularism End Up with None of the Above
by Hunter Baker

About Face
Why I'm Not on Facebook: An Open Letter to Christian College Students
by Steve Baarendse



A Rabbi's Error
Patrick Henry Reardon on Jonathan Sacks's Mistake About Christians

Just Sayin'
Thomas Howard on What We Used to Know vs. What We Know Now

The Way of the Class
S. M. Hutchens on Suffering Education as a Discipline from God

Mars Hill Travelers
David Marshall on a Taoist, a Stoic & the Awareness of God

Interfaith Ignorance
Patrick Gray on Religious Illiteracy & Its Discontents



The Centurion
Prison Fellowship Founder Charles Colson's Final Mission for Christian Faith & Culture
by James M. Kushiner



Every issue of Touchstone also contains short commentaries by our editors, notices of books you should know about, and our spirited letters section.