For complete online access to
new issues of Touchstone, subscribe today!
---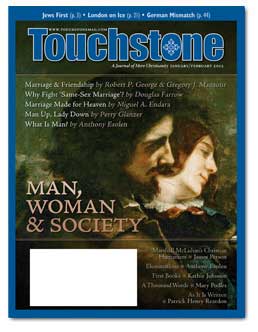 The Gift of the Jews
by Patrick Henry Reardon



Illuminations
Songs of Thankfulness & Praise
by Anthony Esolen

First Books
Discovering Old Favorites
by Kathie Johnson

Communiqué
A Grand Illusion
by Robert Carle

A Thousand Words
Rembrandt & the Speaking Image of Christ
by Mary Podles

As It Is Written...
God's Word & Me
by Patrick Henry Reardon



Pieper's Pearl
The Platonic Myths by Josef Pieper
A review by Graeme Hunter

For the Common Good
Good and Bad Ways to Think About Religion and Politics by by Robert Benne
A review by J. Daryl Charles

Poetry & Philosophy
Language Redeemed: Chaucer's Mature Poetry by David Williams
A review by Kathleen Curran Sweeney



Why Fight Same-Sex Marriage?
Is There Really That Much at Stake?
by Douglas Farrow

Marriage Made for Heaven
On Lust & the Proper Schooling of Sexual Desire
by Miguel A. Endara

The Medium Is the Mediator
The Christian Humanism of Marshall McLuhan
by James E. Person, Jr.



Marriage or Friendship?
Gregory J. Mansour Mansour & Robert P. George

What Is Man?
Anthony Esolen on What Raskolnikov Knew & Translators Have Lost

Man Up, Lady Down
Perry Glanzer Glanzer

Never Absolute Zero
David Haddon on Jack London's Failure to Keep Morality Out of "To Build a Fire"



Every issue of Touchstone also contains short commentaries by our editors, notices of books you should know about, and our spirited letters section.