For complete online access to
new issues of Touchstone, subscribe today!
---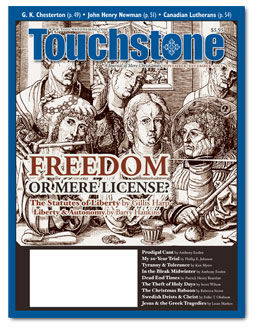 Prodigal Cant
by Anthony Esolen



The Leading Edge
Freed Science
by Phillip E. Johnson

Contours of Culture /
From Heavenly Harmony
The Tyranny of Tolerance
by Ken Myers

Illuminations
In the Bleak Midwinter
by Anthony Esolen

Communiqué
Lutheran Deformation
by Brad Everett

As It Is Written...
Sinners All
by Patrick Henry Reardon



A Measured Life
G. K. Chesterton: A Biography by Ian Ker
A review by James E. Person, Jr.

A Fine Awareness
Newman and His Contemporaries
by Edward Short
A review by Christopher White

Divine Morals
At the Roots of Christian Bioethics: Critical Essays on the Thought of H. Tristram Engelhardt, Jr.
edited by Ana Smith Iltis and Mark J. Cherry
A review by Joseph Huneycutt



Jesus & the Neo-Deists
Sweden's New Civil Church Is Not an Icon of Christ but a Mirror of Man
by Folke T. Olofsson

Ancient Crossroads
Intimations of Jesus Christ in the Greek Tragedies
by Louis Markos

Liberty, Conscience & Autonomy
How the Culture War of the Roaring Twenties Set the Stage for Today's Catholic & Evangelical Alliance
by Barry Hankins



Dead End Times
Patrick Henry Reardon on the Apocalyptic Fears of the Secularists

Statutes of Liberty
Gillis J. Harp on the Tyranny of Modern Freedom versus the Freedom of Jesus

The Devil's Calendar
Scott Wilson on a Stealthy Theft of Christian Holy Days

Food, Noise, Fire!
Rebecca Sicree on the Bethlehem Baboon & Other Christmas Traditions



Every issue of Touchstone also contains short commentaries by our editors, notices of books you should know about, and our spirited letters section.