For complete online access to
new issues of Touchstone, subscribe today!
---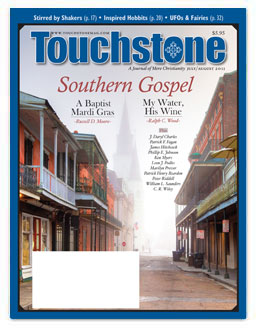 An Inconvenient Task
by Patrick Henry Reardon



The Leading Edge
The Pope & Intelligent Science
by Phillip E. Johnson

Contours of Culture /
From Heavenly Harmony
Bobos, but Not Paradise
by Ken Myers

Communiqué
Muddle East
by Peter Riddell

As It Is Written...
The Man of Prayer
by Patrick Henry Reardon



God & Freedom
Conservative Foundations of the Liberal Order
by Daniel J. Mahoney
God and the Atlantic
by Thomas Albert Howard
A review by James Hitchcock

Christ & Culture, II
To Change the World: The Irony, Tragedy, and Possibility of Christianity in the Late Modern World
by James Davison Hunter
A review by J. Daryl Charles

Woe Are We
Prodigal Nation: Moral Decline and Divine Punishment from New England to 9/11
by Andrew R. Murphy
A review by Franklin Freeman

Tudor Makeover
Wolf Hall
by Hilary Mantel
A review by Kiernan Schroeder



My Water, His Wine
A Small Life-Comedy in Four Acts
by Ralph C. Wood

Behind the Veil
The Truth We Don't Know About Fairies, Leprechauns, UFOs, ETs & Other Entities
by Marilyn Prever

Global Power Grab
The Cultural Marxists' Strategic Assault on Religion, Life & Family
by Patrick F. Fagan
& William L. Saunders



Reformed to Death
Leon J. Podles on the Future of Feminized Liberal Judaism

Stirred by Shakers
C. R. Wiley on the Elegant Errors of a Failed Sect

Godly Hobbits
Lance Nixon on the Pentecostalism of Tolkien's Inspired Heroes

Mardi Gras For All
Russell D. Moore on Growing Up Baptist Among Bible Belt Catholics



Every issue of Touchstone also contains short commentaries by our editors, notices of books you should know about, and our spirited letters section.