For complete online access to
new issues of Touchstone, subscribe today!
---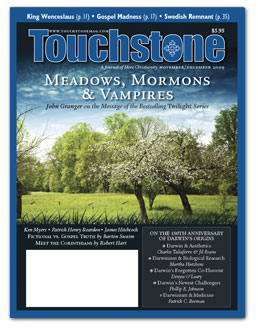 Citizen, Heal Thyself
by James Hitchcock



The Leading Edge
Content with Truth
by Phillip E. Johnson

Contours of Culture /
From Heavenly Harmony
Emotion Sickness
by Ken Myers

Communiqué
My Life with Darwin
by Martha Hutchens

As It Is Written...
Born One of Us
by Patrick Henry Reardon



A Better Selection
Alfred Russel Wallace's Theory Of Intelligent Evolution
by Michael Flannery
A review by Denyse O'Leary

Pious, Profane & Perplexed
The Plain Man's Pathways to Heaven: Kinds of Christianity in Post-Reformation England
by Christopher Haigh
A review by William J. Tighe

Looking for Logic
Writing That Makes Sense: Critical Thinking in College Composition
by David S. Hogsette
A review by Beth Impson

Three For All
Mere Humanity: G. K. Chesterton, C. S. Lewis, and J. R. R. Tolkien On the Human Condition
by Donald T. Williams
A review by Michael Bauman



That Corinthian Problem
The Long Reach of an Infamous First-Century Church
by Robert Hart

Mormon Vampires in the Garden of Eden
What the Bestselling Twilight Series Has in Store for Young Readers
by John Granger

The Origin of Aesthetics
Looking for Beauty & Justice 150 Years After Darwin's Classic
by Jil Evans
& Charles Taliaferro



Looking for Wenceslaus
Michael Baum on the Real Men Behind the Christmas Carol

Novel Ideas
Barton Swaim on the Fictional Value of "Things That Never Existed"

Charles Darwin, M.D.
Patrick C. Beeman on the Healing Arts as an Accessory to Evolution

Souls Bound & Unbound
Peter J. Leithart on the Surprising Madness of the Gospel



Remains of the Swedes
An Interview with Bishop Göran Beijer of the Mission Province of the Church of Sweden



Every issue of Touchstone also contains short commentaries by our editors, notices of books you should know about, and our spirited letters section.