For complete online access to
new issues of Touchstone, subscribe today!
---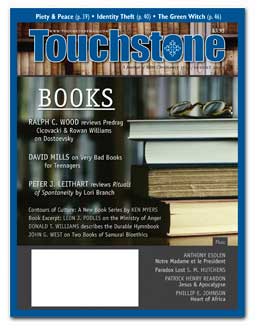 Notre Madame et le President
by Anthony Esolen



The Leading Edge
The Heart of Africa
by Phillip E. Johnson

Contours of Culture /
From Heavenly Harmony
Waiting for Epimenides
by Ken Myers

As It Is Written...
The Gospel Apocalypse
by Patrick Henry Reardon



The Green Witch
Narnia Altered by Climate Change at the Franklin Museum
by Kathryn Walker



Peace & Piety
World of Faith and Freedom: Why International Religious Liberty Is Vital to American National Security
by Thomas F. Farr
A review by Keith Pavlischek

Identity Theft
Being Catholic Now: Prominent Americans Talk About Change In the Church and the Quest for Meaning by Kerry Kennedy
A review by Christopher A. Castaldo



Bad Books for Kids
A Guide to the World of Youth Literature & What You Can Do About It
by David Mills

Russia's Gospel Writer
Dostoevsky & the Affirmation of Life by Predrag Cicovacki Dostoevsky: Language, Faith, and Fiction by Rowan Williams
by Ralph C. Wood

Freedom & Propriety
Rituals of Spontaneity: Sentiment & Secularism from Free Prayer to Wordsworth by Lori Branch
by Peter J. Leithart



Unhappy Fault
Leon J. Podles on the Integration of Anger into the Virtuous Life

Paradox Lost
S. M. Hutchens on Open Theism & the Easy Road to Heresy

Samurai Bioethics
John G. West on a Noble Defense Doomed by Darwinian Materialism

Durable Hymns
Donald T. Williams on Five Marks of Excellence That Could End the Worship Wars



Every issue of Touchstone also contains short commentaries by our editors, notices of books you should know about, and our spirited letters section.