For complete online access to
new issues of Touchstone, subscribe today!
---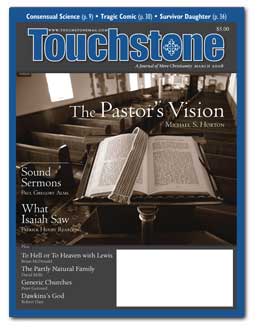 The Word Through Us
by Patrick Henry Reardon



The Leading Edge
Science by Consensus
by Phillip E. Johnson

As It Is Written...
Isaiah's Good Friday
by Patrick Henry Reardon



Tragic Comic
Schulz and Peanuts: A Biography
by David Michaelis
A review by Russell D. Moore

Philosopher's Tome
The Tasks of Philosophy: Selected Essays, Volume 1
Ethics and Politics: Selected Essays, Volume 2
by Alasdair MacIntyre
A review by Stewart Goetz

Everyman's Finale
October by Richard B. Wright
A review by Graeme Hunter

Greeks Bearing Gifts
From Achilles to Christ: Why Christians Should Read the Pagan Classics
by Louis Markos
A review by Ethan Cordray

Survivor Daughter
Out From Under: The Impact of Homosexual Parenting
by Dawn Stefanowicz
A review by Rory Leishman



From Meddling to Preaching
Three Ways to Expose the Partly Natural Family
by David Mills

Merely Saved or Merely Damned?
C. S. Lewis Dramatizes the Heart's Critical Choice
by Brian McDonald



All Crossed Up
Michael Horton on the Ordinary Ministry That Can't Corner the Market

Sounding Symbols
Paul Gregory Alms on Sermons That Survive by the Grace of God

Ready, Willing, Unlabeled
Peter Geromel on Dollar Store Churches

Dawkins's God
Robert Hart on a Famous Atheist Who (Almost) Sounds Like Augustine



Every issue of Touchstone also contains short commentaries by our editors, notices of books you should know about, and our spirited letters section.