For complete online access to
new issues of Touchstone, subscribe today!
---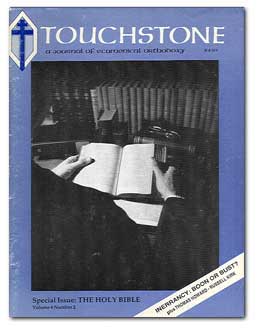 Orthodox Christian Meetings
Orthodox Christian Meetings by Michael T. McKibben
A review by Ted Bobosh

Theology in the Russian Diaspora
Theology in the Russian Diaspora: Church, Fathers, Eucharist in Nikolai Afanas'ev (1893-1966)
A review by John Thompson



The Bible Under Spirit & Church
Some Light from the East for the Perplexed Inerrantist
by S. M. Hutchens

A Response to The Bible Under Spirit & Church

by Carl F. H. Henry

Evangelicals & Catholics—Beyond Sola Scriptura
Recovering a More Balanced Understanding of Authority
by Victor L. Walter

Muggeridge: A Memoir
1904–1990
by Thomas Howard

The Rarity of the God-Fearing Man

by Russell Kirk



Recovering the Spiritual Sense of the Scriptures
An Interview with Fr. Paul Quay, S.J.



Every issue of Touchstone also contains short commentaries by our editors, notices of books you should know about, and our spirited letters section.