For complete online access to
new issues of Touchstone, subscribe today!
---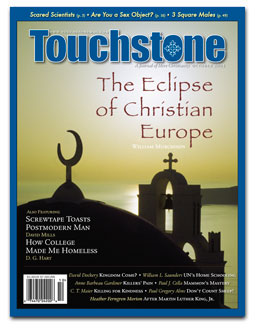 Irrational Faculties
by Thomas S. Buchanan



The Leading Edge
The Book of Life: Revised Edition
by Phillip E. Johnson

Book Returns
The Path Less Beaten
by Stephen H. Webb

As It Is Written...
Dogmatic Love
by Patrick Henry Reardon



Global Homework Assignment
The UN's Original Lesson Plan for Families
by William L. Saunders



Are We There Yet?
The Kingdom of Christ
by Russell D. Moore
A review by David Dockery

Killing Disorders
Perpetration-Induced
Traumatic Stress
by Rachel M. MacNair
A review by Anne Barbeau Gardiner

Wallis's Bible
God's Politics by Jim Wallis
A review by Jay W. Richards

The Rights of Reconciliation
The Beloved Community
by Charles Marsh
A review by Heather Ferngren Morton

Three Square Males
The Compleat Gentleman
by Brad Miner
A review by Jeff McAlister



An Uncertain Certainty
How Screwtape Leads the Postmodern Man to Hell
by David Mills

Education & Alienation
What John Henry Newman Could Learn from Wendell Berry
by D. G. Hart

Vanishing Sea of Faith
European Islam & the Doubtful Future of Christian Europe
by William Murchison



XXX-Communicated
Anthony Esolen on Why Pornography Is Not the Sin We Say It Is

Wearing the Cross
Paul Gregory Alms on Servant Leadership & other Pastoral Fads

Killing for Kindness
C. T. Maier on the Moral Value of Being Unsympathetic

Mammon's Mastery
Paul J. Cella III on the Awful Idea of Efficiency



Every issue of Touchstone also contains short commentaries by our editors, notices of books you should know about, and our spirited letters section.