For complete online access to
new issues of Touchstone, subscribe today!
---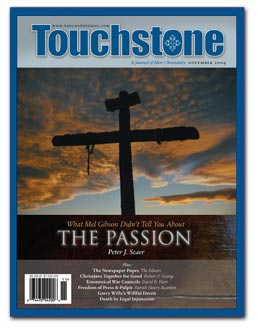 Paper Popes
by James Hitchcock



Practical Christianity
Springs Eternal
by Thomas S. Buchanan

As It Is Written...
Egypt & Israel
by Patrick Henry Reardon



Parker's Back?
PCUSA's Renewal Leader Fights Ministry Invalidation
by Terry Schlossberg



Under Western Eyes
Eastern Orthodox Christianity
by Daniel B. Clendenin
A review by Robert W. Grano

Right Worship
A Better Way by Michael Horton
A review by Gillis J. Harp

Willful Deceit
Why I Am a Catholic
by Garry Wills
A review by William J. Tighe

Saving St. Cyril
Saint Cyril of Alexandria
and the Christological Controversy
by John McGuckin
A review by Mike Aquilina



The Glorious Dying of the Son
The Gospel of Luke & Jesus' Noble Death
by Peter J. Scaer

A Grief Observed
On Being a Living Priest in a Dying Church in Sweden
by Folke T. Olofsson

Ecumenical Councils of War
The Virtue of War: Reclaiming the Classic Christian Traditions East and West
by David B. Hart



Right Alliances
Robert P. George on Our Ecumenical Touchstone

Free Press & Pulpit
Patrick Henry Reardon on the First Amendment

The Critical Adjustment
S. M. Hutchens on Pleasing the Lord in Worship

Death by Legal Injunction
Robert Hart on the Price of Privileging AIDS



Every issue of Touchstone also contains short commentaries by our editors, notices of books you should know about, and our spirited letters section.