For complete online access to
new issues of Touchstone, subscribe today!
---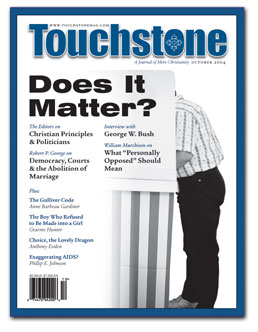 First Things First
by James M. Kushiner

Unimposing Kerry
by David Mills



The Leading Edge
Overestimating AIDS
by Phillip E. Johnson

As It Is Written...
Esther & the Hidden God
by Patrick Henry Reardon



Graceless Body Broken?
Rowan Williams Struggles to Save the Anglican Communion
by George Conger



Radiant Art
The Uncreated Light
by Solrunn Nes
A review by Addison H. Hart

Intriguing Lessons
Elizabeth Costello by J. M. Coetzee
A review by Peter J. Leithart



Roundtable with a President

by James M. Kushiner

High Courts & Misdemeanors
Lochnerizing Courts & the Abolition of Marriage
by Robert P. George

Swift Prophet
The Christian Meaning of Gulliver's Travels
by Anne Barbeau Gardiner

The Lovely Dragon of Choice
The Freedom Not to Be Free
by Anthony Esolen



Three-Fold Chords
Robert Hart on the Trinity in Bach

Jump Into Bed-Time Stories
Sharon Dever on the New Young-Adult Literature

Hope of the Hopeless
Graeme Hunter on Tragedy & the Life of David Reimer

Show Us!
William Murchison on What ?Personally Opposed? Politicians Need to Do



Every issue of Touchstone also contains short commentaries by our editors, notices of books you should know about, and our spirited letters section.