For complete online access to
new issues of Touchstone, subscribe today!
---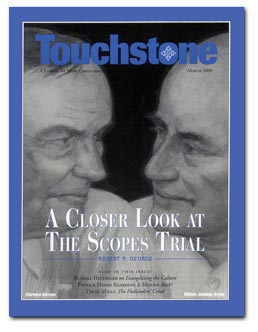 One Leads to the Other
by Peter Toon

On Robert George
by James Hitchcock



Practical Christianity
Raising the Bar
by Thomas S. Buchanan



Dead on Impact
The Demise of an Interfaith Lobby
by Mark Tooley



The Battle for Russia's Souls
Proselytism and
Orthodoxy in Russia
John Witte, Jr., and
Michael Bourdeaux, editors
A review by Kent R. Hill

Dark Poet
Coleridge:
Early Visions, 1772?1804
Darker Reflections, 1804?1834
by Richard Holme
A review by Dale Nelson



Disinheriting the Wind
A Closer Look at the Scopes Trial
by Robert P. George

How Now Shall We Bear Witness?
After a Century of Retreat, Can Christians Now Engage the Culture?
by Russell Hittinger



The Flatlanders' Creed
David Mills on Putting God in His Box

Marcionism Then & Now
Patrick Henry Reardon on the Old Testament

Mitzvah Envy
by Richard J. Mammana, Jr.



Every issue of Touchstone also contains short commentaries by our editors, notices of books you should know about, and our spirited letters section.