Ecumenical Orthodoxy
Touchstone's 25 Years of Common Witness
by James M. Kushiner, executive editor
Touchstone turns 25 years old this fall. When it began in 1986 as a newsletter, no one planned to publish it for a quarter-century or longer. But the newsletter met a need, and it grew quickly to a quarterly, then to a regular magazine.
Touchstone followed a time of religious and cultural upheaval. By 1986, we were 20 years out from the end of the Second Vatican Council, and from the beginning of the Charismatic movement and the Jesus Movement; a dozen or so years earlier, the Vietnam War had ended, the so-called Sixties (1963–1973) had also come to an end, and many of the Baby Boomers had reached adulthood.
Catholics had endured twenty years of post-Vatican II syndrome; mainline Protestants were unsure how far down the slippery slope of theological and moral heterodoxy their churches might slide; Evangelicals were getting politically engaged, finding the Canterbury trail, or discovering seeker-sensitivity; and the Eastern Orthodox had barely emerged from their ethnic isolation and begun to speak English in their services.
A New Unity
Yet an unexpected new unity was emerging among faithful Christians, a unity that extended across established denominational and confessional lines. Vatican II had encouraged Catholics in a new ecumenical engagement, and other Christians had responded. The Charismatic movement had brought together Catholic, Protestant, and even a few Orthodox Christians looking for a deeper spiritual experience. The Jesus Movement brought together many young-adult Christians outside of their denominational homes, and increasing numbers of Evangelical Christians were identifying with various para-church organizations.
These and other movements—pro-life activism after Roe v. Wade, and the rise of the homeschooling movement in the wake of the increasing secularism of public education, to name two—brought divided Christians together in shared challenges. This came to be known, in the phrase of the late Fr. Richard John Neuhaus, as the "new ecumenism," and also as the "ecumenism of the trenches." It was a movement distinct from, and in crucial ways more effective than, official ecumenical efforts.
In the 1980s, the popular conferences sponsored by Allies for Faith and Renewal, for example, presented Evangelical, Catholic, and Orthodox trios, such as Chuck Colson, James Hitchcock, and Thomas Hopko, to speak on issues of common concern. In 1994, the first "Evangelicals and Catholics Together" statement was published, though not without controversy.
More recently, in November 2009, Evangelicals, Catholics, and Orthodox came together to sign the Manhattan Declaration, a statement of conscience on pro-life concerns, marriage, and religious liberty. Senior editor Robert P. George was one of the formulators of this statement (see his editorial on page 4), and all the Touchstone senior editors have signed it.
Facing the Issues
Touchstone made its own contribution to the new ecumenism by sponsoring a conference in 1995 in Aiken, South Carolina, at which the speakers included Fr. Neuhaus, Kallistos Ware, and J. I. Packer, among others. InterVarsity Press published the papers from this conference in a book titled Reclaiming the Great Tradition. We held another conference focusing on ecumenism in 2001, this one titled "Christian Unity & the Divisions We Must Sustain." The special issue of Touchstone (July/August 2003) in which we published the papers from this conference proved to be one of our most popular issues.
Other issues of Touchstone were surprisingly popular as well. We sold out both an original press overrun and then a reprinting of our July/August 1999 issue on the controversial "intelligent design" movement. (Brazos Press turned those articles into a best-selling book for Baker Book House in 2001). Our January/February 2001 issue on J. R. R. Tolkien was also a strong seller and remains one of the most frequently accessed in our archives. One of our most controversial issues of all was the April 2003 issue, on "The Godless Party," in which we attempted to point out the partisan commitments then in play, which have only hardened in the intervening eight years.
Over the years, Touchstone has remained one of the few places where Christians can speak together about both the things that unite them and the things that divide them, without the expectation that we will water down the differences. As such, we have found ourselves becoming a place where not just allies but also friends are made.
We remain committed to a common work within the shared Christian doctrinal and moral tradition rooted in the Christian Scriptures. So we continue to use "mere Christianity" and "ecumenical orthodoxy" as handles for our core commitments. In our dedication to a deeper exploration of the Good News of Jesus Christ, we have had the continual pleasure of finding out how deep our agreements run and how many friends we have.
Our commitment to the Great Tradition has also meant that we oppose modern innovations accepted by some in misguided efforts to be pastorally sensitive, culturally relevant, or biblically "prophetic." These innovations include "Christian feminism" and sexual egalitarianism, the acceptance of contraception and even abortion, the revision of orthodox Trinitarianism, the assertion of biblical skepticism, and the market-driven repackaging of Christianity. The newcomer to this list is the "gay marriage" monstrosity that has captivated the ruling elite of several Protestant denominations.
For Better & Worse
In one sense, things are worse now than in 1986. When challenged with the Judeo-Christian moral tradition, secularists who are bent on defending and even extending the sexual revolution can point to compromised mainline denominations and leaders, as well as to public dissidents in other churches, and claim that "Christians are divided on abortion and sexual morals, including gay marriage."
But as the divisions have become more emphatic, they have also become more clear: the lines differentiating liberals and traditionalists have become sharper. Tradition as a historical reality is fixed: one cannot simply revise 2,000 years of consistent witness and call it Christian orthodoxy. In the liberal version of Christianity, we are dealing with heterodoxy and schism, and our task in Touchstone of upholding orthodoxy is even more timely. Would that it were otherwise.
We are determined to hold to a classical Christianity that would be recognized by the Christians who gave their lives in the Roman Empire, who suffered for the faith under Islam, who in every generation have given up everything to go into the world and preach the gospel, and who, throughout history, have simply loved the Lord and served him quietly wherever they were—going to church, helping out as needed, talking to their friends about the faith, raising children in the fear of the Lord—all those who have passed this faith on to us.
This heritage is not ours to redefine. It is the Good News that saves the world. We view this work, then, as a charge to keep, requiring a steady defense and a proclamation of a precious gift delivered "once and for all to the saints," however many or few the saints may be at any given time in history.
We are grateful that we have been able to publish Touchstone for 25 years. We ask for your prayers and support, as we in turn pray regularly for all who read this journal. Let us together pray for the Lord's guidance, for the wisdom from above, and for the grace of the Lord unto salvation, a grace that also empowers us to speak the truth in love to all who will hear (and read) it in our troubled times. Thank you for reading Touchstone. •
---

CREED & CULTURE Continued

Touchstone is celebrating its 25th anniversary. Highlights from the first 10 years of Touchstone can be found in the book Creed & Culture. Below are links to some of the highlights in the pages of Touchstone since then.

1998
Speaking the Truths Only the Imagination May Grasp
An Essay on Myth &"Real Life"
by Stratford Caldecott

1999
The Fairy-Tale God
Truth & Deceit in Children's Fiction
by S. M. Hutchens

2000
Disinheriting the Wind
A Closer Look at the Scopes Trial
by Robert P. George

2001
Missing Fathers of the Church
The Feminization of the Church & the Need for Christian Fatherhood
by Leon J. Podles

2002
Things Hidden Since the Beginning of the World
The Shape of Divine Providence & Human History
by James Hitchcock

2003
The Godless Party
Media Bias & Blindness—And the Big Story They Missed
by Rod Dreher

2004
The Gods Must Be Tidy!
Is the Cosmos a Work of Poor Engineering or the Gift of an Artistic Designer?
by Jonathan Witt

2005
A Requiem for Friendship
Why Boys Will Not Be Boys & Other Consequences of the Sexual Revolution
by Anthony Esolen

2006
The Agony of Gethsemane
On the Meaning of Christ's Prayer & His Obedience in the Garden
by Patrick Henry Reardon

2007
Children of the Reformation
A Short & Surprising History of Protestantism & Contraception
by Allan Carlson

2008
Above Every Name
The Formalities That Teach Us Reverence
by Russell D. Moore

2009
Bad Books for Kids
A Guide to the World of Youth Literature & What You Can Do About It
by David Mills

2010
The Audacity of the State
It's Bent on Bringing Down the House on the Family & the Church
by Douglas Farrow

2011
The Romance of Domesticity
Marriage Thrives in Reality, Not in Our Dreams
by Nathan Schlueter

---
Not a subscriber? Subscribe to Touchstone today for full online access. Over 30 years of content!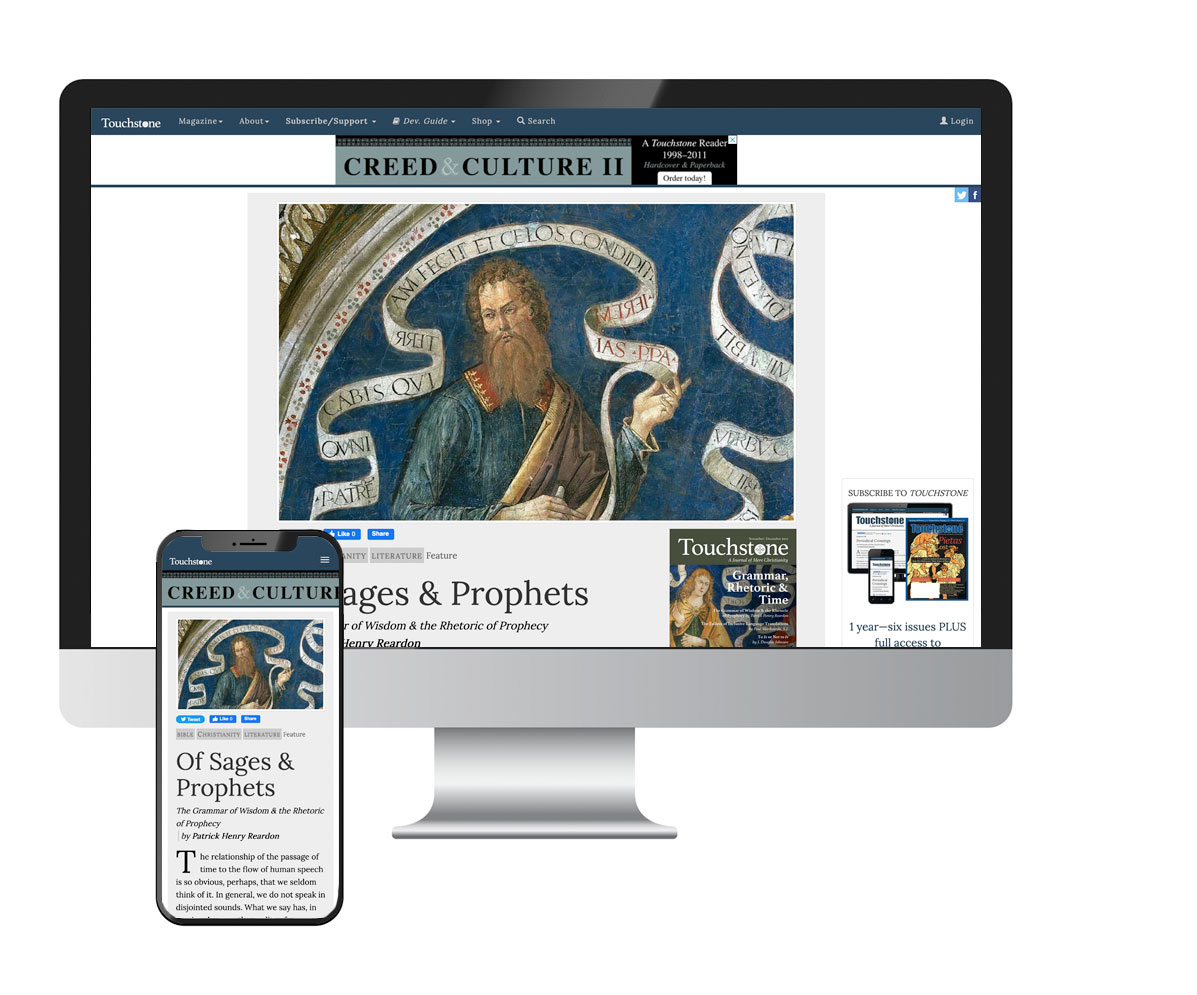 Get a one-year full-access subscription to the Touchstone online archives for only $19.95. That's only $1.66 per month!
Purchase Print &
Online Subscription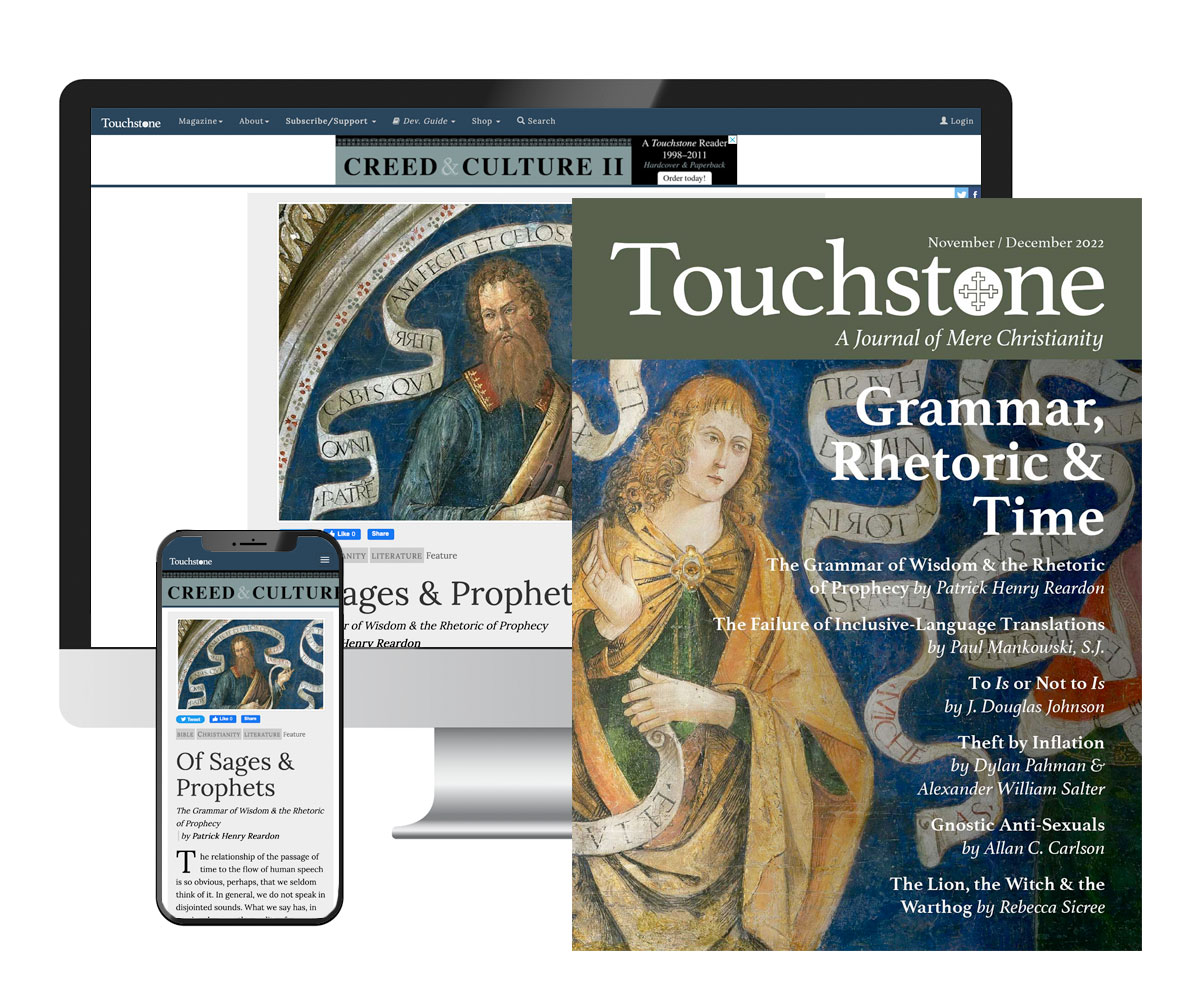 Get six issues (one year) of Touchstone PLUS full online access for only $29.95. That's only $2.50 per month!
Your subscription goes a long way to ensure that Touchstone is able to continue its mission of publishing quality Christian articles and commentary.
*Transactions will be processed on the secure server of The Fellowship of St. James website, the publisher of Touchstone.
from the touchstone online archives