Ploughboy's Book
The Bible in English: Its History and Influence
by David Daniell
Yale University Press, 2003
(962 pages, $50.00, hardcover)
reviewed by Janice Horton
David Daniell's massive The Bible in English is a chronicle that would be hard to invent, filled with kings and sailors, sacrifice and providence. It's a complicated story, rich in detail, sometimes overwhelmingly so. Even so, Daniell, Professor Emeritus of English at University College, London, and honorary fellow of two colleges at Oxford, tells it from the perspective of a language scholar—less focus on the persecutions, more attention to the prose. Even without the photographs—there are 40 pages showing early Bible manuscripts and illustrations—you can tell that Daniell has seen and admired ancient texts.
Most accounts of getting the Scriptures into the English language are highly condensed, with names, dates, and places all packed together. Some writers have whipped up the dramatic parts, wanting us to smell the burning of heretics. While it may do us good to remember that 600 years ago, a man was put to death for having in his possession a fragment of Scripture in his own language, it does us better to place the story of the English Bible in the wider frame of the known world. Daniell copiously supplies the needed background: from the Anglo-Saxon invasions and Britain's civil war to the careers of Handel and Edward VI, and much more.
Before 1500, most of Europe had the Bible or at least portions of it in vernacular translations—Italian, French, Spanish, Czech, German, and so on. English was considered a poor language, spoken by few and irrelevant on the Continent. It was considered too crude a language for the Holy Scriptures. It had all those one-syllable words in their un-flowery subject-verb-object order. Still, there were English handwritten translations (Wycliffe), even if English vernacular translations were usually mown down whenever they sprang up.
Our Debt to Tyndale
Some English translators would not be stopped, however, even on pain of death. Preeminent among these was William Tyndale (c. 1494–1536). Daniell gives no short shrift to Tyndale's wretched life in exile, his betrayal and months in prison, where he lacked sufficient clothing as well as light to work by, or the hideous death he faced. Yet above the noise of politics and wars, Daniell wants us to hear the beauty and versatility of the English language. So his telling of Tyndale's story revolves less around the latter's martyrdom than his skill as a translator.
Daniell knows his subject well. As the founder of the Tyndale Society, he updated the spelling in the Old and New Testaments that Tyndale produced, so that they are now used as references. Tyndale, master of several languages, wrote plainly but not coarsely, so that, yes, the ploughboy would understand; he would also absorb the biblical language and make it his own. Tyndale gave England a new prose. Daniell, also a Shakespearean scholar, says,
In Britain, something switched the power-lines of written thought and expression from Latin . . . into clear English, understandable throughout the land. I argue here that the switch was thrown by the dominance of the English Bible, and of Tyndale's forms in particular. (pp. 248–249)
Although Tyndale didn't live to complete an entire translation of the Bible—friends carried on the work—it bears his unmistakable imprint. At least 80 percent of the language in the King James Version is shown, on analysis, to be Tyndale's. The balance and rhythm of the words when read aloud is what makes the KJV so precious and is one reason it has outlasted other translations. (It was also stripped of the marginal notes that other versions were replete with).
Room for Improvement
Still, Daniell wouldn't have us bound to error and archaism. "English in any form," he says,
has always been a fluid, changing language, open to influence, accessible to new words and ideas. . . . This capacity for subtle difference of senses in an almost doubled vocabulary [English tends to have more than one word for the same thing, plus those inherited from French] is one main root of the richness of meaning in High Renaissance poetry in English, where an inventiveness, a daring, a fineness of observation, remained unmatched in Europe. (p. 59)
Daniell doesn't ignore theology. He knows it matters whether you translate the Greek verb for justified as "put right" or "now in proper relation with God." He regrets translations that avoid giving offense at the expense of theology. Nevertheless, he rejoices that the Word has gone out largely unhindered for the last five centuries. No translation is perfect, he reminds us.
The translators of the 1611 KJV themselves acknowledged room for improvement. Included in Daniell's volume is the lengthy preface they wrote for the KJV, which is no longer printed with that Bible. In it, the scholars ask, "Is the kingdom of God become words?"
The Fruits of Faith & Toil
Daniell also gives attention to the actual printing process. When printers finally tooled up for such a big project (Genesis alone has some 45,000 words) they ran with it. Over time, the Scriptures came to be printed in novel shapes and sizes, and were often lavishly engraved. Indeed, in some eras, they functioned more as a decorative furnishing for the parlor than as a book to be prayerfully read.
Through the centuries, Bibles in English have sprung from the presses in a lush and variegated bouquet unequaled by its printing in all other languages combined. Since 1526, some 900 translations and 3,000 new editions have been produced. Today, there are even versions in pink for princesses and in desert camouflage for soldiers.
Daniell invites us to celebrate not only the extraordinary story of the English Bible—from the first glosses of Old English written between the lines of Latin manuscripts to the finest scholarship of the day—but many other things as well: the power and versatility of the English language, the English Bible's uniqueness compared to Bibles in other languages, and its easy availability to so many.
His scholarly work is also a labor of love. The Bible in English honors the faith and toil of those who persevered in bringing the Scriptures to us. Even a sampling from this volume will help you see your personal Bible or the one in the pew in a new light. 
Not a subscriber? Subscribe to Touchstone today for full online access. Over 30 years of content!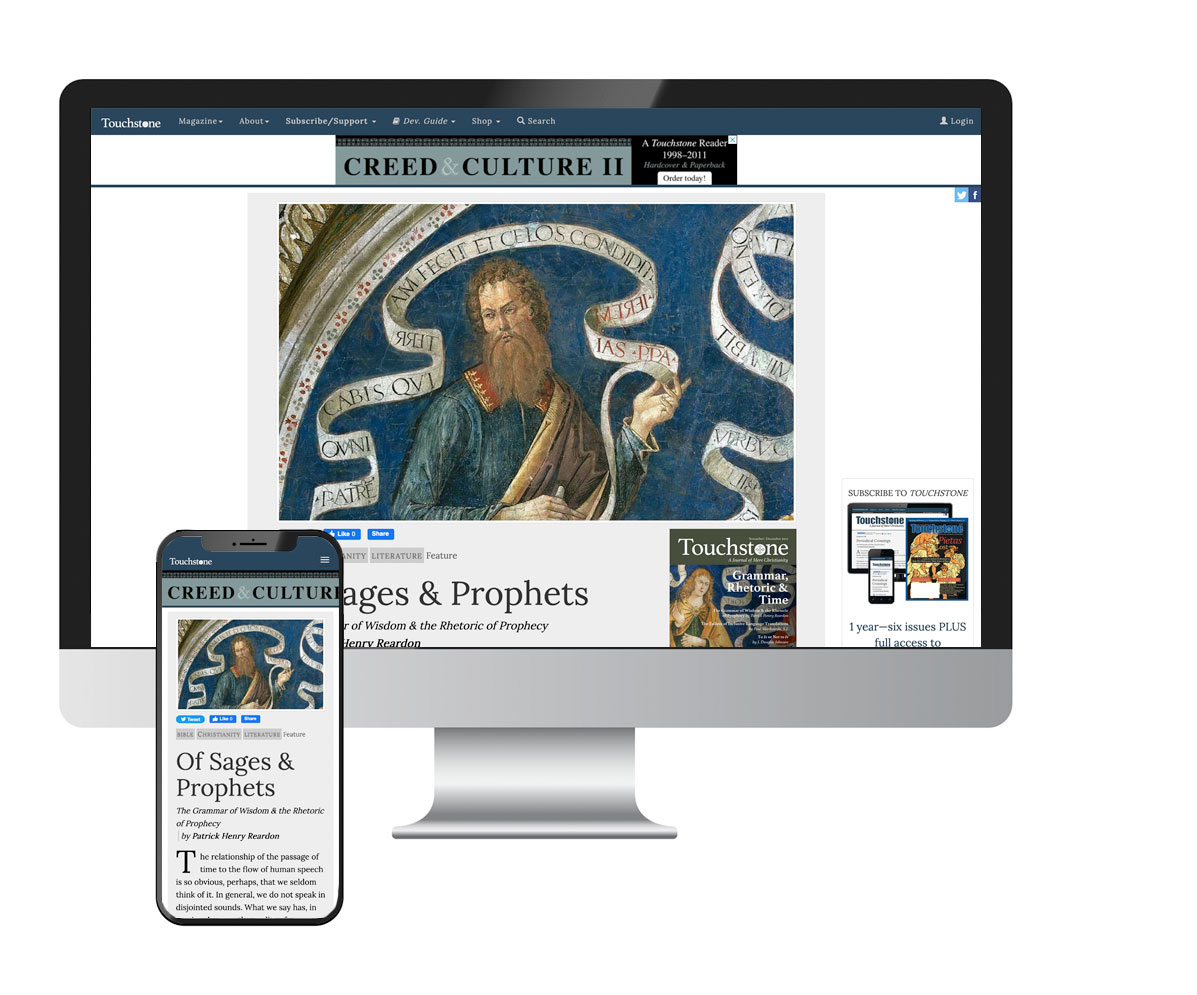 Get a one-year full-access subscription to the Touchstone online archives for only $19.95. That's only $1.66 per month!
Purchase Print &
Online Subscription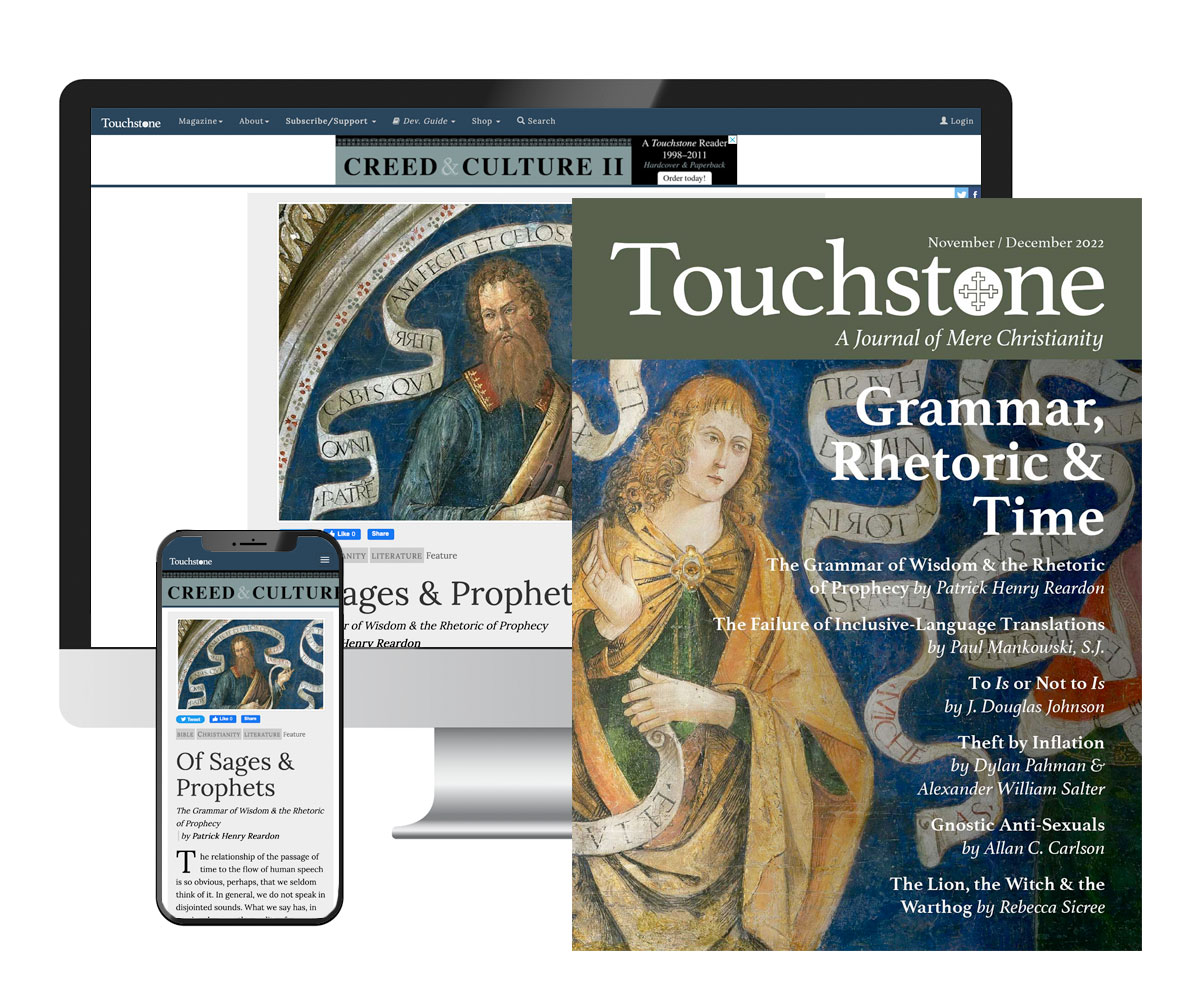 Get six issues (one year) of Touchstone PLUS full online access for only $29.95. That's only $2.50 per month!
Your subscription goes a long way to ensure that Touchstone is able to continue its mission of publishing quality Christian articles and commentary.
*Transactions will be processed on the secure server of The Fellowship of St. James website, the publisher of Touchstone.
from the touchstone online archives