Beyond the Scrim
The Franklin Trees: A Late-Summer Night's Dream
by Jonathan Nauman
illustrated by Gary K. Nauman
Friendship Farm Press, 2009
(148 pages, $12.00, paperback)
reviewed by Thomas Howard
T. S. Eliot speaks of the "fear in a handful of dust," the idea being that if we could see the thunderous worlds of subatomic activity even in such an unlikely heap as a handful of dust, we would be stricken.
The same thing is at work in the great paintings. The artist—let us say Vermeer—fixes upon a kitchen, with nothing at all going on in it. A maid stands there with a ceramic milk pitcher. Nothing of interest here—or rather, everything. The painter sees luminescence and sublimity in this vignette that the rest of us would have missed.
Orthodox and Catholic Christians encounter the same thing day by day in the liturgy. We find a man, bread, wine, and a pre-set script, but the eye of faith sees here that the scrim between the temporal and the eternal has become very thin. Cherubim and seraphim are, in fact and not in fantasy, in attendance.
Literature, most notably children's literature, often bespeaks this oddity, namely, that Ultimacy—or Glory perhaps—lurks very nearby. In one story we may be whirled off by a cyclone to Oz; in another, Peter Pan is the avatar. (I myself think that those two examples trivialize things and fall into frivolity and bathos.) In another tale we find that a wardrobe full of fur coats backs up onto Aslan's Country, and in another we are summoned to the Third Age of Middle Earth. In the novels of Charles Williams, we find heaven and hell under every bush, in the form of the Holy Grail, or a cube of the primordial matter of the Creation inscribed with the Tetragrammaton, or the Platonic archetypes.
It is worth noting that in such tales, where the treatment is serious, what goes on beyond the scrim of ordinariness is clearly of the same fabric as the quotidian conditions in our familiar world. Serious fantasy never depends on sheer extravagance or effect. A certain reticence, even humility, seems to govern things in the worthy examples of fantasy, as though one stood in the presence of great glories, and could not play hob with things.
Strangeness Filters In
The book in question here, Jonathan Nauman's The Franklin Trees, exhibits that reticence. On the surface of things, we find ourselves, as it were, in the world of the Hardy Boys: plain, decent, believable schoolboys going about their business in upstate New York. The business, however, entails a small prank—just a forgivable trick played on their teacher. But the prank opens the gate onto that domain where our commonplace actions and motivations and relationships appear illumined by the radiance of Truth itself.
In the commonplaces of ordinary life we are most often "protected from heaven and damnation" (Eliot again) by the pall of the ordinary. But when the light of Truth breaks through to us, we find that hell and heaven, or shall we say vanity, malice, grudge, parsimony and pusillanimity on the one hand, and courage, candor, nobility, generosity, and Caritas on the other, lie under every bush. And what did we ever suppose were the wellsprings of our ordinary encounters with each other anyway?
Our hero is a boy called Jim Canby. His friend Alan Prince accompanies Jim up to a certain stage in the action. A thoroughly believable—and interesting—story unfolds. But presently we (and Jim) wonder just what footing things are proceeding on. Almost imperceptibly, strangeness filters onto the stage. Reality—commonplace, tangible "reality," that is—seems to be being called in question.
For one thing, there are the Franklin trees. Their delicate blossoms seem to exude something more than their fragrance. Is it light? Do they have the power to unveil the past perhaps? The boys react as normal boys would. Doubt, curiosity, hesitation, fear, wonder—how does one react to these blossoms?
And then there is the question of dreams. Jim's dreams seem to bear a somewhat questionable relation to light-of-day circumstances. And not only that: one wonders whether they are perhaps piercing the scrim that keeps the commonplace safely commonplace. It is all handled with great skill by the author. There are never effects for effects' sake.
There is an old estate, complete with gardens, gates, walls, and an old house with tall staircases and echoing rooms and a dark attic. And an old woman. Who is she? What is her story? Where are we? In the present or in the past? Or both?
But a review must stop on the hither side of giving things away.
Touched by Immensities
To my mind, this tale does indeed take its place among the works mentioned in the opening paragraphs of this review. The "machinery" of the action is controlled with the tact that marks off worthwhile stories from mere sensationalism. Before we are through, we have been hailed with "the Permanent Things." There is sin (there is no other name for it, finally) in its civilized guises of bitterness and vengefulness and vanity and jealousy. And there are the saving graces of courage and decency and purity of heart and forgiveness.
The Lady Julian tells us, "All shall be well, and all manner of thing shall be well." That would be an intolerable bromide if it weren't bought at the price of great sacrifice. Jonathan Nauman's story leads us into the precincts where these immensities touch believably on the life of a young upstate New York schoolboy.
Thomas Howard taught for many years at St. John's Seminary College, the Roman Catholic seminary of the archdiocese of Boston. Among his many works are the books Christ the tiger, Evangelical Is Not Enough, Lead Kindly Light, On Being Catholic, and The Secret of New York Revealed, and a videotape series of 13 lectures on "The Treasures of Catholicism" (all from Ignatius Press).
Not a subscriber? Subscribe to Touchstone today for full online access. Over 30 years of content!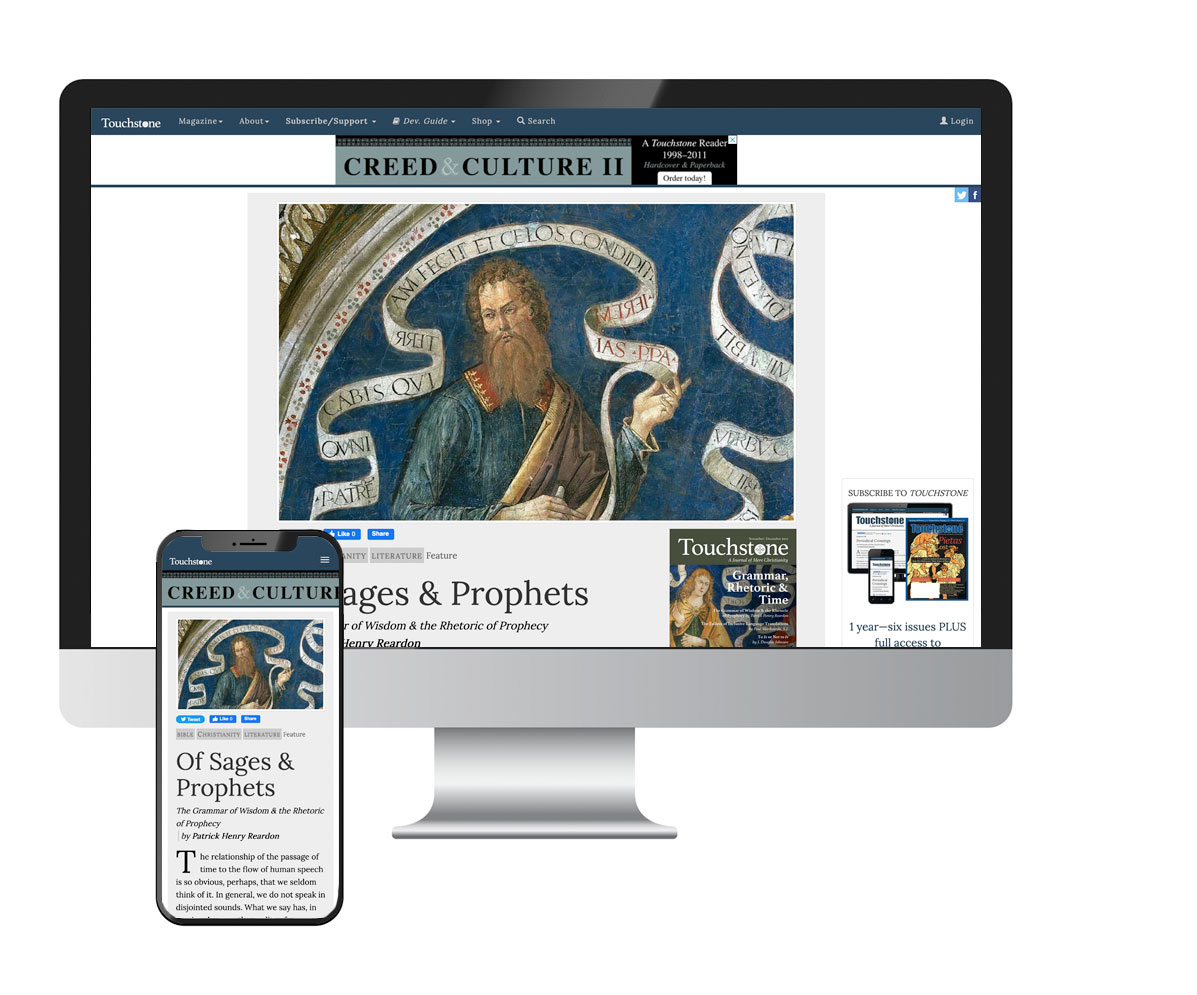 Get a one-year full-access subscription to the Touchstone online archives for only $19.95. That's only $1.66 per month!
Purchase Print &
Online Subscription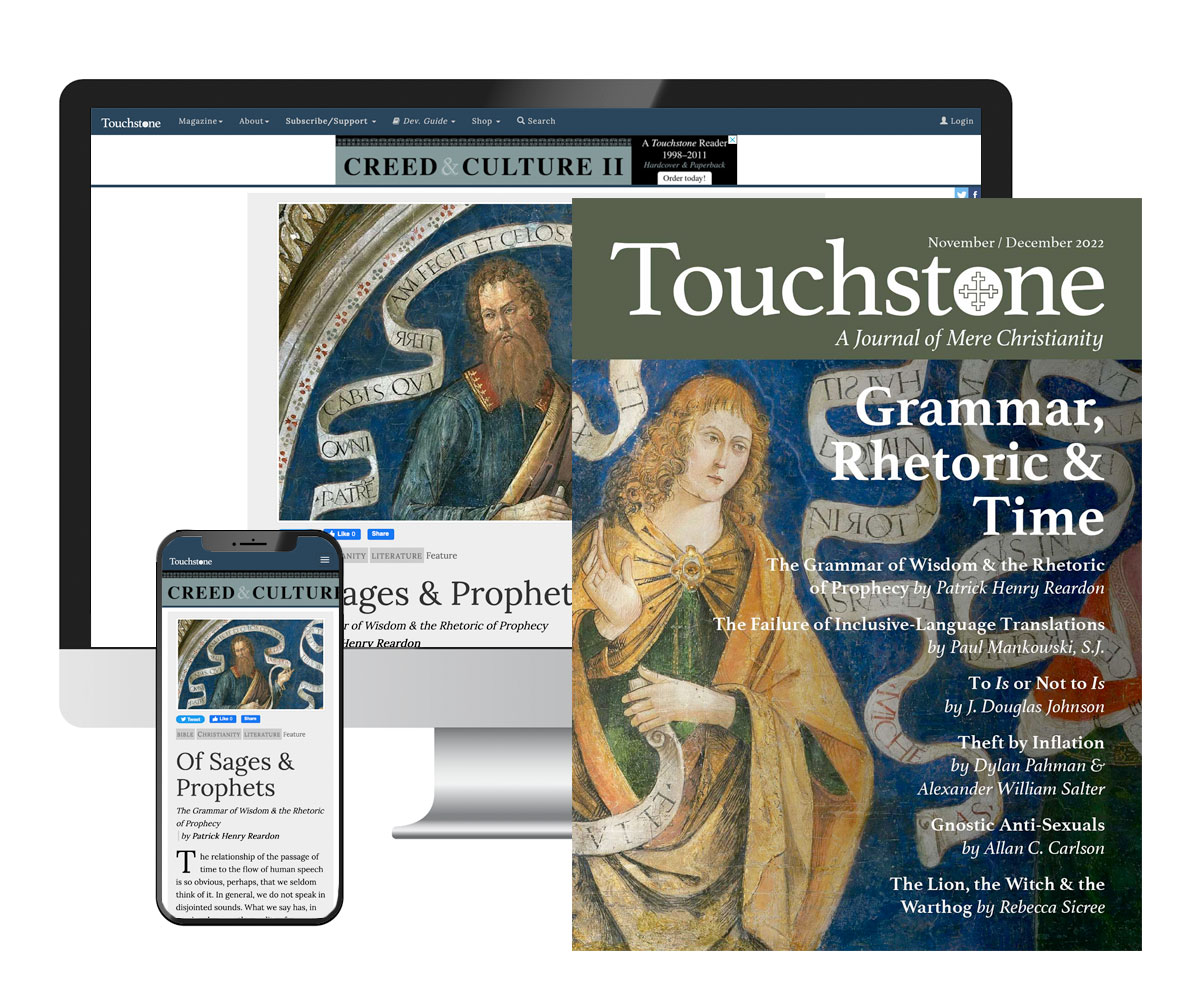 Get six issues (one year) of Touchstone PLUS full online access for only $29.95. That's only $2.50 per month!
Your subscription goes a long way to ensure that Touchstone is able to continue its mission of publishing quality Christian articles and commentary.
*Transactions will be processed on the secure server of The Fellowship of St. James website, the publisher of Touchstone.
from the touchstone online archives