Disconnected
The Devil Reads Derrida, and Other Essays On the University, the Church, Politics, and the Arts
by James K. A. Smith
Eerdmans, 2009
(163 pages, $18.00, paperback)
reviewed by Micah Mattix
I was unsure, at first, whether I wanted to read, much less review, James K. A. Smith's collection of essays, The Devil Reads Derrida. It is not that I have something against Derrida. Smith rightly argues elsewhere that figures such as Derrida and Foucault are neither devils nor saints, and are often misunderstood. But to be honest, I am beginning to tire of references to them in books of theology. In English studies, Derrida has been out of fashion for more than a decade now, and I am hoping that the "critical" fire will soon die out in theology, along with all the breezy references to "postmodernism."
Thankfully, Smith's book has very little to do with Derrida, and there are, indeed, a number of things to laud in this eclectic collection of musings on things as varied as Harry Potter, the Sabbath, higher education, and the poetry of Franz Wright. In his reflection on the Sabbath, for example, Smith reminds us that "we spurn the gift of God's rest in all kinds of 'holy' ways," and in his review of Wright's poetry, he highlights the central paradox in much of Wright's recent work—that it is in moments of "silence" that God "speaks volumes."
Somewhat surprisingly, however, Smith is at his best on what I would call "pastoral" topics. In his essay on doubt, for example, he argues that faith does not ignore the suffering in the world, but faces "the tragic nature of a broken world" while looking to Christ for sustenance. In a short piece on manhood, Smith calls John Ellredge to task for conflating biblical manhood with the Hollywood manhood of Mel Gibson's William Wallace; and in a fun, insightful piece on popular culture, he gives his reasons for not seeing The Passion of the Christ, ever. His short ripostes against the consumerist model of higher education and the effects of the Fall, among other things, keep the book moving at a chipper pace.
Spurred by a Gap
But there are also problems, and some pretty major ones at that. What impelled Smith to write the pieces that comprise the book was the furor that erupted when President George W. Bush was invited to give the commencement address at Calvin College in 2005. A number of faculty members and students opposed the invitation, and a number of alumni supported it, but what struck Smith was that those in support were "aghast that so-called 'Christian' scholars could even entertain such a critique of the President and would see any sort of tension (let alone contradiction) between the Bush administration's foreign and economic policies and a 'biblical' worldview." This highlighted a gap between the school's scholars and its past students. "How is it," Smith writes,
that there could be such a disconnect between what some of the college's leading scholars and teachers thought and what our constituency (made up of mostly alumni who had been taught by these same scholars and teachers) took to be the shape of a Christian worldview?
Well, for Smith, the reason is actually pretty simple: They just don't know any better. As Reformed scholars have focused on their respective areas of expertise, he explains,
Christians within the denomination found themselves looking for wisdom and guidance where they could get it. The result is that they picked up what was available—in Christian bookstores, magazines, and, perhaps most significantly, on Christian radio. And since Christian intellectuals had pretty much vacated these spaces, the result is that the Christian public began to nourish themselves with what I have to say is a largely unhealthy diet.
Thus, casting aside "academic elitism," Smith undertook the task of writing the journalistic pieces found in the book to reach out to these "'ordinary' Christians."
Condescending to Teach
I share Smith's concern with what passes for Christian radio these days and trust he is correct in his assumption that some of the alumni have had scant intellectual and theological nourishment since leaving college. However, I think it is rather uncharitable and, ironically enough, rather lacking in wisdom, to assume that all the alumni who supported President Bush's visit did so out of ignorance.
Is it impossible that these alumni, like St. Augustine, held to a just-war theory of military conflict? Or that they viewed the free-market system as more compatible with Christian doctrine than socialism because of the free market's support for property ownership (which could be understood as an extension of God's cultural mandate) and because it does not ignore, but rather takes into account, man's inherent selfishness? For Smith, apparently so.
Furthermore, if offering to step down from his ivory tower to teach the common people (which he makes much of in the Introduction) and to disabuse them of their ignorance is was it means for Smith not to be condescending, I'd hate to see him actually belittle someone. Smith, of course, states that these ordinary people are "his people" and that he is going "to give them the benefit of the doubt," but, to be frank, he never really does.
This lack of charity is particularly evident in Smith's articles on politics. He accuses the "highly churched" people of West Michigan of being "complicit with institutionalized social injustice," by which he means, of course, that they are card-carrying members of the Republican party. "Clearly," Smith opines, "our churches, far from forming us otherwise, are actually contributing to the formation of docile subjects of the GOP machine."
Furthermore, he bemoans the fact that religious conservatives have contributed to the "maddening conflation of foreign policy with bastardized theology," thereby ignoring, he implies, the fact that pacifism is the only Christian position. No conflation here—just gospel truth. While the Left has its problems, and Smith is willing to point these out, the "Religious Right" he scorns as full of "inadequacies, inconsistencies and injustices."
What was that the benefit of, again?
Indeed, in the end, despite Smith's stated desire to bridge the gap between the "highly churched" West Michiganders and the sages of Grand Rapids, what he really does in the book is preach to the choir.
The Wrong Conflation
Though it is perhaps impossible to avoid in a collection of essays and reviews, the tension in Smith's own approach to culture is often evident. For example, while he hits the Religious Right for conflating policy and theology, which seems to imply a pietistic view of cultural engagement, he criticizes Democrats for using religious rhetoric merely instrumentally—to get what they want from religious folks—rather than integrating theology and policy at a more fundamental level. He also claims to espouse a cultural engagement that rejects the "bifurcation" of politics and theology. His problem with the Religious Right, therefore, seems to be less that they "conflate" policy and theology and more that they conflate, in Smith's view, the wrong policy with theology.
All spaces are " political spaces," Smith writes, and he hopes to use those spaces to shape others by the "the politics of Jesus." This, of course, is the rub. For while Jesus' politics do not "play the game of party lines or state power, but rather seek to form us otherwise," our politics often do.
Micah Mattix is a Lecturer in English at the University of North Carolina at Chapel Hill and the review editor of The City, a new journal of Christian thought from Houston Baptist University. He and his wife are members of the Church of the Apostles (AMiA) in Raleigh, North Carolina. They have four children.
Not a subscriber? Subscribe to Touchstone today for full online access. Over 30 years of content!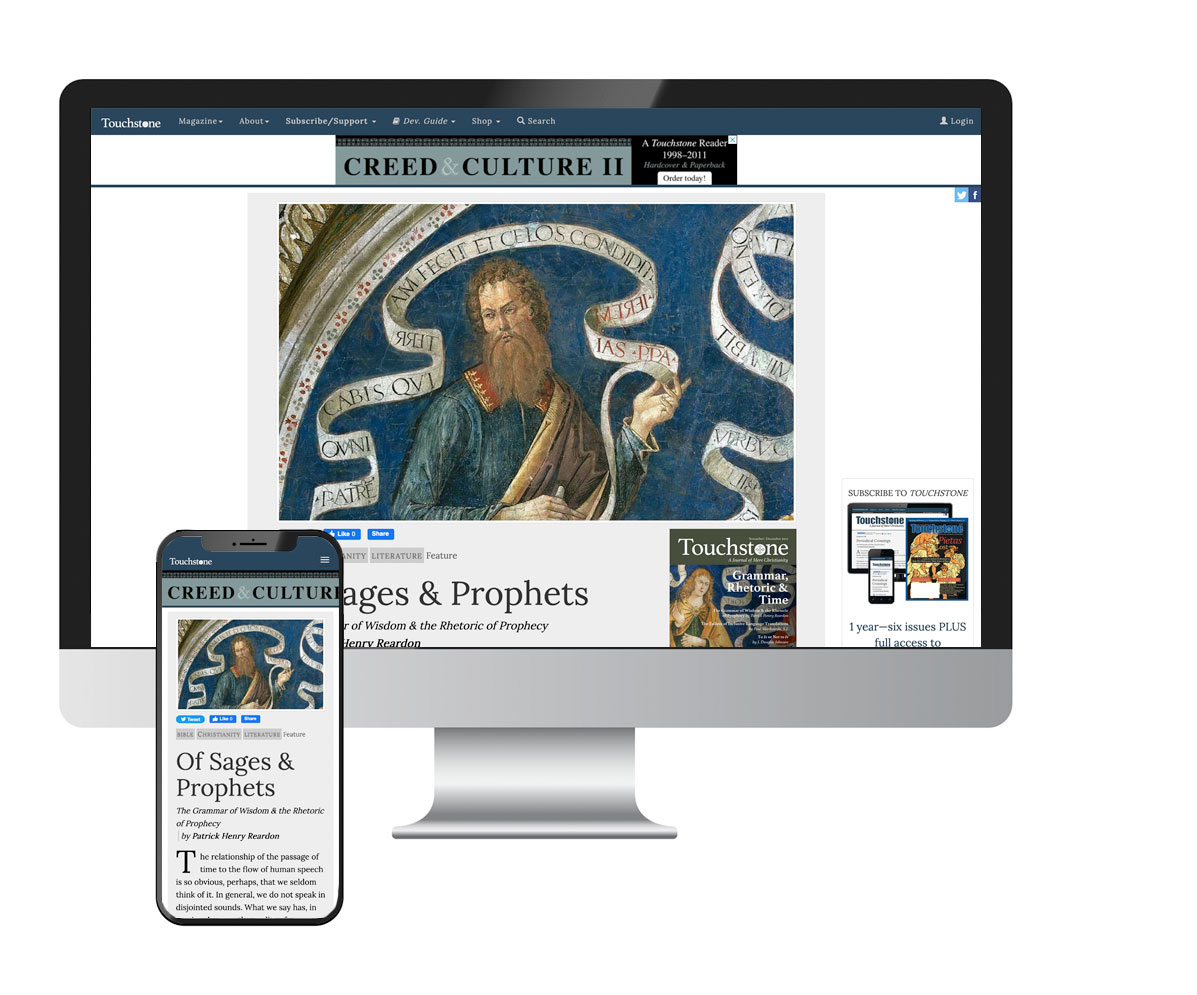 Get a one-year full-access subscription to the Touchstone online archives for only $19.95. That's only $1.66 per month!
Purchase Print &
Online Subscription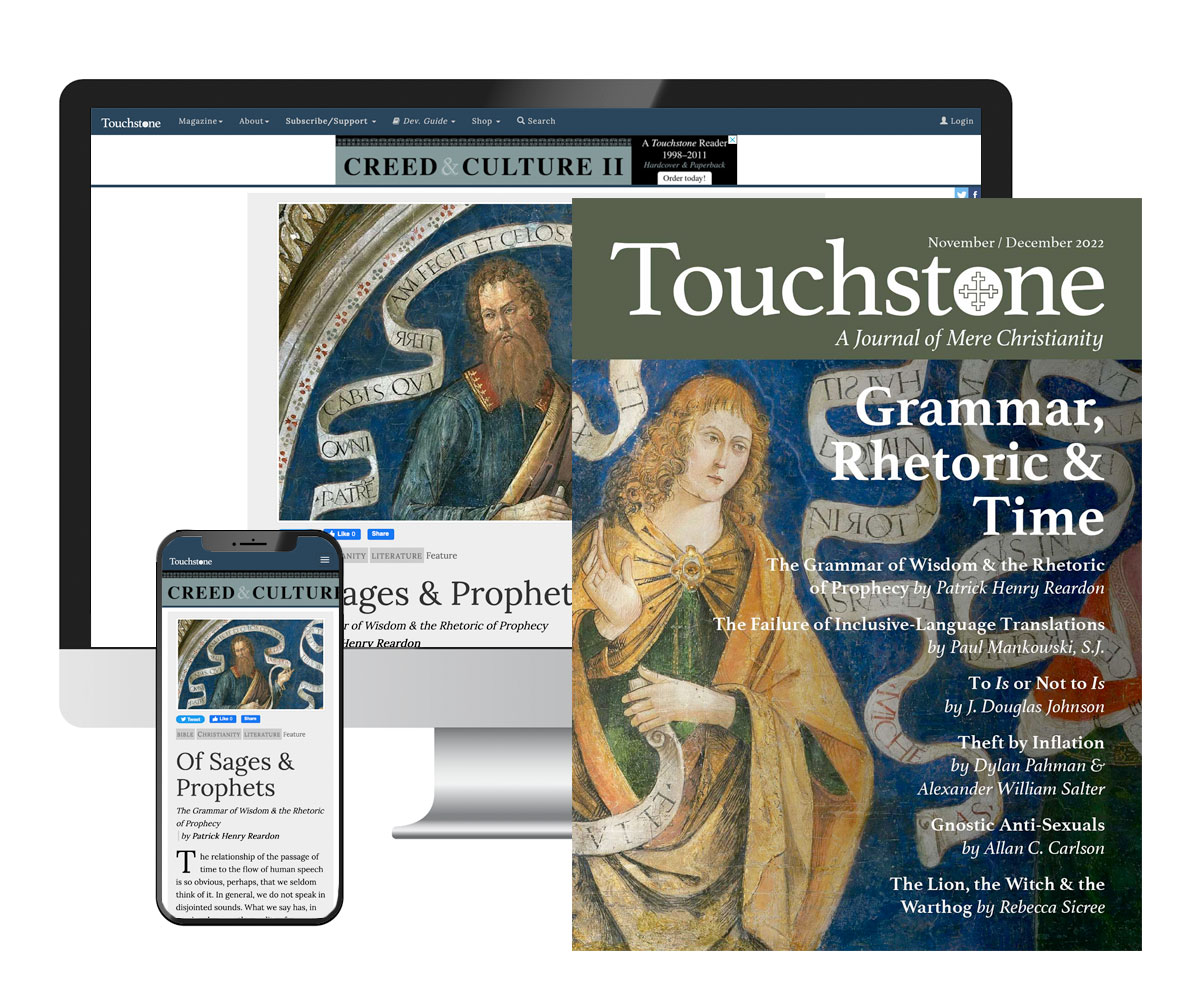 Get six issues (one year) of Touchstone PLUS full online access for only $29.95. That's only $2.50 per month!
Your subscription goes a long way to ensure that Touchstone is able to continue its mission of publishing quality Christian articles and commentary.
*Transactions will be processed on the secure server of The Fellowship of St. James website, the publisher of Touchstone.
from the touchstone online archives