Lone Starr
The Eyes of More than Texas Are on Baylor's New President
by Brad Green
Baylor University in Waco, Texas, is one of the most prominent and important institutions of Christian higher education in the United States. Its motto proclaims that it is Pro Ecclesia, pro Texana—"For the Church, for Texas." Baylor has recently shown itself to be Pro Texana in electing a native Texan, Judge Kenneth Starr, to be its next president. Starr is currently Dean of the Pepperdine University School of Law, and famous for serving as independent counsel during what came to be known as the Whitewater investigation, which eventually led to the impeachment of President Bill Clinton.
Will Baylor, with the election of its new president, also be Pro Ecclesia?
Robert Sloan & His Predecessor
Founded in 1845, Baylor University is the largest Baptist college or university in the world. It perhaps received the most national attention in the decade from 1995 to 2005, when Robert Sloan, also a native Texan, served as its president. Sloan had an impressive academic pedigree, with a B.A. from Baylor, an M.Div. from Princeton, and a Th.D. from Basel. He had taught in Baylor's Religion Department since 1983 and was the founding dean of the George. W. Truett Theological Seminary at Baylor, founded in 1994, the year before he was elected university president.
While Baylor had always striven to offer an excellent education within a Christian environment, Sloan believed that a truly Christian university must do more, that it must seek to ask how the reality of the universal lordship of Jesus shapes and informs the intellectual quest. In Sloan's words, "A Christian university born out of and still affiliated with Baptist traditions" must
understand, assimilate, discover, and proclaim that truth about God's world and God's ways in the world from points of view that are . . . faithful to and thus distinctly defined by the core convictions that shape our central canonical confession that Jesus Christ is Lord.
Sloan wanted to strengthen Baylor's Christian commitments while simultaneously moving the school into the top tier of the world's institutions of higher learning.
This quest had begun under Herbert Reynolds, Sloan's predecessor, and Donald Schmeltekopf, who served as provost for both Reynolds and Sloan (until 2002, when David Lyle Jeffrey became Sloan's provost). Reynolds had pushed to expand Baylor's graduate school offerings, considering such a move central to Baylor's "moving up" in the constellation of American institutions of higher learning. He was also impressed by the work of George Marsden, particularly Marsden's understanding of Christian higher education. Reynolds became familiar with Marsden's book, The Soul of the University, and brought the author to Baylor for a speaking engagement.
While Reynolds perhaps never escaped the pietism that had marked (and arguably still marks) Baylor, it can be argued that, in at least some ways, he had begun to steer Baylor in a direction that Sloan would continue and take even further—although Reynolds would eventually become uncomfortable with his successor.
Baylor 2012 & Opposition
A very different actuality, resistant to the Reynolds-Sloan course, was described by Baylor professors Michael Beaty (a philosopher), Larry Lyon (a sociologist), and, eventually, Todd Buras (a philosopher), who argued that Baylor had a "two-sphere" approach to intellectual life, one that kept the two realms, or spheres, of faith and learning separate. The school had historically attempted to offer good academics (the one sphere—learning) in a Christian environment (the other sphere—the Christian faith) without worrying too much about their unity. Sloan challenged this approach, and on at least one reading of his presidency, this fundamental challenge to Baylor's de facto mode of education eventually cost him the presidency.
Baylor 2012, a ten-year strategic plan developed during Sloan's presidency, outlined his dream for Baylor: "Within the course of a decade, Baylor intends to enter the top tier of American universities while reaffirming and deepening its distinctive Christian mission." Sloan hoped to lead Baylor into becoming one of the finest universities in the world, not by disavowing or marginalizing its Christian identity, but strengthening and deepening it. Indeed, Baylor 2012 could assert:
We believe that the highest intellectual excellence is fully compatible with orthodox Christian devotion. Indeed, the two are not only compatible, but mutually reinforcing. Christian faith, at its best, motivates a love of all truth; and true knowledge supports and deepens our love of God in Jesus Christ. This is the undivided way and ancient premise on which Baylor ventures into the next 10 years of our exciting history.
Baylor 2012 was unanimously affirmed by the university's Board of Regents in 2001 and launched in 2002. But even as Sloan appeared to be successfully implementing it, opposition to his presidency by some was clear—and intense. The Faculty Senate recommended his removal on two occasions, and the Board of Regents, which at one point clearly backed Sloan, eventually wavered in its support: In a secret ballot on May 11, 2004, the regents voted only 18 to 17 in his favor, barely avoiding a vote of no confidence.
Sloan voluntarily resigned in 2005, served as chancellor for a brief time, and then left Baylor to become president of Houston Baptist University in 2006. After he stepped down, Bill Underwood, a professor in Baylor's law school, stepped in to serve as interim president. In an odd move, Underwood immediately—in his first day in office, in fact—removed David Lyle Jeffrey as Baylor's provost.
Jeffrey and Underwood clearly had different visions concerning the nature of Christian higher education and of academic freedom, differences that they aired out in a debate on October 27, 2004. Whereas Jeffrey understood that the lordship of Christ should shape and inform the Christian intellectual quest in meaningful and significant ways, and that there was nothing un-Christian about a community enforcing certain theological parameters, Underwood represented a strain of Baptist thought that places such a high premium on "liberty" and "freedom" (defined generally in Enlightenment terms) that to speak of any constrictions on them whatsoever, even in a Baptist university, is virtually anathema.
Underwood stepped aside when John Lilley, then president of the University of Nevada, Reno, was elected Baylor's president in 2006. Lilley lasted only two and a half years, however, being fired in 2008 for failing to "unite the Baylor family," according to the board. David Garland, of Baylor's Truett Seminary, has been serving as interim president since August 2008 and will continue until June 1, when Starr takes over.
Kenneth Starr's Prospects
On February 16, 2010, Judge Kenneth Starr was named Baylor's fourteenth president. The Board of Regents' decision was unanimous, and it appears to have had the full backing of both Baylor's Presidential Search Committee (which ultimately recommended Starr to the Board of Regents) and a ten-member Presidential Search Advisory Committee (a non-voting board).
Starr is, by all accounts, an extremely competent and capable leader. In one sense, it is refreshing to see his selection. His speech at Baylor on February 16, the day he was formally announced as the next president, was a breath of fresh air in the world of American higher education. He was eloquent, winsome, and self-deprecating, and he played to his audience—even joking as to how difficult it had been to find Dr. Pepper in Washington, D.C. (the Dr. Pepper museum is in Waco, and is a part of Baylor culture).
But the actions of the Board of Regents over the past several years invite questions about the likelihood of Starr's success. For instance, the board has, on multiple occasions, unanimously approved Baylor 2012, perhaps the most ambitious plan ever drafted by a Christian university. But if the board truly supports this program, why did it elect Bill Underwood as interim president?
Baylor 2012 speaks of "assumptions grounded in faith" and of the "integration of Christian faith and the intellectual life." It critiques the tendency of modern thought "to believe that the pathway divides between the uncompromised pursuit of intellectual excellence and intense faithfulness to the Christian tradition." It avers that "the highest intellectual excellence is fully compatible with orthodox Christian devotion," denying that "faith and learning are mutually exclusive." It affirms the establishing and nurturing of "Christian distinctives," and seeks to "maintain a culture" where students can explore how a "Christian worldview interprets and affects" both "great ideas and the issues that confront humanity."
While Bill Underwood undoubtedly affirms some of these commitments, and might find a way to reinterpret them in ways compatible with his own frame of thought, it seems clear that Baylor 2012 is representative of the very position he criticized David Lyle Jeffrey for espousing in their debate in 2004. And John Lilley's tenure at Baylor was so short that it's hard to ascertain whether he understood and embraced the heart of Baylor 2012.
But back to Ken Starr. Does he embrace Baylor 2012? Does he understand the issues at play in a document in which the mind and pen of Robert Sloan are so evident? The original Baylor 2012 was written—at least to a large degree—by a biblical scholar and theologian. Starr may indeed have the theological chops to understand, believe, and implement its program, and then to devise a new plan and vision to take Baylor to the next stage of its development. But as fine a man as Starr apparently is, the odds are against him.
Three Challenges
There may in fact be particular areas within Baylor's orbit where the Sloan/ Baylor 2012 legacy—at least in terms of explicitly Christ-centered intellectual endeavors—might continue unabated, but there are at least three challenges—somewhat unique to Baylor—which Starr faces.
First, the "two-spheres" tradition at Baylor outlined by Beaty, Lyon, and Buras will make his job difficult. Starr is not being called upon to recover something from Baylor's past. His "job"—though perhaps not even recognized as such by the board—will be to create a culture at Baylor that has never existed in quite the way that Baylor 2012 envisions it.
It has certainly existed in some classrooms and offices and lingering conversations over coffee with certain professors, and one might even argue that it is a proper and consistent development or expansion of a less fully formed commitment to Christ-centered learning that has already existed at Baylor. But one could also argue that what Baylor 2012 envisions is largely a transformation of Baylor into something it has never quite been before.
Second, given the Board of Regents' decision to elect, first, Bill Underwood as interim president, and then John Lilley as president for only two and a half years, it makes one wonder whether the board itself grasps the nature, magnitude, and significance of Baylor 2012. One president (Underwood) did not appear to fully support its aims and principles, while the other (Lilley) did not have enough time to implement it. Is there reason to believe, then, that this board will have the ability to steer Baylor to a successful completion of Baylor 2012?
For Baylor to become the one Protestant research university of the first rank in the world requires that its president have a profound understanding of, and passion for, what the lordship of Christ would look like in an academic setting. But an even more key issue, perhaps, is whether Baylor's Board of Regents understands what this should look like, or what it would take for Baylor to realize the vision of Baylor 2012. Does the board understand the magnitude and remarkable nature of that vision?
Third and finally, it is questionable whether the Board of Regents, the administration, and the faculty have ever come to terms with Robert Sloan's presidency and legacy, and the key issues underlying the resistance to his vision for Baylor. Time may cause us to forget the past, but unsettled issues rarely remain buried forever.
Brad Green is Associate Professor of Christian Studies at Union University in Jackson, Tennessee, and one of the co-founders of Augustine School, a Christian liberal arts school in Jackson (www.augustineschool.com). He and his wife Dianne have three children, and worship at Englewood Baptist Church.
Not a subscriber? Subscribe to Touchstone today for full online access. Over 30 years of content!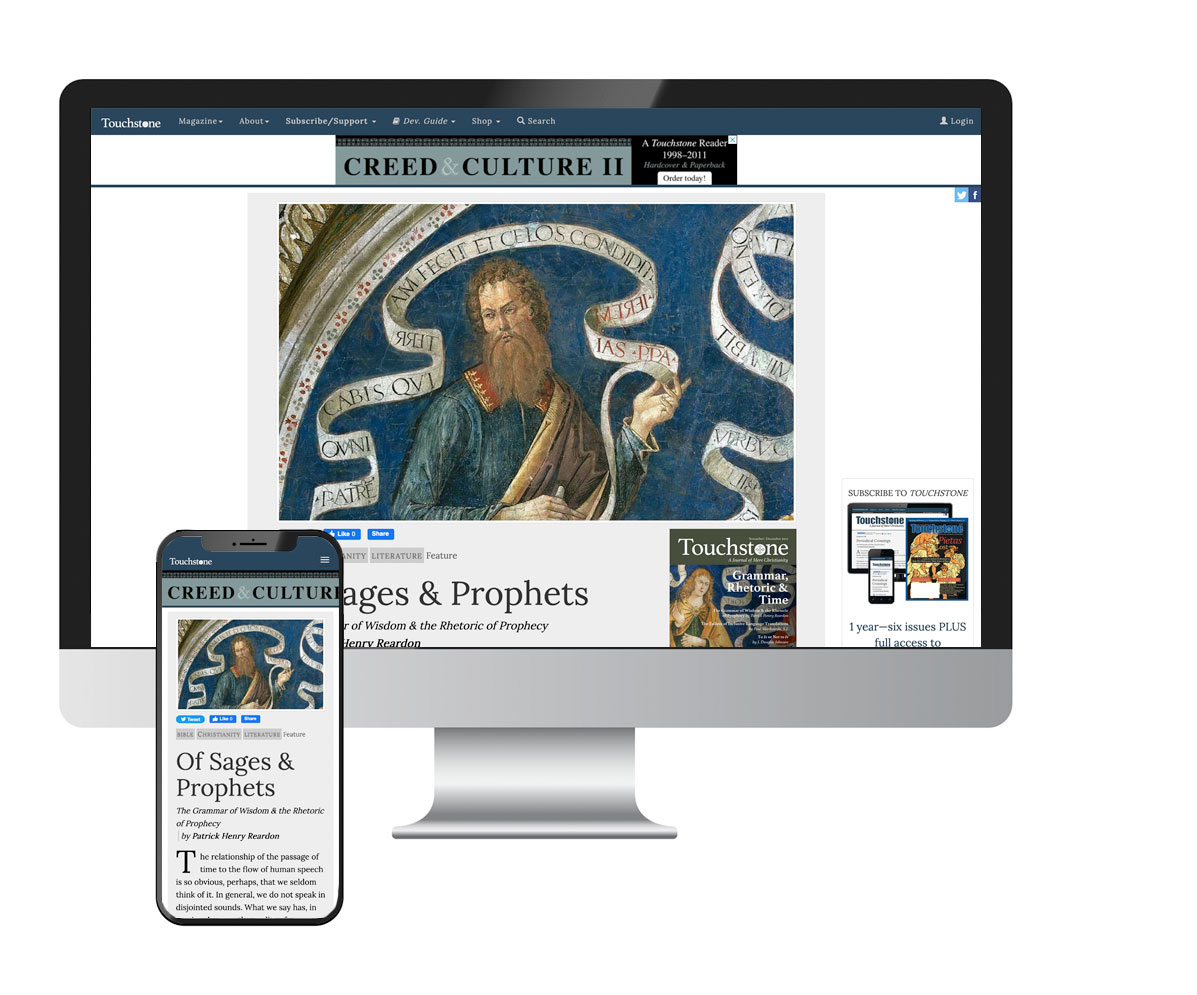 Get a one-year full-access subscription to the Touchstone online archives for only $19.95. That's only $1.66 per month!
Purchase Print &
Online Subscription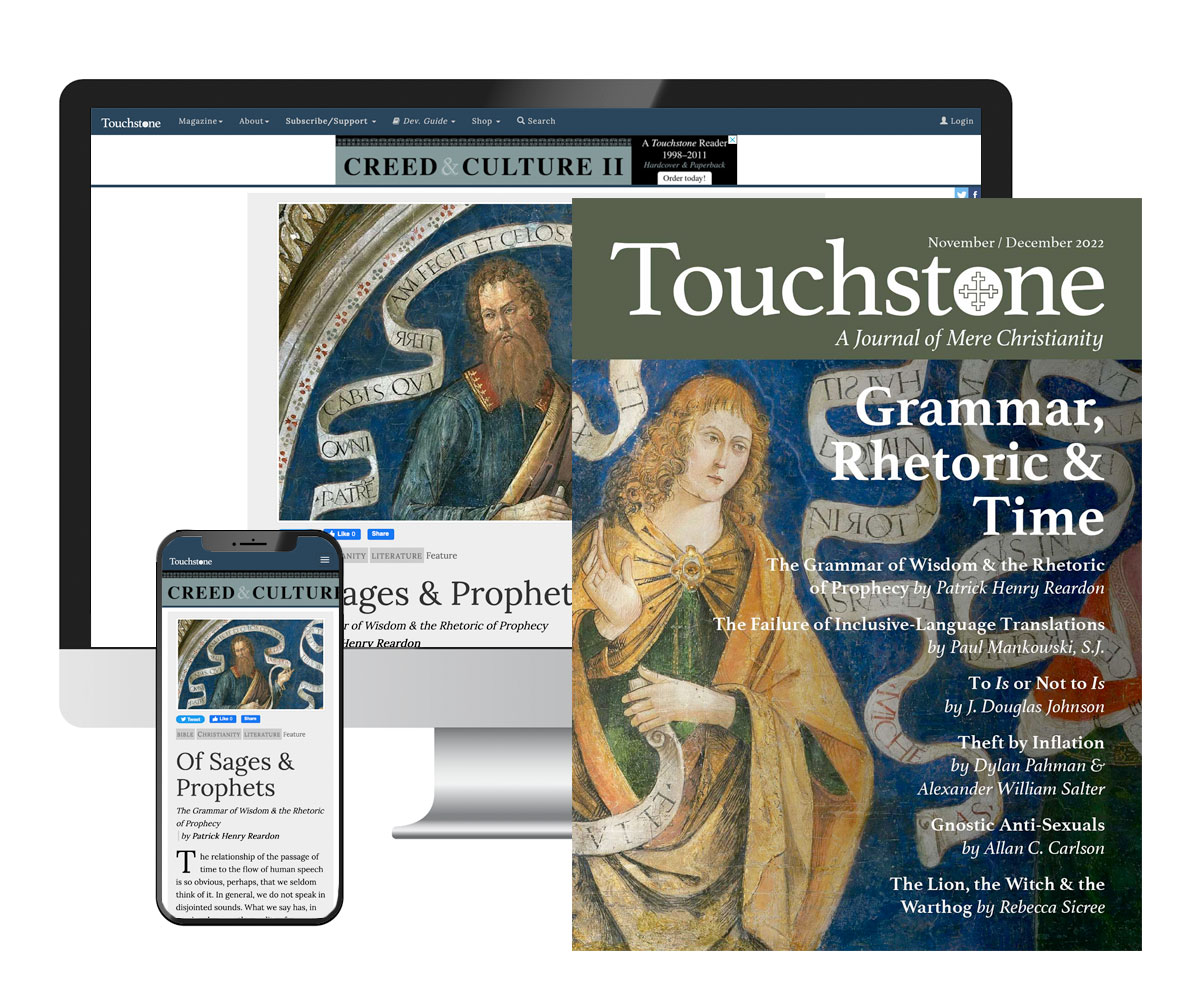 Get six issues (one year) of Touchstone PLUS full online access for only $29.95. That's only $2.50 per month!
Your subscription goes a long way to ensure that Touchstone is able to continue its mission of publishing quality Christian articles and commentary.
*Transactions will be processed on the secure server of The Fellowship of St. James website, the publisher of Touchstone.
from the touchstone online archives