A Circle of Like Minds
My Life at Doshisha, Japan's Leading Christian University by Jeffrey Folks
In 1864, at the age of 21, a young samurai stowed away on the Wild Rover, headed for America. That brave young man, Niijima Jo, who later took the name of Joseph Hardy Neesima, brought with him the intention to study at a Christian university. In pursuing this dream, Neesima risked his life by breaking the long-standing prohibition against travel abroad by Japanese citizens.
Determined to achieve his goal, Neesima overcame enormous obstacles, eventually becoming the first Japanese citizen to graduate from an American university. After earning degrees from Amherst College and Andover Theological Seminary, he returned to Kyoto, Japan, where he founded Doshisha Academy (later Doshisha University), the first Christian university in Japan.
Today, the spirit of "Jo," as he is still known among many Japanese, lingers over the campus that he founded in 1875. Located directly across the street from the ancient imperial palace, Doshisha University is steeped in a sense of history and tradition. The oldest campus building dates back to when Neesima was still alive. His home, a few blocks away, has been preserved as a museum. In honor of his youthful adventure, the university's athletic teams are known as the Wild Rovers.
The university's name itself, "Do-shi-sha," which could be translated as "circle of like minds," refers to the common purpose of the college's founders. The college song makes this evident: "One purpose, Doshisha, thy name/ Doth Signify one lofty aim:/ To train thy sons in heart and hand/ To live for God and Native Land."
An Inside Look
When I arrived at Doshisha's Graduate School of Letters in 1999, I was the first Westerner to accept a permanent appointment teaching literature at the university. As such, I had an opportunity that relatively few foreigners have: to learn about Japanese academic life and Christian education from the inside.
My sense of shared purpose was especially apparent in my relations with eager, inquisitive students. After one three-hour evening class during which I had lectured on Flannery O'Connor, I was approached by a quiet, reserved young man who inquired whether I was, indeed, a Christian. From my comments on the importance of redemption in O'Connor's writing, it should have been obvious that I was. But this, I suspect, was not really the point of the student's question. What he wanted was to open an exchange of religious views in a manner that is still quite unusual in Japan. After I answered him in the affirmative, he looked into my eyes and whispered, "I, too, am a Christian."
What followed was a cordial exchange of views on Christian denominations, services, and values. It was a memorable experience, but partly because it was so rare. Among most young Japanese, even those attending Doshisha, a certain embarrassment attends the open discussion of religion. Perhaps this is because their country's Shinto faith was closely associated with the emperor cult, which played a central role in the tragic events of World War II. Many now simply profess atheism and find in the popular culture of the West a confirmation of their lack of faith.
In their taste for pop music, casual dress, and American films, my students were thoroughly up-to-date. Yet they often seemed to harbor a bleak, disheartened outlook, as if university life were just a brief and pointless spree before entering the deadening life of the salaryman. Many in my classes had already closed their minds, perhaps forever, to religious belief. No wonder Japan has the third highest suicide rate in the world and one of the highest rates of alcoholism as well.
Yet among the two percent who are Christians, one discovers a palpable sense of purpose and shared delight in their acceptance of a redemptive faith. On our walks in Kyoto, my wife and I often passed a small school operated by a Protestant denomination. At this little school, modestly housed in a one-storey church annex, singing was one of the favorite activities for the children, and we could often hear thirty to forty small voices intoning hymns familiar to our ears, albeit with Japanese words. Here were smiling faces filled with the confidence and joy that was otherwise so often missing in the schools and offices that we visited every day.
Reticent About Religion
Among those of my students who were Christians, I sometimes detected a similar commitment to their adopted tradition. After a class in which we had discussed the importance of trust in everyday life—crossing the street on the conviction that oncoming vehicles would actually stop was, in the hectic traffic of Kyoto, truly an act of faith in the goodness of others—one young lady acknowledged that she did believe in God and that this belief guided her life. But this quiet affirmation was the only hint I was to receive from her all year that, behind the normally impassive exterior, there existed a bedrock of religious belief.
Perhaps it was, after all, simply bad form to discuss such issues in a culture where so much is implied and so little actually stated. Perhaps, like her peers, she did not want to stand out. Or perhaps it was just that she did not want to violate that cosmopolitan image that so many have adopted of appearing to be coolly agnostic, even when, secretly, they believe.
Rightly or wrongly, I took it as my mission to pierce this cool exterior, at least for a few hours a week, with discussions of the crucial realities of sacredness, design, and faith at the heart of all life. In a number of cases I believe that I succeeded.
While there were moments with the students when I was able to communicate a shared sense of faith, with the faculty there was only a great wall. One member of our faculty, a foreigner like myself, was deeply and actively religious. I was told that several of my Japanese colleagues were Christians as well, but not a word or sign of their Christian faith ever passed between us during either working hours or in our exchanges outside of work.
As far as I could tell, the university's Christian mission was on display only on formal occasions such as opening day—on which, along with their letter of employment, new faculty are presented with a Japanese Bible and a history of Doshisha—or commencement, both of which ceremonies are accompanied by prayer and Christian hymns. In the ten months in between, with the exception of a lovely production of Handel's Messiah every December, there was little overt display of Christianity.
Continuity & Tradition
But subtly, such as through invitations to speakers like the philosopher Paul Ricoeur and the translator Edward Seidensticker, the university pursued its Christian tradition. That tradition includes a long history of interchange with Western supporters, from G. G. Cochran, the Canadian missionary who helped found the university, through the small but distinguished group of Westerners who have served on the Doshisha faculty, including the writer J. Martin Holman and the economist Fritz Machlup.
In sum, continuity and tradition define Doshisha University. Visitors to the campus repeat the myth of Jo and speak of their sense of walking on hallowed ground. Nervous young applicants speak of the deep tradition, the impressive architecture, and the sense of common purpose as reasons for wanting to attend Doshisha.
Even my faculty colleagues, so tightlipped in other respects, gushed when they spoke of their emotional attachment to the university. Most of them had been students there, in many cases following attendance at the college's primary and high schools, and had followed their undergraduate degree by attending graduate school at the same university. Doshisha was all they had ever known, and for them, the university really did constitute a circle of like minds.
From my pleasant third-floor office, I often gazed upon the beautiful gardens of the Imperial Palace just across the street. How odd, I thought, that a young man from the Midwest, brought up in a conservative Presbyterian congregation, should find himself teaching directly across the street from the vital center of ancient Japan, where for a thousand years a civilization unknown to the West had flourished. How odd to be one of a handful of Westerners to be invited to enter deeply into this citadel of Japanese learning founded upon the heroic efforts of one resolute young man. How odd to find myself teaching in this haven of Christian education surrounded by the often bewildering and overwhelmingly secular culture of modern Japan.
And yet, how important, and how right, this effort was and is. I am no longer a faculty member at Doshisha, having retired to a quiet life in eastern Tennessee, but I remain a member of that "circle of like minds," and I wish them well in their pursuit of their "lofty aim." One colleague, with a playful radiance in his eyes, told me early on, "We are all fanatics for Doshisha." I was never quite a fanatic, but I, too, was an earnest supporter of the mission of this unique university. I am confident that Doshisha will remain a leading Christian university in Japan for generations to come, and I am proud to have been associated with this noble endeavor.
Jeffrey Folks is retired from over thirty years of teaching in Europe, America, and Japan, most recently as Professor of Letters in the Graduate School of Doshisha University, one of Japan's leading private universities. He has published numerous books and articles on American literature, including In a Time of Disorder: Form and Meaning in Southern Fiction from Poe to O'Connor (2003), and Damaged Lives: Southern and Caribbean Narrative from Faulkner to Naipaul (2005).
Not a subscriber? Subscribe to Touchstone today for full online access. Over 30 years of content!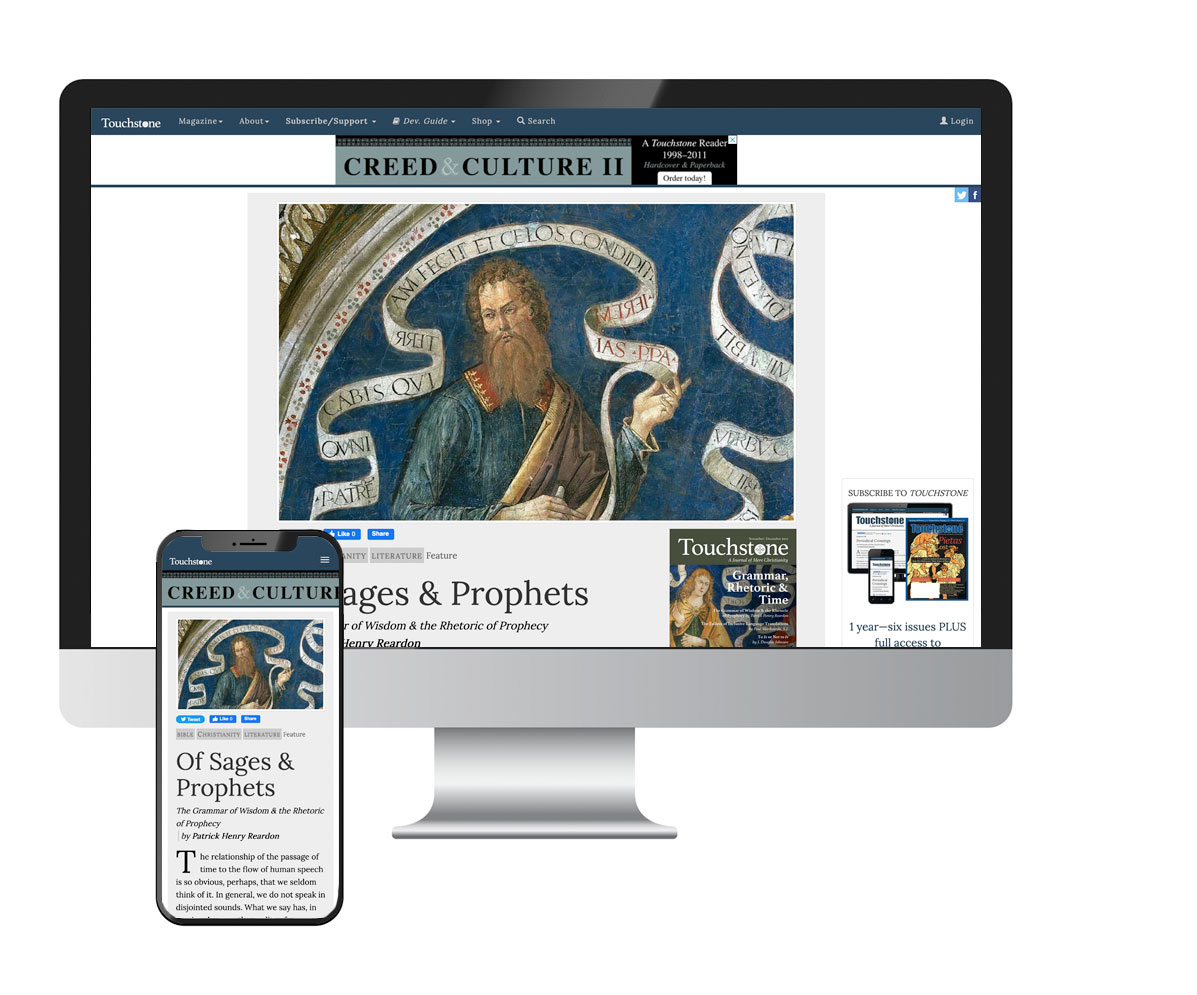 Get a one-year full-access subscription to the Touchstone online archives for only $19.95. That's only $1.66 per month!
Purchase Print &
Online Subscription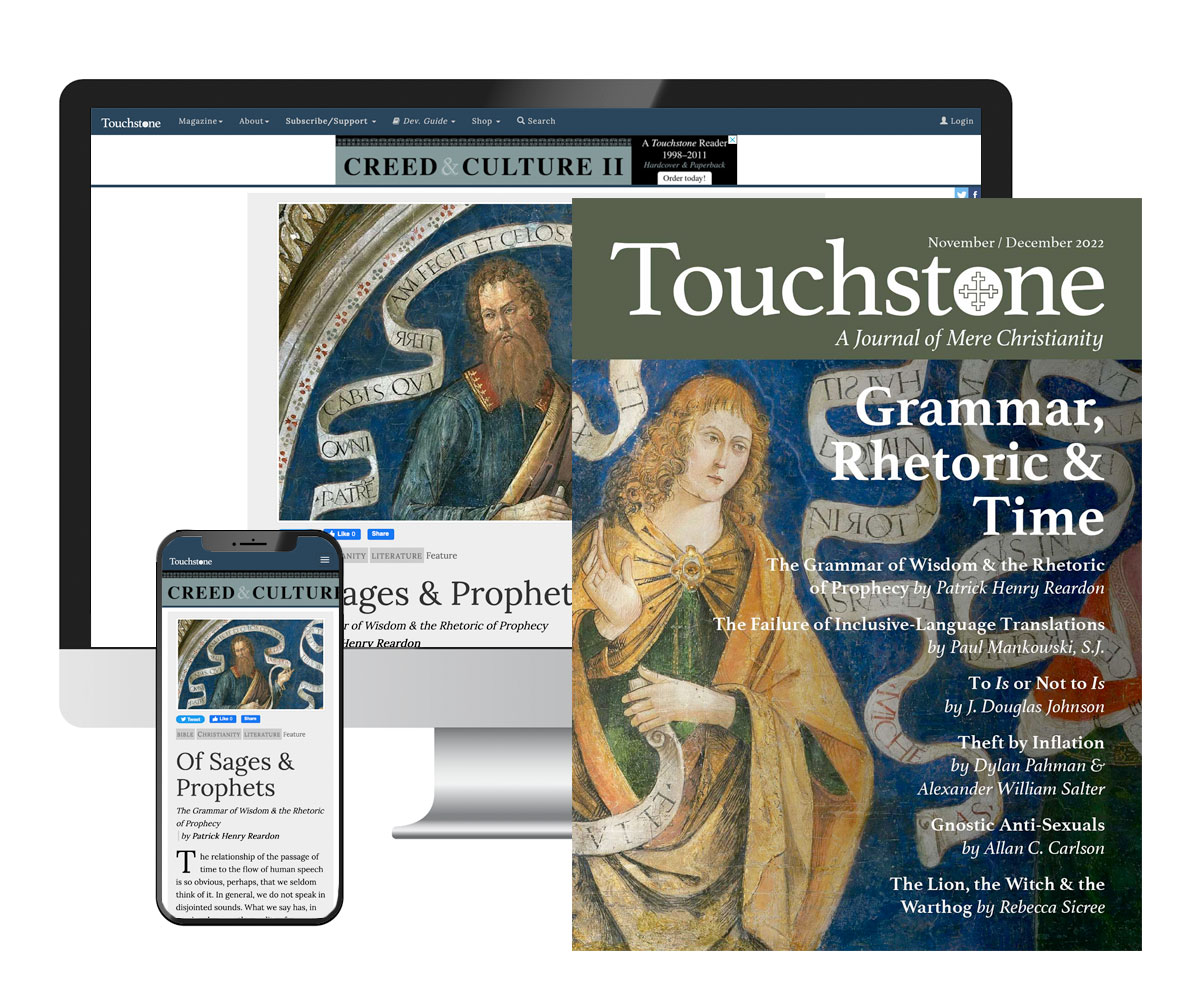 Get six issues (one year) of Touchstone PLUS full online access for only $29.95. That's only $2.50 per month!
Your subscription goes a long way to ensure that Touchstone is able to continue its mission of publishing quality Christian articles and commentary.
*Transactions will be processed on the secure server of The Fellowship of St. James website, the publisher of Touchstone.
from the touchstone online archives