Book Review
Sexes United
Marriage: The Dream That Refuses to Die
by Elizabeth Fox-Genovese
edited by Sheila O'Connor-Ambrose
ISI Books, 2008
(191 pages, $25.00, hardcover)
reviewed by Anne Hendershott
Individualism, writes Elizabeth Fox-Genovese, promised "delight in bodies and sexuality . . . the legitimacy of desire," but created a culture "burdened by the rising demands that it serve not the good of the whole but the desires of the individual."
In her Marriage: The Dream That Refuses to Die, she argues that the language of individual rights both invites one to do as he pleases with a clear conscience and deters disapproving of the choices of others. Naturally, individual "lifestyle choices" now include abortion, as well as almost every imaginable sexual practice, and the notion of marriage as the union of one woman and one man is but one choice among many. Any attempt to oppose or criticize this range of choices is interpreted as "ungenerous, judgmental and intolerant."
As a leading leftist intellectual who came to publicly oppose same-sex marriage, abortion, and euthanasia, Fox-Genovese endured such accusations personally. The founding director of the Institute for Women's Studies at Emory University, she drew the ire of pro-choice feminists when she moved from an "uneasy" pro-choice position to the realization that the past oppression of women could never justify present-day women's oppression of the most vulnerable among us.
A convert from secularism to Catholicism more than a decade ago, Fox-Genovese was, until her death last year, the Eleonore Raoul Professor of the Humanities and Professor of History at Emory University. She was also a contributing editor of Touchstone.
A Few Weapons
In her book, an expansion of three lectures delivered at Princeton University in 2003, Fox-Genovese points out that having first acceded to the primacy of the individual, "we are now capitulating to the non-negotiable demands of sexual desire."
As our culture has "loosened the bonds of sexual repression" that allegedly thwarted individual development and happiness, it has increasingly succumbed to the notion that no sexual desire can be denied. When it also assumes that marriage exists only to serve the interests and comfort of the individual, a society is "left with few weapons against the advance of same-sex marriage."
Still, this book offers us a few weapons. In the first part, it offers a functional and evolutionary view of marriage as an institution uniting one man and one woman that is necessary to the social, economic, and political flourishing of men, women, and children, and to the cohesion of society. It is necessary "to infuse the most important social bond with a sacramental character."
She suggests that the real goal for the "hardcore" same-sex marriage activists is not equal access to the benefits that marriage brings, but the destruction of marriage as the union of a man and a woman. And, she maintains, "they aim to discredit all forms of authority—especially God and nature—that dare to tell people how to lead their lives."
She identifies the reluctance to submit to any authority—natural, secular, or divine—as the unwillingness to acknowledge that "the essence of marriage is the authority that derives from the acknowledgement and accommodation of the reality of difference—notably the fundamental sexual difference between women and men." Rejecting the reality of meaningful difference, liberationists have fostered the belief that the liberation of women must begin with their release from "enforced servitude to children as well as to men."
Same-sex marriage is a natural outgrowth of this kind of thinking.
Marital Benefits
After giving attention to the structure of marriage, she provides an extensive historical perspective on the family, one that draws both from the real families she has studied as a historian and from literature, to demonstrate that despite feminist claims about the subjugation of married women throughout history, companionate marriage and domesticity actually benefited women.
Fox-Genovese sees the novels of Jane Austen, who wrote "on the cusp of the emerging 19th century world of individualism," as well-suited for exploring the ties between marriage and families. She cites Austen's Mansfield Park, for example, as offering a particular lesson on the dire consequences of individualism, when one young heroine marries with no consideration for the counsel of family and friends.
Devoting an entire chapter to Pope John Paul II's concern for the family as the fundamental custodian of life amid an encroaching culture of death, Fox-Genovese notes that conditions in the Poland of Karol Wojtyla's youth and early priesthood "continuously reminded him of the importance of the family both as a protection against the onslaughts of Nazism and communism, and as the core building block of any decent and human—any truly Christian society."
She notes that as a participant in the Second Vatican Council, John Paul "understood the ways in which the modern world offers unprecedented opportunities and unprecedented dangers—new forms of freedom and new forms of slavery." And she maintains that the pontiff insisted that "the intimate partnership of married life and love has been established by the Creator and qualified by his laws. . . . God himself is the author of matrimony, endowed as it is with various benefits and purposes."
Throughout her book, Fox-Genovese demonstrates that when morality becomes a matter of personal preference, it ceases to be a binding social norm, and everyone, especially women and children, suffers as a result. She shows that the sexual liberation of women, combined with the feminist campaign against marriage and motherhood, led to the acceptance of abortion, the proliferation of single-mother families, and the number of children born outside of marriage.
When men have easy access to women who have no objections to premarital sex, Fox-Genovese argues, they "have no incentive to meet the demands of women who seek to trade sex for marriage." But, she also cautions that "men's preference for freedom over commitment comes at a price . . . the decline in marriage among lower and working class men has led to the rise in crime, drug use and under-employment."
Far from blaming women as accomplices in the destruction of marriage and the family, she provides sociological data documenting the negative outcomes for women after divorce, and the current plight of children of single-parent families, to demonstrate that women and children are victims of the societal release from sexual taboos and protections that had historically encircled them.
Marriage, in contrast, is an intrinsic good, because "it bridges the differences between the sexes, uniting man and woman in one flesh." And although marriage unites two distinct and morally responsible individuals, it is less about the individuals than it is about their union into one, into "a marriage that unites and transcends their individual purposes and desires."
A Lost Voice
For those of us who admire writers with the courage to challenge the reigning culture, the release of Marriage: The Dream That Refuses to Die is a bittersweet reminder that with Fox-Genovese's death, we have lost an important voice. Her editor writes in the introduction that "witnessing Betsey's moral courage and perseverance in the face of tremendous opposition and persecution lent me courage." Her last book does exactly this for us as well. •
Anne Hendershott is Professor of Urban Affairs at the King's College in New York City (www.tkc.edu). She is the author of Status Envy: The Politics of Catholic Higher Education (Transaction, 2008). She and her husband have two grown children and are members of St. Mary's Church in Milford, Connecticut.
Not a subscriber? Subscribe to Touchstone today for full online access. Over 30 years of content!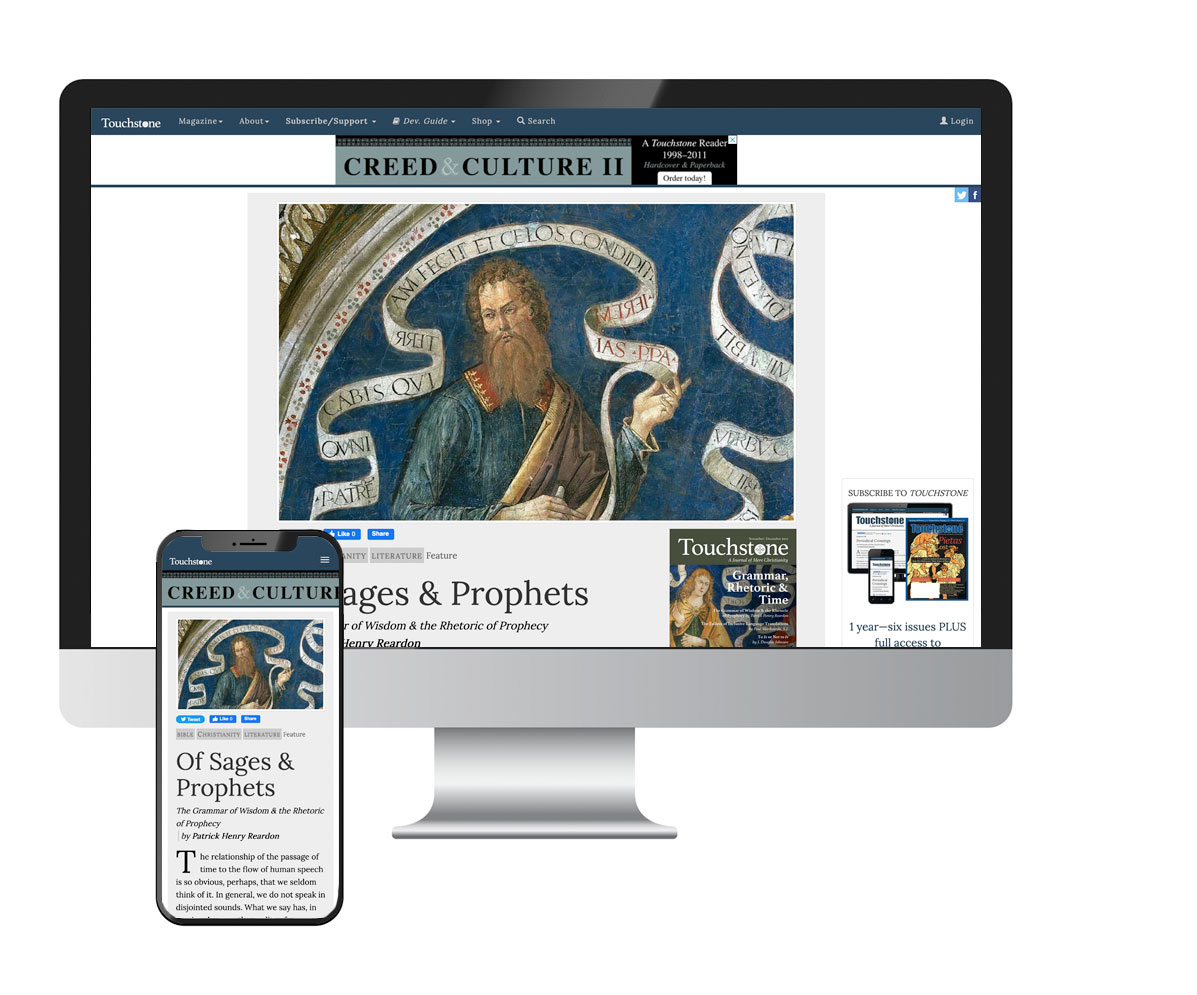 Get a one-year full-access subscription to the Touchstone online archives for only $19.95. That's only $1.66 per month!
Purchase Print &
Online Subscription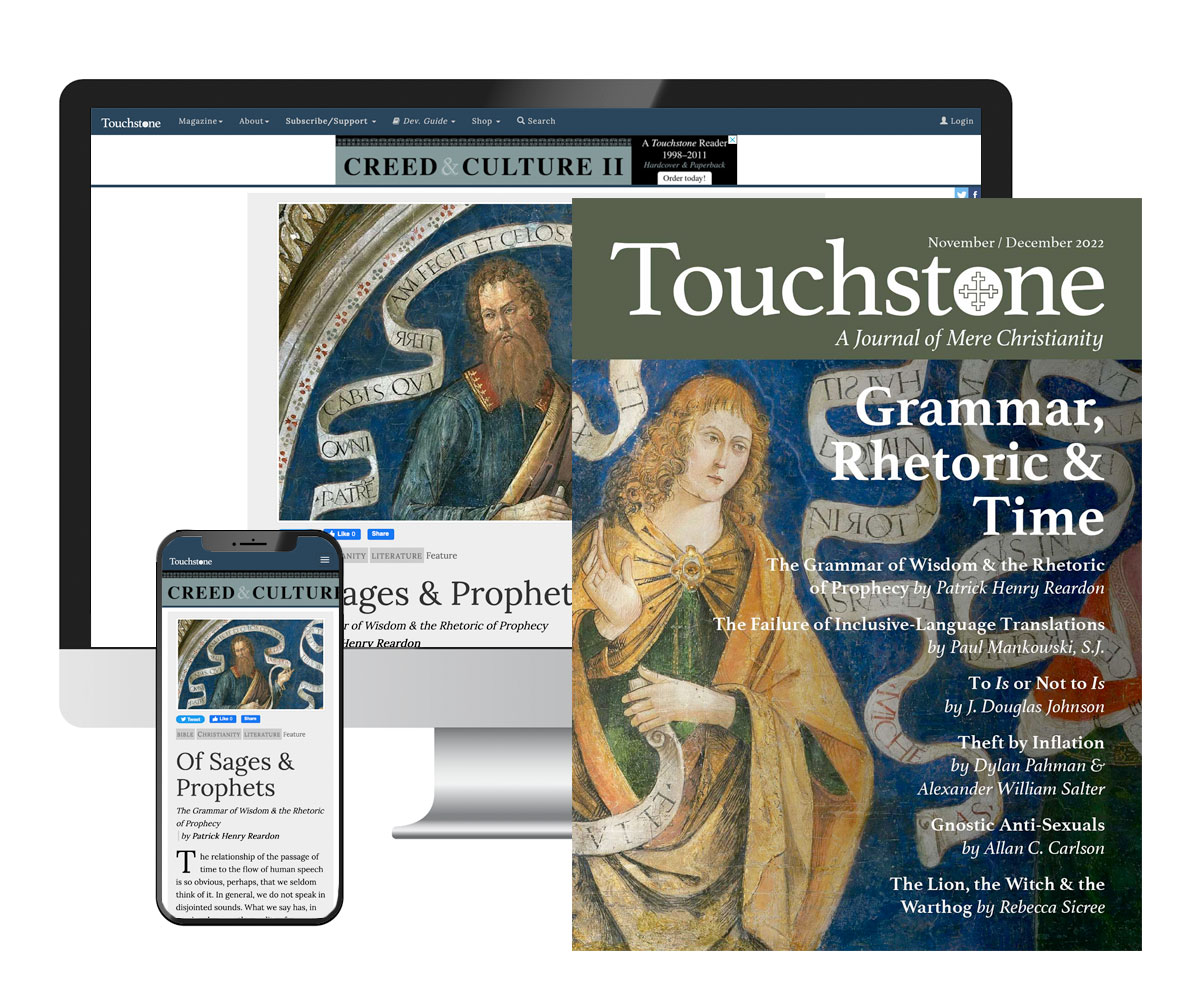 Get six issues (one year) of Touchstone PLUS full online access for only $29.95. That's only $2.50 per month!
Your subscription goes a long way to ensure that Touchstone is able to continue its mission of publishing quality Christian articles and commentary.
*Transactions will be processed on the secure server of The Fellowship of St. James website, the publisher of Touchstone.
from the touchstone online archives