View
The Final Past Time
Anthony Esolen on What Baseball Could Have Taught the Greeks About Death
On a sunny afternoon in October, many years ago, there came to me the first intimations of the bittersweetness of this passing life. I was sitting on the floor of our small living room, stationed in front of a black-and-white television, my father watching over my shoulder from the sofa. It was the seventh game of the World Series, with the Detroit Tigers playing the defending champions, my beloved St. Louis Cardinals.
It was inconceivable to me that they could lose. They had, it is true, blown a three-games-to-one lead, and had been routed 13–1 the day before. My mother, God bless her, had picked me up from school that day so that I'd miss as little of the action as possible. I remember feeling queasy, listening on the car radio as Jim Northrup hit a grand slam. I could well have missed that.
They Could Not Lose
But now Bob Gibson was on the mound, and Gibson was unhittable. That year he had given up a paltry 38 earned runs in over 300 innings, the finest ERA since almost the turn of the century. He had thrown 13 shutouts, some of them lasting into extra innings. He had shut out the Tigers in Game One, striking out a World Series record 17 men. He had shut them down 10–1 in Game Four, striking out 10 and hitting a home run for good measure.
He was the fiercest competitor of his generation—a man who glowered at his opponents, who would sit them on their fannies with a fastball under the chin if they leaned out over the plate, his territory. He confessed that he could not even let his daughter win at checkers. This proud man was on the mound before the home crowd in St. Louis, pitching with three days' rest, while his opponent, the pudgy Mickey Lolich, was pitching with two. The Cardinals could not lose.
The game was still scoreless in the top of the seventh inning, and Gibson, who till then had given up only one scratch hit, was clearly tiring. But I, in my youth, knew nothing about "tiring." Children know that there are old people, but of the mystery of becoming old—of one day learning, with some mild surprise, that the hill up the woods behind the house has grown steeper—they know nothing at all. Gibson had to win. It was a law of the universe.

He gave up two singles. With two outs, Northrup came to bat, a decent hitter but nothing special. He hit a long fly ball to center field. Curt Flood, who once went a season and a half without making an error, broke in on the ball, saw his mistake, turned around and . . . fell. The ball landed behind him, bouncing carelessly away for a two-run triple. The next batter singled, and that, basically, was the ballgame.
I watched in astonishment. "Those runs are unearned!" I pleaded with my father. "He should have caught that ball!"
"He should have caught the ball," said my father. "But it was a mental mistake, not a mistake with the glove. Mental mistakes are not scored as errors, so the runs are earned." Ah, the correctness, and implacability, of baseball justice.
Gibson would grow old: Five years later he broke his leg trying to get back to first base on a pickoff, snapping it so cleanly in half that the pop was audible throughout Shea Stadium. He was never the same after that, but then, as I came to learn, nobody ever is "the same." He is now over 70 years old, the same age as my father would be, if my father were still here to watch ballgames.
A Last Spring
The old Greek poets had an acute sense of our transience, so they tried to fix their memorialized victors in one transcendent moment of glory. When Pindar, poet for hire, sang his odes in praise of a lad who had crowned his family with honor by winning the boys' footrace at Olympia, he would draw moral lessons from mythology, would incorporate into the poem a gracious memory of the lad's brothers or uncles or father who once triumphed in the palestra, and would praise the family's land and city.
He would do everything except see that moment in the light of the future. Maybe that is because, in paganism, just as there is nowhere for mortal man to stand that is higher than the peak of Olympus, so there is no glory sweeter than earthly victory, and no future other than old age and death. All men will change, will fall slack from their youthful strength, will decay, and die.
The only thing that does not change, in paganism, is the round of change itself. It alone remains the same, because it alone is not going anywhere. It is endless, in that desperate sense: There is no point to it.
I know, as the pagans well knew, that there will come a final season for me, as there came for all the men I watched in my youth. There will come a day when I will have switched on the radio for the last time (having waited an hour or so after the first pitch) to follow the Cardinals from the fifth inning on.
So there will come a last spring to see the redbud tree flower in the yard; a last scent of lilacs; a last sweltering evening in August to sit on the porch and catch the hint of cooking from across the road; a last yellowing light of fall, and the last oak leaf turned to russet and dull gold; the last look upon a friend's face, last touch of my wife's hand; a last inning, and the final out, and the announcer bidding farewell, and silence.
But I know more. I know, as the pagans could not know, that history is going somewhere, and does have a point; and I know that at its consummation we will not be concerned about Curt Flood's mistake. When Christ comes again, he will judge every man, proclaiming which of us had the faith to shoulder the cross, accompanying him up the mount of Calvary on that bitter day so long ago.
Only Baseball
And that causes me to wonder what, other than habit, explains my continued love for that game that breaks the heart. It seems to me that this intricate and foolish game hovers somewhere between the two visions. More than any other sport, baseball is permeated with history, with discrete and unrepeatable moments of decision.
I love baseball for that history; or maybe I should say, for its ability to make a history, to bring meaning and direction to the spins and skitters of a child's game. We fans follow baseball as if it were a world of its own, with a venerable past, though we know that the most momentous events in that world—Grover Cleveland Alexander redeeming his age and his drunkenness by striking out Tony Lazzeri with the bases loaded in the seventh game of the 1926 Series—are yet trivial, for it is only baseball.
Meanwhile, as the announcer on the radio chats with his buddy, what is going on in the living room of the fan, trivial as it may seem, is of momentous import: the good wife indulging her husband in the hobby, he laying his arm about her shoulder, idly asking his son about school that day; a home at peace, wherein by discrete and unrepeatable decisions, moment by moment of grace, a history is taking shape, as the souls in the room are being prepared for a happiness whereof these good things are but shadows.
In baseball we have fashioned a world of seasons that, to the inattentive, to the skeptic, seem to repeat themselves, with rookies and veterans passing their way. But the seasons do not repeat, and the single moment of decision or hesitation—Johnny Pesky holding the ball as Enos Slaughter races home, winning the Series for the Cardinals in 1946—will make all the difference.
I remember the boy I was, and the child I hope by the grace of God I someday may be, sitting in the dark of my room when I should have been asleep, the transistor radio pressed against my ear, as I tried to use it and my body as an antenna to pick up the scattered revelations of a game from St. Louis, broadcast from well over a thousand miles away. And there, amid wars and rumors of wars, and the blistered static of newsmen and auto commercials and pop music fading in and out of audibility, I might pick up, now and again, a pitch or two here, or the roar of the crowd there.
A stretch of nothing, and then a word, to make sense of it all. And the sense is there to be made. Let the skeptic scoff. I knew the Cardinals had a man on third. •
Anthony Esolen is Professor of English at Providence College in Providence, Rhode Island, and the author of The Ironies of Faith (ISI Books), The Politically Incorrect Guide to Western Civilization (Regnery), and Ten Ways to Destroy the Imagination of Your Child (ISI Books). He has also translated Tasso's Gerusalemme liberata (Johns Hopkins Press) and Dante's The Divine Comedy (Random House). He is a senior editor of Touchstone.
Not a subscriber? Subscribe to Touchstone today for full online access. Over 30 years of content!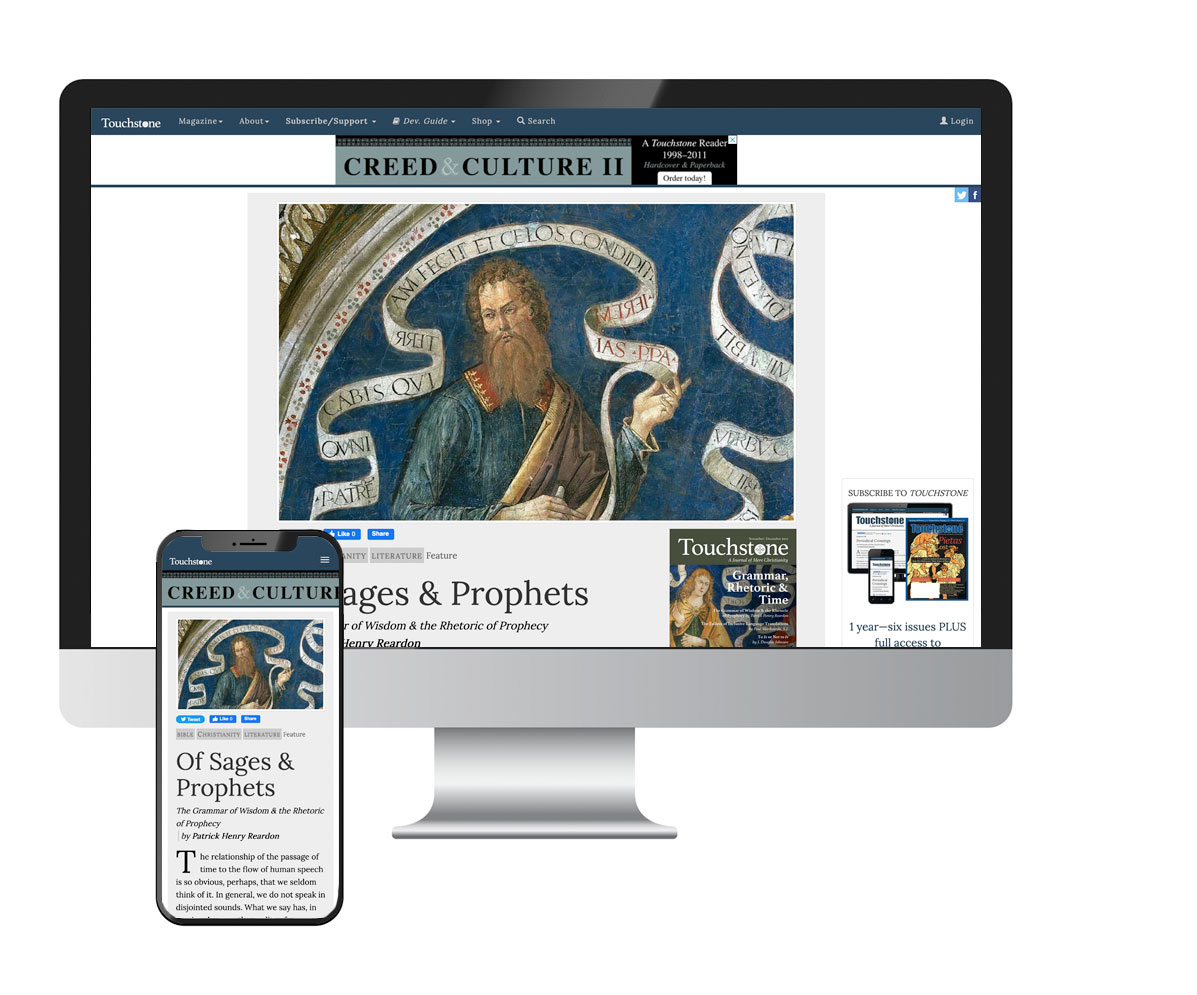 Get a one-year full-access subscription to the Touchstone online archives for only $19.95. That's only $1.66 per month!
Purchase Print &
Online Subscription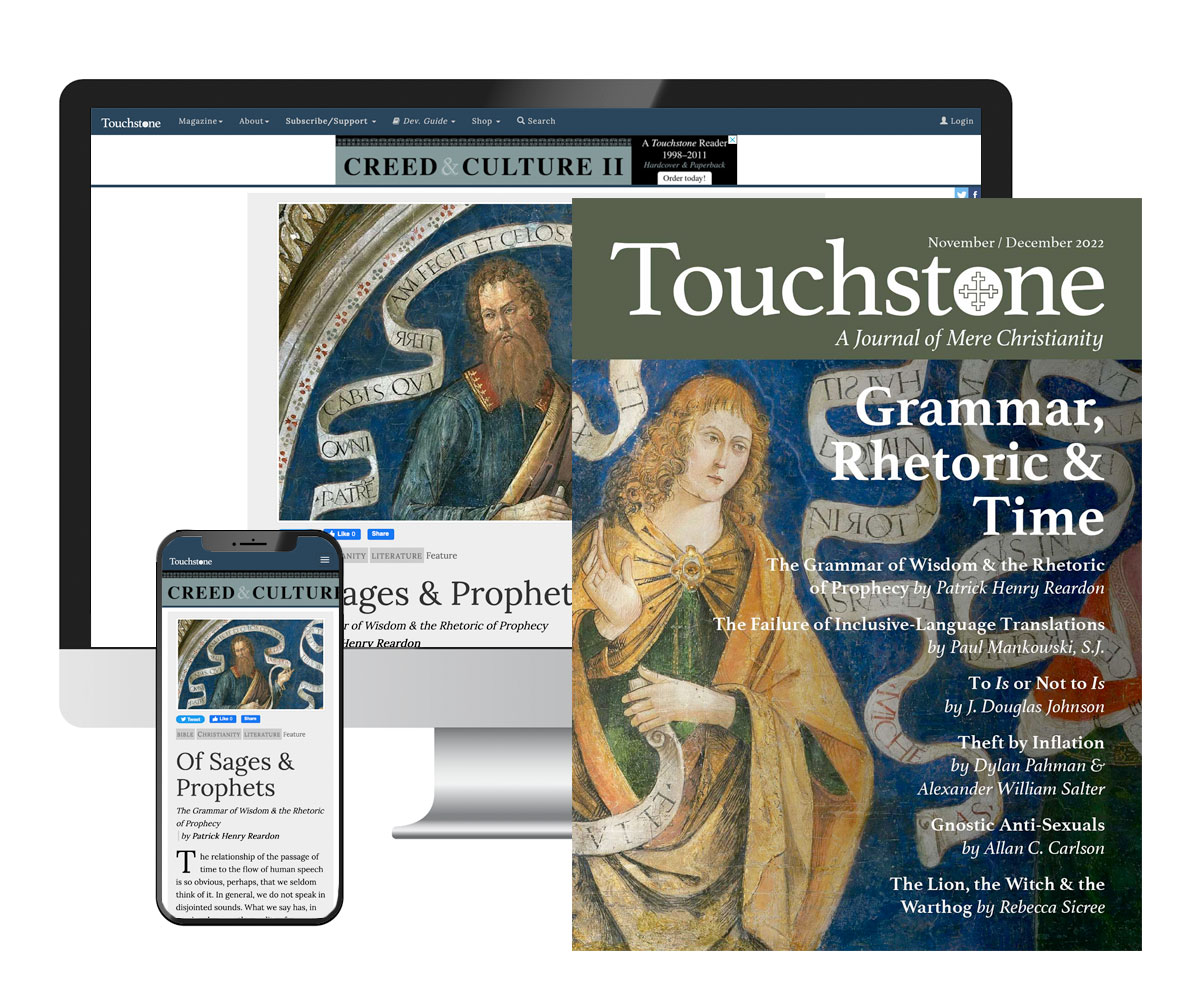 Get six issues (one year) of Touchstone PLUS full online access for only $29.95. That's only $2.50 per month!
Your subscription goes a long way to ensure that Touchstone is able to continue its mission of publishing quality Christian articles and commentary.
*Transactions will be processed on the secure server of The Fellowship of St. James website, the publisher of Touchstone.
from the touchstone online archives