Precious Poet
William Cowper: Selected Poetry and Prose
edited by David Lyle Jeffrey
Regent College Publishing, 2007
(188 pages, $18.95, paperback)
reviewed by Thomas Howard
If anyone still knows the name of William Cowper (pronounced "Cooper") besides graduate students in English, it will be Protestants who may on occasion find themselves singing one of his hymns, most notably "Oh! For a closer walk with God," although under the seismic wave of "Praise Songs," this hymn may have been lost along with the entire treasury of English-language hymnody.
In good eighteenth-century fashion, Cowper wrote immensely long poems, not all of them easily readable to modern readers. However, if one sticks to the job, he will discover sentiments, articulated gracefully and earnestly, that spring from the center of Christian piety and devotion.
The reader who happens to be Christian in his outlook may gradually find that Cowper's "quaint" way of speaking turns out to be the very mediator of hitherto unthought-of avenues of prayer and meditation.
Close Scrutiny
Cowper had a terrible life, if we are speaking of his soul. Brought up an Anglican—his father was a clergyman—he was bedeviled for virtually the whole of his adult life with what he felt to be culpable doubt of the most bottomless order. More than once he was consigned to the "madhouse." His troubles would nowadays, of course, be assigned to clinical depression.
He made gestures towards suicide three times, feeling that he had somehow committed the Unpardonable Sin. Good friends had to look after him, and take him in, for most of his life. He appears to have won some serenity before the end.
The first poem included in David Lyle Jeffrey's brief, helpfully footnoted anthology may be taken as representative of his long works. It is entitled "Truth," and offers a close scrutiny of man with all of the temptations and guilt that beleaguer us mortals.
In the course of the poem, Cowper lets fly at what he sees to be the faults of Protestantism, e.g., parsimony and humbug, with "Yon ancient prude [who] sails with mincing airs,/ Duly, at clink of bell, to morning prayers," followed by her little servant, "The shiv'ring urchin, bending as he goes,/ With slip-shod heels and dewdrop at his nose . . . [who] Carries her Bible tucked beneath his arm,/ And hides his hands to keep his fingers warm."
But the poet also takes aim at the papist with his "Book, beads, and maple-dish. . . . Girt with a bell-rope that the Pope has bless'd." Any person who has the least capacity for enjoying poetry at all may find great pleasure here.
Bagatelles & Hymns
Cowper wrote endless playful, but usually poignant, lyrics as well as these long poems. We find a twelve-line threnody "On a Goldfinch, starved to death in his cage," and "A Tale," lauding bleak and barren Scotland for the love that we (English) may learn from her, most notably from the heroic mutual loyalty of two Scottish chaffinches.
My own favorite of these bagatelles is "The Diverting History of John Gilpin," in which we have a London linen draper whose horse runs away with him, thus furnishing great hubbub and glee over the countryside through which the horse obliges poor John to gallop.
There are some nettlesome oddities about the volume, which perhaps ought not to be laid at Jeffrey's feet. For example, the classical Latin subscripts from Horace and Virgil are not translated, and while on one page we are told that "Britain's oak" refers to "oak-timbered ships," on a later page we are left to our own resources with the phrase "go snacks," whose very syntax, let alone the allusion, is opaque.
But far more vexing than these minuscule items is the fact that there is no index. This seems inexplicable in a volume of verse. How is a reader ever to find the selection he wants? I had to leaf through the entire book to find various items I wanted.
One can scarcely attribute this sort of thing to Jeffrey, who is a most accomplished scholar, and is to be commended on this judicious selection from Cowper's work.
No doubt Cowper's greatest legacy is his contribution to the famous "Olney Hymns," which he and the converted slave-trader John Newton wrote. My own favorite (included here) is one that might invite shudders from modern Christians. In it we hear that "There is a fountain fill'd with blood/ Drawn from Emmanuel's veins."
The point here, certainly, would be the Precious Blood which all good Catholics, Orthodox, and Protestants adore as supplying their eternal salvation. For bringing such a poet out of obscurity, Jeffrey deserves the thanks of all.
Thomas Howard taught for many years at St. John's Seminary College, the Roman Catholic seminary of the archdiocese of Boston. Among his many works are the books Christ the tiger, Evangelical Is Not Enough, Lead Kindly Light, On Being Catholic, and The Secret of New York Revealed, and a videotape series of 13 lectures on "The Treasures of Catholicism" (all from Ignatius Press).
Not a subscriber? Subscribe to Touchstone today for full online access. Over 30 years of content!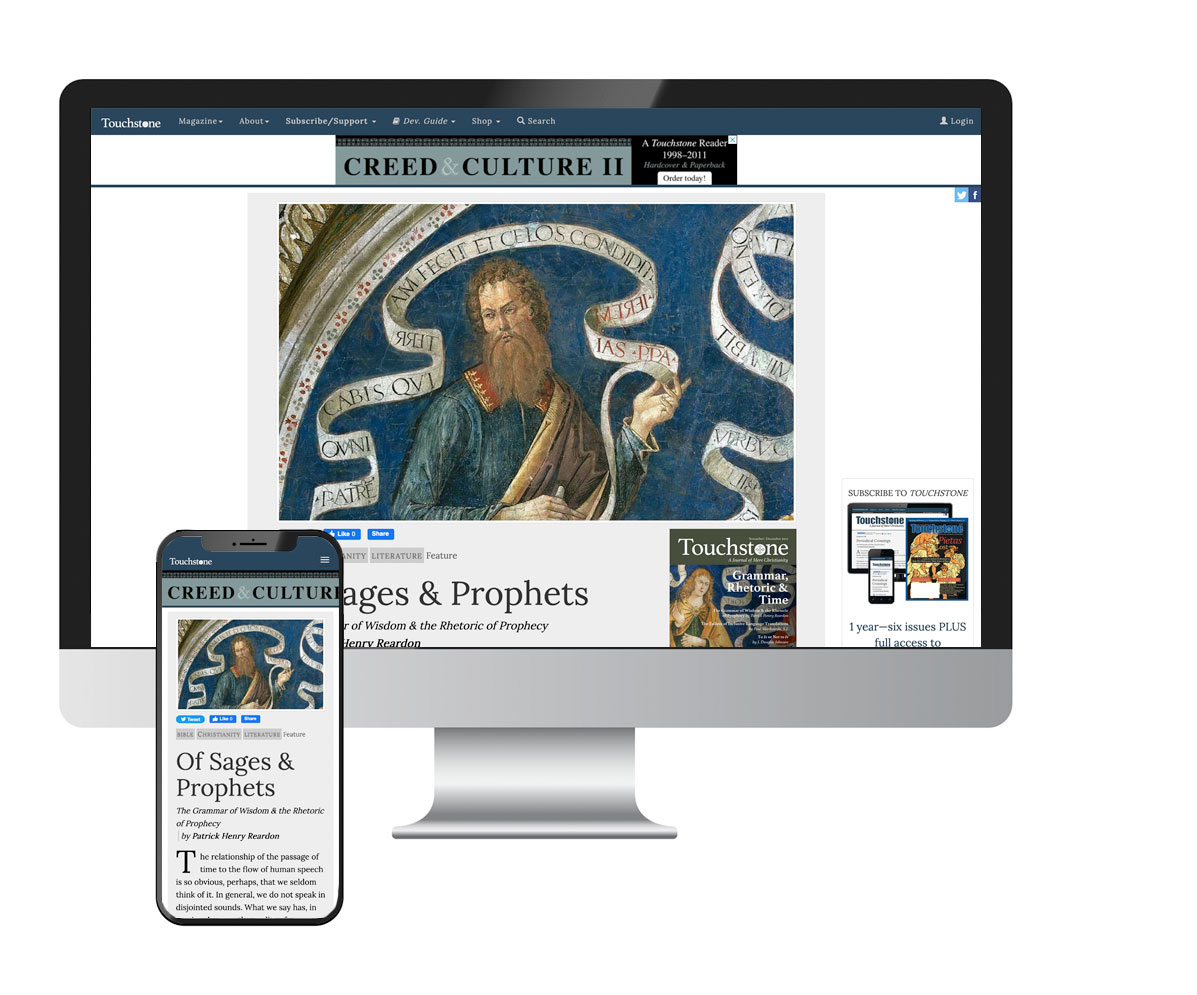 Get a one-year full-access subscription to the Touchstone online archives for only $19.95. That's only $1.66 per month!
Purchase Print &
Online Subscription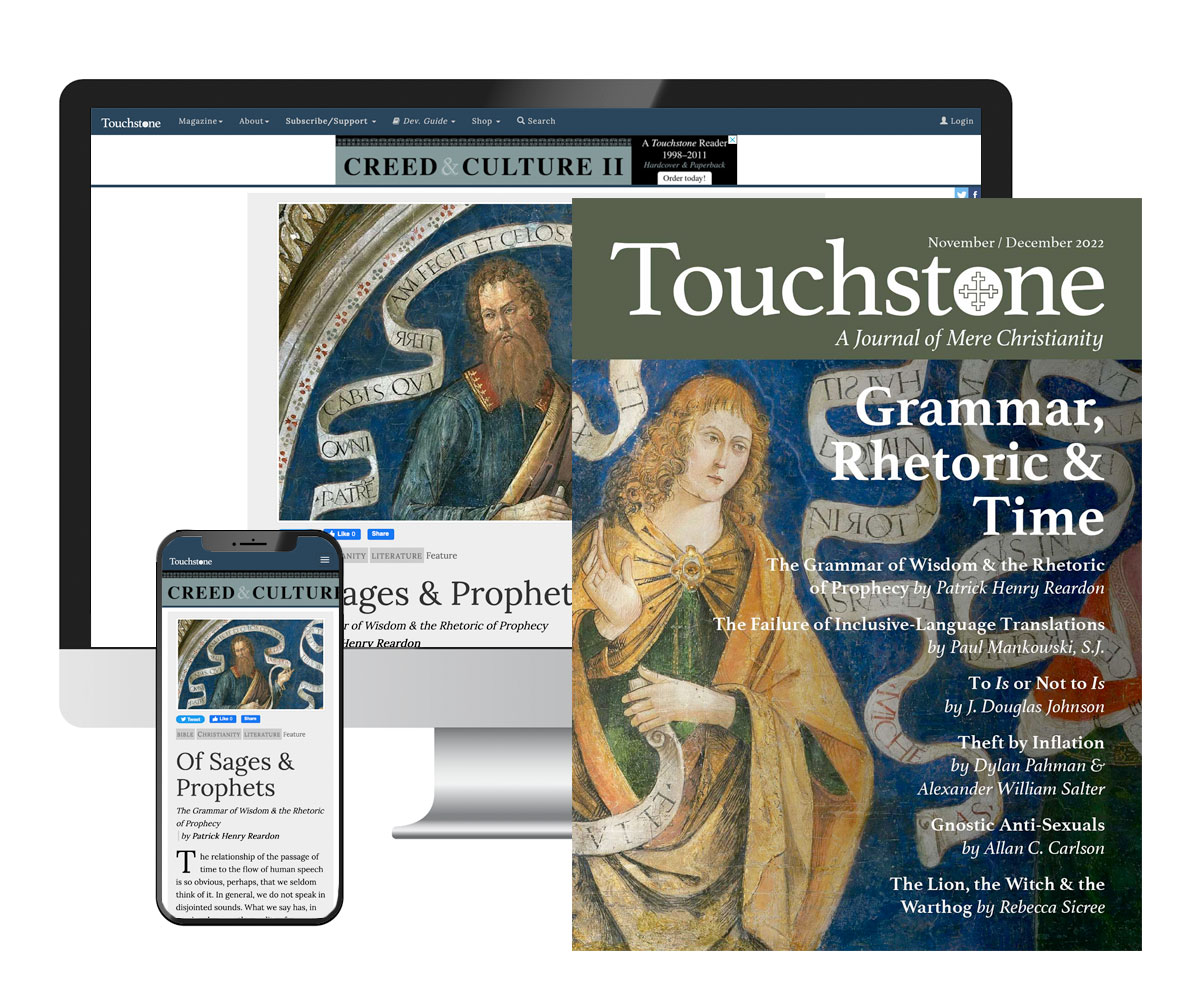 Get six issues (one year) of Touchstone PLUS full online access for only $29.95. That's only $2.50 per month!
Your subscription goes a long way to ensure that Touchstone is able to continue its mission of publishing quality Christian articles and commentary.
*Transactions will be processed on the secure server of The Fellowship of St. James website, the publisher of Touchstone.
from the touchstone online archives