Passing Customs
Joanna Bogle on the Family History a Winter Festival Doesn't Tell
It began with the idiotic memorandum from a local education authority. Only one of many, of course, and probably not the silliest, but it irked. It invited entries for a competition to design a "Winter Festival" card. Yes, the alternative to Christmas.
What irked was not just the dreary political correctness, but the lack of history, of reality, of recognizing the authentic role of schools and education.
Satisfying Symmetry
But it turned out to be useful, because it kick-started me into writing my Book of Feasts and Seasons, using recipes and games I had actually eaten or cooked or played or seen. The book was published by a small Christian publisher and, unexpectedly, it worked.
I had not fully grasped the significance or the satisfying symmetry of the Christian calendar. I hadn't even realized how it all fit together: Christmas at midwinter, the Annunciation exactly nine months earlier, at the Spring Equinox. John the Baptist's birthday at midsummer, with the days getting longer after Christmas and shorter after the Baptist's birthday in June: "He must increase and I must decrease."
I hadn't known that the Annunciation is so important that it has marked our national calendar (I write from England) for over a thousand years. Our tax year begins and ends in March/April because the Annunciation is marked at that time. Until 1752, the Annunciation was regarded as New Year's Day (something which can still cause confusion when consulting old documents).
The significance of the Annunciation is also the reason for its being used for pub signs, like "The Angel" and "The Salutation." There is even a London Tube station called "Angel," after a pub of that name nearby.
Then there are the other reminders of our history, found almost everywhere. Think, for instance, about the number of flowers and herbs that are named after Mary, like marigolds ("Mary's gold"), or that most useful of herbs, rosemary. Think of the ladybird, a useful insect that eats up the small green aphids that eat your roses.
The Catherine Wheel firework is named after St. Catherine, said to have been martyred by being broken on a wheel. Members of Parliament have a grid-iron on their notepaper because the small undercroft chapel beneath the Palace of Westminster is dedicated to, among other saints, St. Lawrence, who was martyred on a gridiron.
And then there are the traditions retained in the churches. We eat pancakes on Shrove Tuesday because they use up eggs, which were traditionally renounced, along with other goodies, during the Lenten fast that started the next day. Some English churches have a "pancake bell" because, long ago, it was rung to tell people to gather at the church for the pre-Lenten confession. (Today, it is usually rung to mark the start of a local pancake-race, sometimes promoted as part of a tourist attraction.)
A Real Heritage
I began giving talks about the calendar, about old festivals and customs, about celebrating feasts and seasons. It was like telling people their own family history.
Young mums' groups, older ladies at Townswomen's Guilds and Women's Institutes, schools, Adult Education classes, Rotary Clubs, Confirmation classes, church groups, ecumenical groups, Residents' Associations, up-market groups with posh food meeting in agreeable places, everyday groups in church halls with nasty tea in polystyrene cups.
Pious groups with names like the League of St. This or the Sodality of St. That. Non-pious groups that only invited me because they needed a speaker and were told I made people laugh.
People, I found, like—could become almost obsessively interested in—factual, intriguing information about the customs and traditions of our past. Pub signs, nursery rhymes, odd sayings, foods associated with a particular saint's day, nicknames begun centuries ago that are still in use—things "old and new" that are part of a heritage that is the more precious because it is rooted in things that are still part of our lives.
Feasts and seasons, saints and folklore: these interest even people who have no connection whatever with Christianity. They all, Christian or otherwise, come to understand that the Christian faith, which shaped and formed Europe, and crossed the Atlantic to the Americas, gave us a language and a calendar, a history and a whole range of traditions.
We are not spiritual and cultural orphans. We have traditions and music, songs, poetry, folklore, and stories passed down to us. These are bound up with images of ourselves and with important moral truths and social rituals.
Christmas may be hideously commercialized, but it still also brings good things like youth groups organizing concerts for local old people, families getting together, lonely people getting visitors, charities raising funds for projects at home and abroad. Easter at springtime still has the ability to suggest even to the unbelieving the possibility of new life and hope.
Of course there are other traditions, some noble, some not—Britain has Guy Fawkes Day, America the Fourth of July, France Bastille Day. As a Londoner,
Not a subscriber? Subscribe to Touchstone today for full online access. Over 30 years of content!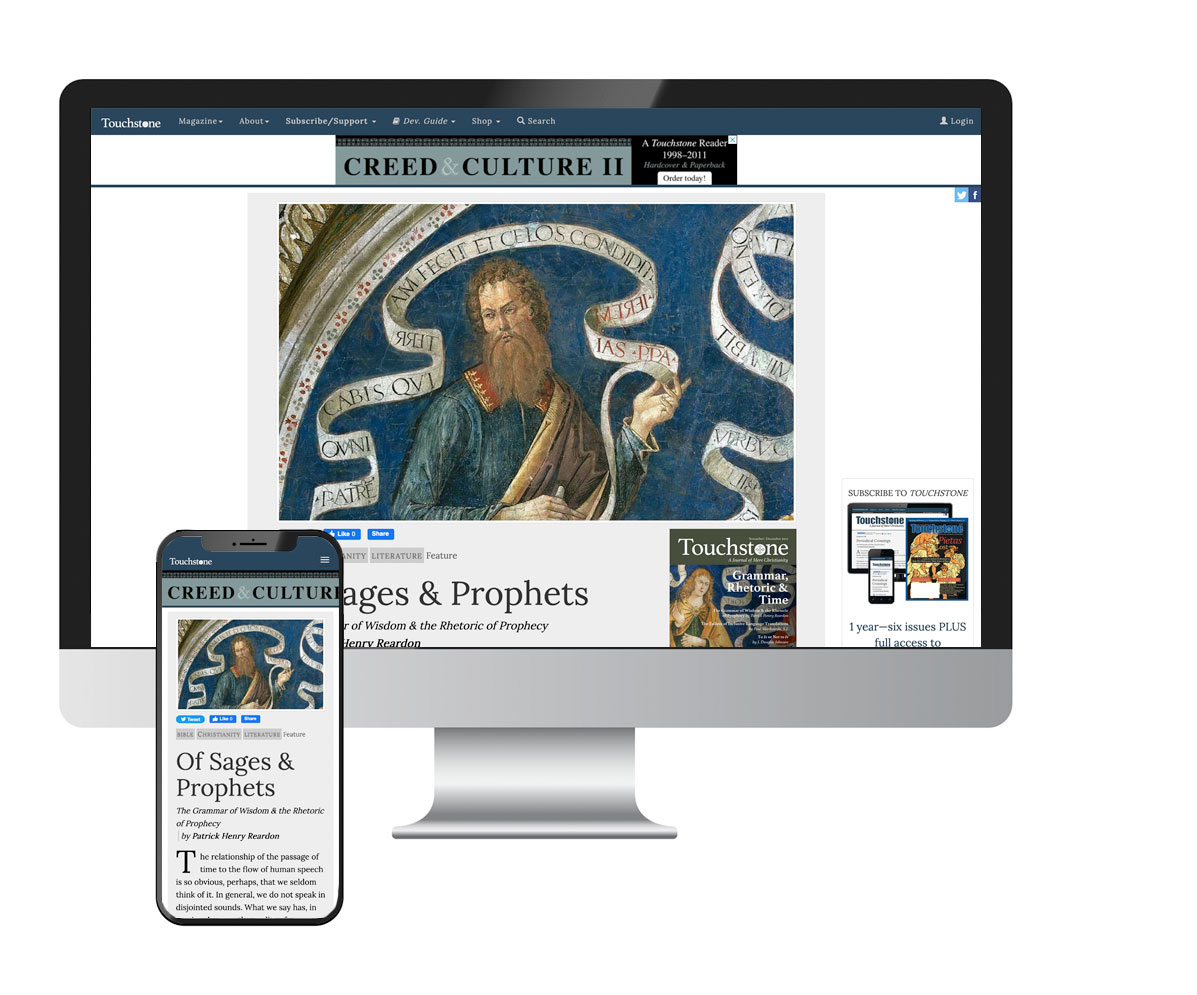 Get a one-year full-access subscription to the Touchstone online archives for only $19.95. That's only $1.66 per month!
Purchase Print &
Online Subscription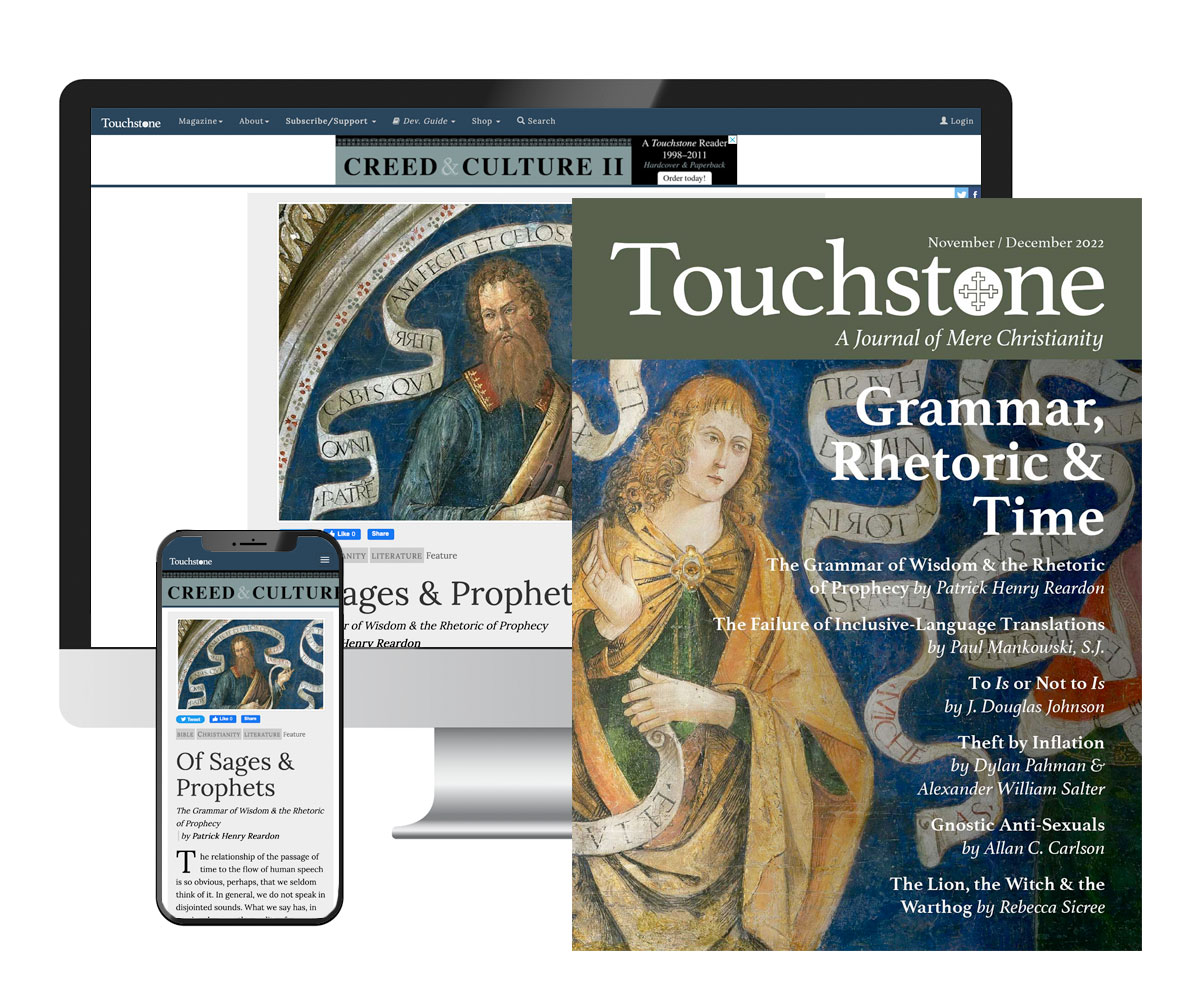 Get six issues (one year) of Touchstone PLUS full online access for only $29.95. That's only $2.50 per month!
Your subscription goes a long way to ensure that Touchstone is able to continue its mission of publishing quality Christian articles and commentary.
*Transactions will be processed on the secure server of The Fellowship of St. James website, the publisher of Touchstone.
from the touchstone online archives