Capital Faith
Religious Freedom in the World 2007—New Survey Released by the Hudson Institute
by Joan Frawley Desmond
A "truncated view" of religious freedom ignores the essential role "spiritual capital" plays in nurturing a free society, and leads some governments to offer a false choice between economic development and religious tolerance, said Paul Marshall of the Hudson Institute's Center for Religious Freedom, speaking at a conference last summer announcing the initial findings of the center's report, Religious Freedom in the World 2007, to be published next year.
The tendency of some Westerners and third-world dictators to dismiss freedom of worship as an ethnocentric "quasi-luxury" poor countries can ill afford ignores the universal appeal and crucial value of religious freedom, said Marshall, a primary author of the report, and a senior fellow at the center. "It is a moral travesty of the highest order to maintain that because people are hungry or cold it is legitimate to repress their beliefs as well."
Designed to increase public awareness of the importance of religious freedom, to promote the linkage of Western economic investment with human rights in the developing world, and to raise the standard for Congressionally mandated reports on religious persecution around the globe, the report, completed in partnership with the Spiritual Enterprise Institute, challenges the benign view of religious persecution that leads wealthy nations, multinational corporations, and international financial institutions to invest in countries like China, where Communist party officials imprison spiritual leaders and suppress churches and sects.
At the conference, held at the Hudson Institute's offices in Washington, D.C., Marshall was joined by Theodore Malloch, founder of the Spiritual Enterprise Institute, who explored the intimate relationship between religious virtues and free market systems, and Brian J. Grim of Pennsylvania State University, who presented his findings on the relation of religious freedom and socio-economic status.
The Center for Religious Freedom, founded by Nina Shea in 1986, moved from Freedom House to the Hudson Institute in early 2007.
A New Model
The report offers a new model of reporting on religious freedom, one that attempts to correct the lack of nuance in similar global surveys, especially the State Department's 1999 report mandated by the US Congress. Such surveys, the authors suggest, define religious persecution so narrowly that the definition both distorts the statistics and equates well-publicized but rare problems in one country with systemic but under-reported problems in another.
In most parts of the world, for example, religious identity cannot be separated from the social-political context. When researchers ignore this, Marshall said, they tend to contrast
politics, nationalism, and ethnicity with religion, as though concrete acts, events, and movements were necessarily of only one or another category. In fact, most things human are several of these things at once. A war can be both economic and religious . . . just as a wall can be both thick and tall.
In his view, the "proper implementation of the entire 1998 International Religious Freedom Act" requires the adoption of a broader definition. Thus, the report incorporates the desperate plight of religious minorities in the Iraq and Gaza war zones, state-directed persecution by dictatorships in North Korea and Burma, and social penalties imposed on religious converts in Indonesia and Bangladesh, and also considers the growing impact of a "secularist mindset" on the rights of Muslim minorities in Europe.
The researchers analyze the religious roots of tolerant and intolerant systems of governments. Traditionally Protestant and Catholic countries, as a group, are rated the freest. The report features Western Europe as a case study of the correlation between democracy, religious freedom, free markets, and civil liberties in traditionally Christian lands.
But the authors include the caveat that the results can be skewed by the impact of other competing forces, such as Communist ideology. Without the introduction of totalitarian regimes in Asia, for example, other traditionally Buddhist nations like North Korea or Vietnam might be as free as top-rated Japan.
Turning to Islam, Marshall noted that religiously tolerant Muslim countries like Mali and Senegal slightly outrank Germany, France, and Belgium. But overall, "Muslim-majority countries comprise the religious areas with the largest current restrictions on religious freedom."
In their initial findings, at least, the researchers skirted the contentious debate on the theological foundations of Islam's increasing intolerance of dissent, religious and political. Still, the report prompts further questions regarding the relationship between belief system and religious tolerance.
Advantageous Tolerance
Western Europe's impressive record underscores the most intriguing element of the report: the argument that religious freedom not only correlates with other political and social liberties, but that freedom of worship also nurtures economic dynamism and democratic institutions. The report advocates the practical advantages of religious tolerance, and urges business and political leaders to link foreign aid and business investment with the advancement of religious freedom.
Free markets and economic prosperity are correlated with religious tolerance because free societies permit the seamless integration of "personal commitment, belief, and action," Malloch argued. He noted that "freedom and responsibility . . . a sense of moral purpose, can give rise to the formation of every kind of capital, but such purpose can only flourish when it is given freedom, including religious freedom."
This idea constitutes a central element of the report, which nudges governments, global financial institutions, and corporations to press for improved human rights in countries seeking foreign aid and investment. Malloch recommends that dictatorships and Communist party holdovers be told: "Change your ways or we will not do business here."
The report illustrates the role "spiritual capital" plays in the creation of economic prosperity by offering a list of practical, rather than idealistic, reasons for promoting the cause of religious freedom.
"Like other forms of capital, spiritual capital formation depends on delayed gratification," Malloch observed.
Future benefit is weighed against immediate consumption. In the same way that money capital can accumulate in savings accounts and investments, so too spiritual capital can be built up over time through the habits of the heart and realized in mediating institutions such as families, religious institutions, social groups, and schools, as well as in the wider culture.
But the initial findings also point to potential areas of dispute.
The link between religious freedom and prosperity is intriguing, but religious systems of belief —Christianity included—are not monolithic. Nothing is said of religious social principles that view wealth creation with wariness rather than glee. Policymakers who implement these proposals may be disappointed when their "investment" in religious tolerance doesn't yield quantifiable results.
Still, if Malloch is right, the expansion of Protestant sects in traditionally Catholic and religiously tolerant Latin America will shake up the region's bottom line. The end result: Market forces will be embraced by once diffident Latins as an expansion of rather than a threat to human liberty.
On a more practical level, the report's effort to link economic investment with advances in religious freedom poses particular challenges. Dictatorships like North Korea could easily be targeted in a Western campaign designed to penalize abusive regimes by withholding funds, but their governments are likely to remain unresponsive. Meanwhile, Western governments and businesses will be loathe to challenge the persecution of religious minorities in Islamic nations like Saudi Arabia and risk countermeasures that will cut off access to the region's oil production.
Further, religious intolerance often operates outside the control of the state. For example, the report gives India a poor grade on religious freedom, even though India's constitution guarantees religious freedom. Caste violence and rising Hindu fundamentalism are primarily responsible for an upsurge in violence against religious minorities. How, then, would international financial institutions and multinational corporations implement the Hudson recommendations in discussions with New Delhi?
The authors' remarks and the practical thrust of the report suggests to me that they are well aware of these problems, but are concerned with engaging more reasonable types who have yet to see the advantages of religious freedom. They have struggled for years to make religious freedom a public concern and have heard every excuse for foot-dragging.
The Western Challenge
Certainly, the Hudson report can serve as a powerful educational tool. Its central argument—that religious freedom correlates with other forms of political and economic freedom—could inspire large, complex, developing nations like India to begin a national conversation on the practical advantages of religious tolerance. In a generation or two, boosted by the rising tide of economic prosperity on the subcontinent, New Delhi could prod local politicians who foment intolerance to rethink their strategy. India's religious freedom rating could improve greatly.
At the same time, Marshall and his colleagues lead the reader to ponder the ongoing responsibility of human rights activists in the West: They must not neglect an equally important dialogue with their own political and business leaders. American elites need to appreciate the vital role spiritual capital continues to play in the developed world.
As Pope Benedict XVI warns of a "dictatorship of moral relativism" growing in the heart of the West, there is no reason for complacency. Decades from now, we must be certain that Western Europe and the United States will still provide a case study on the correlation of religious, economic, and political freedom.
Information on the Center for Religious Freedom can be found at http://crf.hudson.org and materials from the conference and three essays from the report can be found at http://crf.hudson.org/index.cfm?fuseaction=survey_files. Religious Freedom in the World 2007 will be published by Rowman & Littlefield.

Free Standings
In Religious Freedom in the World 2007, the Hudson Institute's Center for Religious Freedom gives countries a religious freedom rating from one (free) to seven (not free). The center's list does not include every country (the United Kingdom is missing, for example), but a review of the scores of the over 100 countries listed reveals something about the state of religious freedom in the world:

Most religious freedom: Estonia, Hungary, Ireland, United States (with a score of 1); Australia, Austria, Botswana, Brazil, Canada, Chile, Denmark, Guatemala, Italy, Japan, Latvia, Lithuania, Mali, Namibia, Norway, Portugal, Senegal, South Africa, Spain, Sweden, Ukraine (2).

Least religious freedom: Burma, China-Tibet, Eritrea, Iran, Iraq, Maldives, North Korea, Saudi Arabia, Sudan, Turkmenistan, Uzbekistan (7); Afghanistan, Bangladesh, Belarus, China, Cuba, Mauritania, Pakistan, Palestinian areas, Vietnam (6).

Other countries of interest: Egypt (5), France (3), Germany (3), India (5), Israel (3), Mexico (4), Nigeria (5), Russia (4), Syria (5), Turkey (5), Zimbabwe (5).

The report also includes Freedom House's rankings for political rights and civil liberties. Combining the three scores gives a ranking for freedom in general.

Most free (lowest combined score): Estonia, Hungary, Ireland, United States (3); Australia, Austria, Canada, Chile, Italy, Latvia (4).

Least free (highest combined score): Burma, China-Tibet, North Korea, Sudan, Turkmenistan, Uzbekistan (21); Cuba, Eritrea, Iran, Iraq, Saudi Arabia (20); Belarus, China, Libya (19).

The complete chart can be found at http://crf.hudson.org/articledocs/
CountryReligiousFreedomScoresComparedFreedomHouseRankingsofPoliticalRightsandCivilLiberties.doc.

— David Mills




Freedom Over All
Religious freedom "is important to the wellbeing of societies," argues Brian J. Grim of Pennsylvania State University, writing in Religious Freedom in the World 2007, a report produced by the Hudson Institute. (The book will appear next year, but the institute has put some of the book on its website.)

As expected, he notes, four different measures of religious freedom—overall freedom, whether the government favors particular religious groups, whether it legally restricts religion, and what he calls "social regulation of religion"—correlated "strongly and significantly" with other groups' measures of other freedoms, like Freedom House's civil liberty index and Reporters Without Borders press freedom index.

But his main claim is that "restriction of religious freedom correlates with diminished wellbeing and violent social conflict." "In countries with lower religious freedom," for example, "a greater share of GDP [gross domestic product] tends to be spent on the military," and restrictions on religious freedom "also correlate with a country's having experienced an armed conflict sometime since 1988."

Restrictions on religious freedom correlate with lower socio-economic status for women, as measured by such evidence as fewer women holding seats in parliament and in college and graduate school. They correlate also with poorer health, as measured by fewer physicians, higher infant mortality, higher percentage of underweight children, and higher fertility, which Grim calls "a negative trend only in countries that cannot support population growth."

While cautioning that these correlations do not prove that religious freedom brings greater social wellbeing, they do, he concludes, "indicate that a regulated and restrictive religious economy does not benefit all God's children."

Grim's paper can be found at http://crf.hudson.org/articledocs/GodsEconomy.doc.

— David Mills



Joan Frawley Desmond is a freelance writer who lives with her husband and three children in Chevy Chase, Maryland. She is a recent graduate of the John Paul II Institute for the Study of Marriage and the Family.
Not a subscriber? Subscribe to Touchstone today for full online access. Over 30 years of content!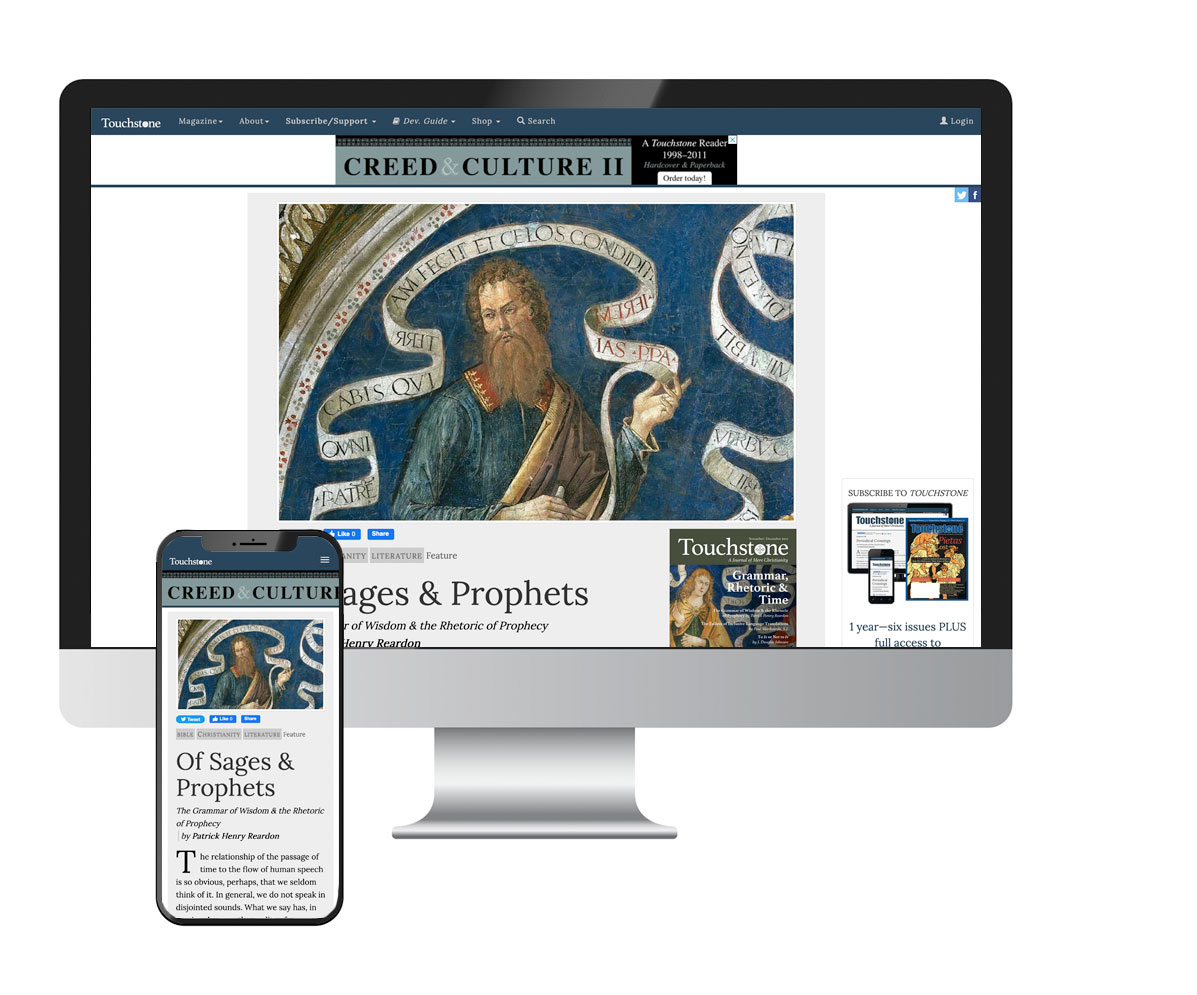 Get a one-year full-access subscription to the Touchstone online archives for only $19.95. That's only $1.66 per month!
Purchase Print &
Online Subscription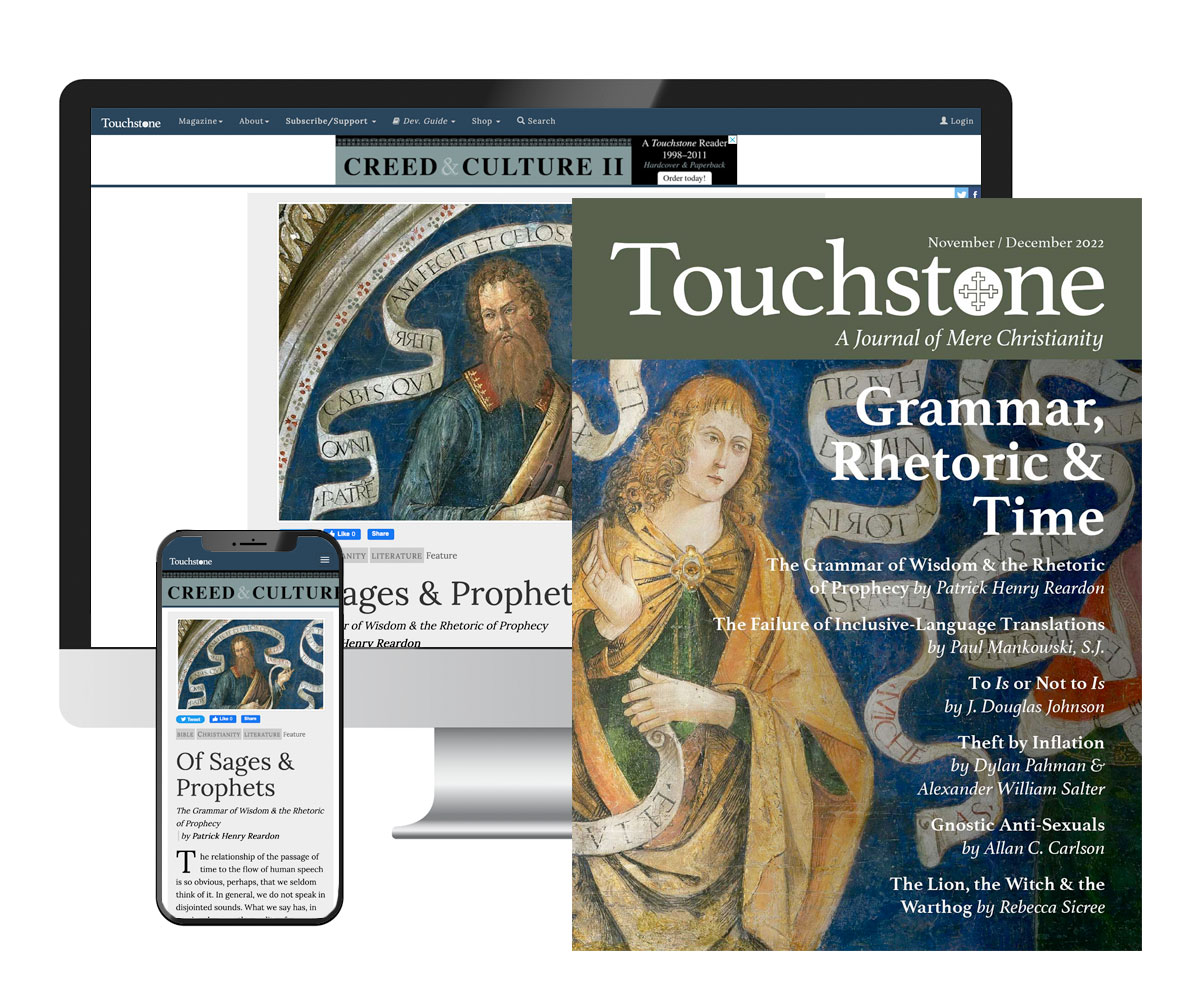 Get six issues (one year) of Touchstone PLUS full online access for only $29.95. That's only $2.50 per month!
Transactions will be processed on the secure server of The Fellowship of St. James website, the publisher of Touchstone.
Your subscription goes a long way to ensure that Touchstone is able to continue its mission of publishing quality Christian articles and commentary.
more from the touchstone online archives