In His Sanctuary
Recalling the Hope of Glory: Biblical Worship from the Garden to the New Creation
by Allen P. Ross
Kregel, 2006
(591 pages, $35.99, hardcover)
reviewed by Peter J. Leithart
Now a professor of Old Testament at Beeson Divinity School, Allen P. Ross grew up in a German Baptist Church of which his father was pastor, but he has since made his way through Methodism and Presbyterianism, arriving finally in the Episcopal Church. This range of liturgical experience lends an appealing catholic breadth to this work, as he draws on the best of each of these traditions.
Ross emphasizes that worship must be an expression of devotion to God, but also that this expression takes ritualized forms. He can sound like a Baptist prophet denouncing the evils of hypocritical worship, yet he has also learned to talk Episcopalian: "The Eucharist, Communion, or the Lord's Supper, is the central act of Christian worship."
Ross's main purpose in Recalling the Hope of Glory is to summarize what the Bible teaches about worship. In Scripture, worship is a response to the revelation of the Lord of glory, and this response takes concrete form in praise, prayer, rituals, meals, preaching, and teaching.
A Formal Response
As he moves from the Pentateuch and the prophets to the New Testament and the early patristic period, he shows the continuity of this motivation through all the changing forms. His title neatly captures the eschatological tension of Christian worship, which both responds to the incarnate glory already manifest and worships in hope of fuller glory to come.
Since the beginning of the last century, there has been no end of the making of books of liturgical history and theology. Liturgical scholars have examined the history of Christian worship in great detail, and are increasingly using sociological and anthropological methods to examine liturgy as a cultural phenomenon.
Surprisingly few liturgical scholars give much sustained attention to the wealth of material found in Scripture. When they do examine Scripture, they often focus on the New Testament to the virtual exclusion of the Old. By starting at Genesis and moving through the entire Bible, Ross's volume fills a large portion of the gap.
No book of the Bible has more information about worship than the book of Leviticus. The first seven chapters provide detailed instructions for offering sacrifice, and another large section (chapters 11–15) deals with forms of uncleanness and rituals of purification. Leviticus is all about how sinners approach a holy God.
Ross shows that the Levitical system of worship, though superceded in Christ, still provides important instruction for Christian liturgy. From an examination of the purification offering (Lev. 4), he concludes that "participating in the rite of Holy Communion without making confession does not remove sins," but also that "the ritual is the public expression of faith in the provision of forgiveness through the blood of the Lamb."
The peace offering (Lev. 3), which ended with a meal, is also a figure of the Eucharist, which, like the peace offering, is "a witness to the fact that [we] have peace with God through the death of Christ."
Similarly, Ross devotes a chapter to examining the role of music in temple worship, and another to the use of the Psalms, important Scriptures given the current state of worship music.
Old Worship Today
In these and many other ways, Ross ably summarizes the biblical material relevant to Christian liturgy. At the same time, there is a great deal more to be gotten from those texts, and his treatment of various texts, accurate as it is, leaves many questions unanswered.
In addition to teaching us the meaning of sacrifice, do the sacrificial rites also, perhaps, provide a liturgical sequence that could be replicated, with appropriate adjustments, in Christian worship? Do the various washings of the Old Testament contribute anything to our theology and practice of baptism?
There's a similar limitation in other parts of the book. It's altogether to Ross's credit, for instance, that he includes a chapter on the synagogue, but his balanced discussion gives no hint of the synagogue's larger importance for liturgical theology and practice.
At least in conservative Protestant circles, the connection of church, temple, and synagogue is an intensely practical concern. It's an exaggeration, but a revealing one, to suggest that differences between high and low church worship are differences between temple and synagogue: that high church liturgies are modeled on the grand ceremonies of Solomon, and low church anti-liturgies take their cues from the synagogue.
At other places too, one wishes for fuller explanation of the practical consequences of Ross's biblical discussions. No one denies, for example, that worship should balance "form and spirit," but Ross is chary about describing how that balance is actually achieved.
Let me register one substantive criticism. Ross notes that women served at the tabernacle (Ex. 38:8; 1 Sam. 2:22), and draws the conclusion that "women were actively proclaiming God's word in the congregation," but it is not clear what he means by this.
Does it mean that women can have non-ordained teaching roles in the church, and if so, in what contexts, or does it mean that women should be ordained? If he is hinting at this last conclusion, it is striking that he does not mention the crucial fact that Israel, unlike many ancient peoples, had no priestesses. Given the controversies about women's roles in the church, the book disappointingly fails to explore what these biblical precedents mean for church life and worship today.
A Needed Book
Despite its limitations, however, Recalling the Hope of Glory is a book that badly needed to be written. We can hope for others to take this project further, but anyone who does will be grateful for the extensive foundation Ross has laid.
Peter J. Leithart is an ordained minister in the Presbyterian Church in America and the president of Trinity House Institute for Biblical, Liturgical & Cultural Studies in Birmingham, Alabama. His many books include Defending Constantine (InterVarsity), Between Babel and Beast (Cascade), and, most recently, Gratitude: An Intellectual History (Baylor University Press). His weblog can be found at www.leithart.com. He is a contributing editor of Touchstone.
Not a subscriber? Subscribe to Touchstone today for full online access. Over 30 years of content!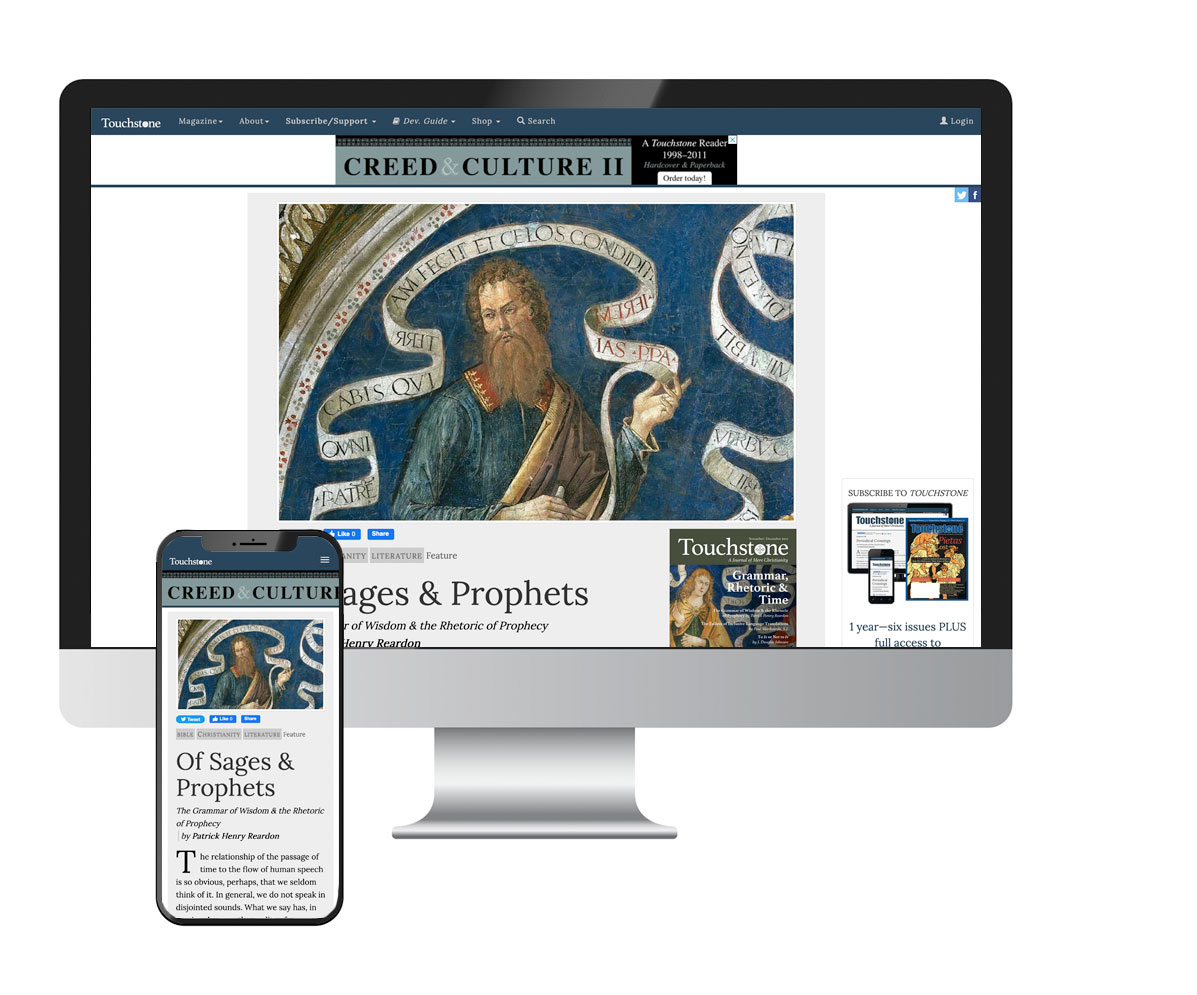 Get a one-year full-access subscription to the Touchstone online archives for only $19.95. That's only $1.66 per month!
Purchase Print &
Online Subscription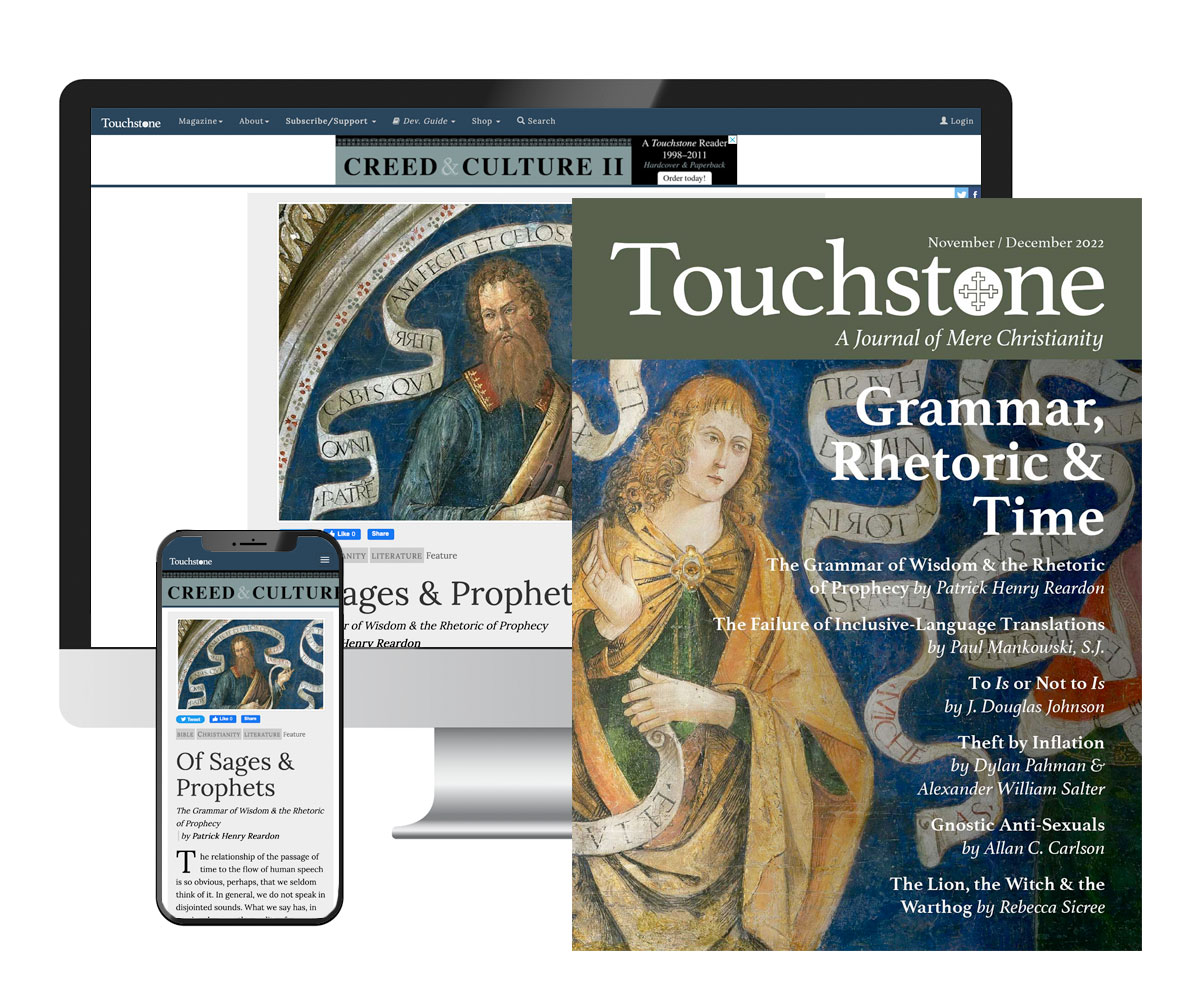 Get six issues (one year) of Touchstone PLUS full online access for only $29.95. That's only $2.50 per month!
Your subscription goes a long way to ensure that Touchstone is able to continue its mission of publishing quality Christian articles and commentary.
*Transactions will be processed on the secure server of The Fellowship of St. James website, the publisher of Touchstone.
from the touchstone online archives