The Pillars of Imprecation
How to Pray for Your Enemies by Praying Against Them
by John N. Day
In recent years, Western Christians have been awakened to the unrelenting suffering of our brothers and sisters around the world. Many suffer economic and social discrimination, imprisonment, and beatings, the destruction of their homes and churches, and others are sold into slavery, raped, forced into marriage, or murdered, all for the sole reason that they bear the name of Christ.
With this increased exposure to the appalling and systematic persecution of Christians abroad, and with our recognition of the mounting overt hostility to Christian influence in the cultures and policies of Western nations, Western Christians are increasingly aware that many in the world intensely hate them and intend to harm them. And to harm them simply because they are Christians.
For many of us, this raises with a new intensity the question: How are we, as Christians, to respond to such hatred and violence? It is not the easy question it once was. The characteristic Christian response is always to be one of love and kindness, but we are also faced with (what seems to us in the protected West) uncharacteristic antipathy and brutality. In such situations, what is the Christian response to be? What should we pray for?
Love & Justice
Here I speak of the Christian response to acts of persecution, rather than the response of any sovereign nation. For as the Scriptures declare, there is a difference between personal ethics and state ethics.
In Romans 12, Christians are forbidden to take revenge, but are instructed to surrender the demands of justice to God and continue to do good, knowing that God will take vengeance on the day of wrath on all who remain unrepentant of their evil (Rom. 12:19–20). This is to be our personal ethic, and it is in concord with the second greatest commandment (Lev. 19:18).
But Romans 13:4 describes government as "God's servant, an avenger for wrath." Governmental ethics is the ethics of justice. The state is entrusted with taking revenge, and we are to surrender the demands of justice to the state and continue to do good. Thus, whereas the Christian is to be fundamentally governed by the principle of love, the state is to be fundamentally governed by the principle of recompense: that is, punishing evil and promoting good.
What, then, is the Christian response? Let us make the question concrete: Jesus instructs us to pray for those who persecute us, but is it ever appropriate to pray against our enemies? In seeking to answer this question, I would like to draw your attention to the psalms, and to one in particular.
Psalm 83 is a key representative of the imprecatory psalms: those psalms that call down God's "curse." These curses are not a venting of anger or an expression of the spirit of revenge, they are cries to the God of justice to execute his justice in the here and now on behalf of his severely oppressed or defeated people. A curse is a call for harm to befall another, but in the Psalms (as in the rest of Scripture) it is a call for harm to befall the horrible enemies of God's people. It is a plea for divine vengeance.
And they are quite numerous, numbering nearly a hundred verses in 32 psalms. But Psalm 83 has particular relevance in our current context, for it provides a template for the way in which God's people are to respond to such violence and violent intent.
Psalms Rightly Prayed
Before we consider Psalm 83, I would like to explain what I will call "the five pillars of imprecation": that is, those five key elements that together justify the utterance of imprecation in the psalms and indeed throughout the Scriptures.
This stands contrary to many who assert that we can never rightly pray these psalms, like C. S. Lewis, who in his Reflections on the Psalms remarks that "the reaction of the Psalmists to injury, though profoundly natural, is profoundly wrong." In contrast, I propose that these pillars form the foundation upon which God's people may be justified in calling for tangible, temporal divine justice.
The first pillar is a setting of extreme enmity. The cry for justice by the pious in the psalms is never voiced against petty enmities (as we might do when someone slanders us or cuts us off on the freeway). It arises out of extreme circumstances: against those guilty of gross oppression and injustice.
Psalm 94 sets this context well. The cry begins: "O God of vengeance, Yahweh! O God of vengeance, shine forth! Rise up, O judge of the earth! Repay to the proud what they deserve!" But this cry arises out of the most horrible abuse: "Your people, O Yahweh, they crush; and your inheritance they afflict. The widow and resident alien they slay; and the fatherless they murder" (94:1–2,5–6).
The second is the practice of persistent love. By the testimony of our Lord himself, the essential moral principle of both Testaments has remained constant: that is, a wholehearted love of God and mankind (Matt. 22:37–39). This love is typically expressed in deeds of kindness. Indeed, even the radical "love of enemies" is essentially a readiness to show kindness to your enemy in need (Rom. 12:20; Luke 6:35). This pattern of repeated grace was a practice known to the psalmists as well (Ps. 35:12–14; 109:4–5).
The third pillar is the relinquishing of revenge. The longed-for vengeance is never personally enacted; rather, the appeal is always addressed to God, and the realization of that justice is relinquished to him alone. This involves "the double step of owning and yielding," in Walter Brueggemann's phrase: that is, acknowledging the pain and anger that such sin as this spawns, and yet surrendering all the intentions and desires for retaliation to God.
This mindset is central to the core of the Torah, which introduces the second-greatest commandment itself: "Do not take revenge . . . but love your neighbor as yourself" (Lev. 19:18). It is out of this theological backdrop that the appeal arises. Revenge is not ours, but vengeance is his.
Fourth is the appeal to God's promises. This is perhaps the essential theological support of biblical cursing. For the imprecatory psalms base their cries on the covenant promises of God, most notable of which are: "He who curses you, I will curse" (Gen. 12:3); and "Vengeance is mine, I will repay" (Deut. 32:35, a promise that is explicitly trans-testamental, as indicated in Rom. 12:19). Since this is God's own promise, it is presumably right (given a right heart) for God's people to appeal for him to be true to his promise.
The fifth and final pillar is the examples throughout Scripture. There are numerous examples of such cries for divine justice sprinkled throughout the Scriptures, with their heaviest concentration in the Psalms, and with no indication that such expressions are inherently wrong. Indeed, what is striking is this very prevalence in the book of worship for God's people.
Notable in the New Testament is Peter's curse against Simon the Sorcerer, "May your money perish with you!" Yet even this harsh sentence carries with it an appeal for repentance (Acts 8:20,22). And the very end of the canon records the perfected saints in heaven pleading for divine vengeance, in language similar to the psalms, and being comforted by the promise of its coming: "How long, O Master . . . until you avenge our blood?" (Rev. 6:9–11).
Terror's Answer
How are God's people to respond to terror? The answer is brought vividly and pressingly to our attention in Psalm 83. As the Evangelical scholar Marvin Tate writes, this little-read and little-known psalm
serves as a paradigmatic prayer of lament and complaint for a people surrounded by hostile nations and threatened with overwhelming force. The psalm reminds us that the greatest resource of the people of Yahweh is prayer, which appeals both directly to him and is based on his powerful acts of intervention and deliverance in the past.
Yes, simply and directly, Psalm 83 is a call to prayer: the cry of the community of faith, in their extremity, to God. It is couched in the language and historical setting of ancient Israel, but it is the cry, fundamentally, not of Israel as a nation, but of Israel as the sorely oppressed people of God. It is, thus, the cry of God's people today threatened with terrorist designs, and it is the cry of the persecuted church.
How are God's people to respond in the face of such things? The answer is given in three parts.
The People's Recourse
First and fundamentally, God's people are to pray. Our instinctual reaction to such acts of violence is usually retaliation: to pay them back for what they have done to us. But our Lord has forbidden us that. And our temptation in the face of overwhelming odds is capitulation: to give in to the pressure, to give up the faith. But our Lord sternly warns against that. Rather, the recourse for his people is . . . him.
Here, Israel's was a hopeless situation: encircled by nine enemy nations (some of them related) bent on their destruction and aided by the greatest power in the world, Assyria (83:4–8). But notice how the psalm begins: It opens with the plea, "O God" (83:1). Here must be our focus: our beginning and ending point. Not to retaliate, not to capitulate, but to pray.
As E. M. Bounds has said: "Prayer is not preparation for the battle, prayer is the battle." For the battle is the Lord's, and in prayer we come before the Lord—and throw the battle-axe to him. So, what would we do if faced with Israel's trouble?
Ironically, it is the nation of Israel's problem yet today: "Philistia" is the modern-day Gaza Strip, now under the control of the terrorist organization Hamas; "Gebal and Tyre" are the coasts of present-day Lebanon and Syria, which harbor the terrorist organization Hezbollah; "Edom, Ammon, Moab, and the Hagrites" fall roughly within the boundaries of Jordan; "the Ishmaelites" traversed the deserts as the ancestors of the Arab kingdoms, such as Saudi Arabia, which rewards the families of suicide bombers; "Amalek" roamed the Sinai, now in the domain of Egypt; and "Assyria" is modern-day Iraq, which, under the previous regime of Saddam Hussein, tried to rain down Scud missiles onto Israel's cities.
And yet, even in this litany of perennial enemies, we must call to mind that there is a redemptive thread, woven throughout the Old and New Testaments: that there will be those even from these who will share in the eternal presence and praises of God; for the redeemed of the Lord will come "from every tribe and tongue and people and nation" (Rev. 5:9). Though here these nations are the sworn enemies of God's people, one of King David's mighty men was an Ammonite and another a Moabite (1 Chr. 11:39,46). Moreover, one of his officials was an Ishmaelite and another a Hagrite (1 Chr. 27:30–31).
Incredibly, Philistia and Tyre will become "born again" as God's people (Ps. 87:4). And even hated Assyria and Egypt will both become God's very own, on a par with Israel, fully embraced into God's people (Is. 19:24–25). Even when we rightly—as God demonstrates in his Word—pray against the vicious enemies of God and his people, we do so remembering the redemptive constant: a sometimes faint, yet continuous tone, which pervades the pages of Scripture and the plan of God.
God's Enemies
Second, we are to pray to a God who has bound himself to us. The psalmist's cry of desperation is framed in the language of relationship; he cries out from the context of the covenant. In direct contrast, these ten enemy peoples (a total enmity) had formed an "anti-covenant" (83:5, berith) against Israel.
And yet, these are not fundamentally Israel's enemies. They are God's. The psalmist makes this clear by the emphasis of repetition: they are " your enemies, those who hate you" (83:2), who have made a covenant "against you" (83:5).
This equivalence can be made because they have stationed themselves "against your people, against your cherished ones" (83:3). And so, God's people may rightly claim: "They are your enemies . . . because they fight against your people." The enemies of God's people are the enemies of God. For God has bound himself to his people in covenant, and his people appeal to him out of that covenant.
This covenant relationship holds true through time, and God has shown himself true to his covenant in time. Indeed, this faithfulness in the past, in delivering his people out of impossible oppressive situations, forms the basis upon which we may appeal for his deliverance in the present.
Here, the psalmist harks back to the days of the judges: troubled, turbulent days (83:9–12; cf. Judges 4–8). This "name-dropping" may not seem too impressive to us (who know so little of the Old Testament), but to the ancient Israelites, these names—and the dire circumstances associated with them—were of supreme significance. In each case, the odds were overwhelming; the situation hopeless; God's people persecuted, oppressed, distressed. But God suddenly overturned and unexpectedly toppled these oppressive regimes to deliver his people.
And so in this psalm God's people recall the past as the premise for the present. They rehearse his miraculous actions in the past as the template upon which he is called to action again. He has done it before; he can (and must?) do it again. And this covenant relationship holds true today. Those who have bound themselves to Christ by faith have the assurance that Christ first bound himself to them.
Tate concludes his comments on this psalm: "The most severe judgments of God are reserved for those, whether individuals or nations, who set themselves to take over the 'pasturelands of God,' seeking to exterminate his people and his enterprise in human history." And then:
Let all kings and tyrants, all oppressors whatever their role and status, take notice. Let the people of God whenever they are ringed about with threatening foes lift up their hearts. The king of all nations and the judge of all the earth hears prayer and will in his own time and ways sweep his foes away as a fire roars through a forest and sweeps over the mountains in blazing fury. "Vengeance is mine, I will repay, says the Lord."
Destroy or Transform
And third, we are to pray in two directions: conversion or
destruction. This psalm interestingly blends (at least) two seemingly opposing requests for divine response. The first is the plea to destroy the enemies (as the petition begins in verses 9–11) or at least dismay and shame them (as the petition ends in verses 16–18).
Instructively, there is a second petition dovetailed to the first: and that is the plea for the enemies' conversion. The psalmist prays both: destroy and shame them . . . and cause them to know you as universal sovereign (83:18) and to seek you in covenant relationship (83:16, which is the intent of "seek your name, O Yahweh," a name that largely translates to "Jesus" in our New Testament perspective).
Fill their faces with shame,
that they may seek your name, O Yahweh.
Let them be ashamed and dismayed forever;
let them be disgraced and perish,
that they may know that you, whose name is Yahweh—
you alone are the Most High over all the earth. (83:16–18)
In both cases, the prayer is (ostensibly) directed to the same group, not two. It is two requests, blended into one: and either of which is "okay," for either of which will accomplish the deliverance of God's people at God's discretion: whether by destruction, frustration, or conversion. It is either: "God, convert 'em" or "God, go get 'em."
Most Christians find that both sides of this request for deliverance stretch them beyond their comfort level. We find it difficult to plead for the conversion of our oppressors, and for those who oppress our brothers and sisters in the faith. But we also have a natural aversion to praying for the destruction of our enemies, for we know we must love our enemies.
Both stretch us; both are right; and the results in either direction are up to God. The prayer is ours; the response is his. John Calvin, in commenting on one of the more notorious of the imprecatory psalms (109), gives this reasoned, balanced explanation:
Since we cannot distinguish between the elect and the reprobate, it is our duty to pray for all who trouble us; to desire the salvation of all men; and even to be careful for the welfare of every individual. At the same time, if our hearts are pure and peaceful, this will not prevent us from freely appealing to God's judgment, that he may cut off the finally impenitent.
Or, as Martin Luther expressed it: "We should pray that our enemies be converted and become our friends and, if not, that their doing and designing be bound to fail and have no success and that their persons perish rather than the gospel and the kingdom of Christ."
And so, too, we should pray that the Lord will either give a "Damascus Road" experience to those who persecute Christians—that is, perform the miracle of transformation, changing a murderous Saul into the Apostle Paul—or that he would destroy them for the sake of his kingdom and his people.
Pray for Action
How should God's people respond to such true evil? We are to pray: not retaliate, not capitulate, but pray. And we pray to a God who has bound himself in covenant to us; he has acted in the past and he can act in the present. And we are to pray for deliverance either by the destruction or conversion of our enemies.
But, as the climax of the psalm reminds us (83:16,18), our focus always must be on the gospel and glory of God. This is to be the ultimate purpose of our prayer; for this is what ultimately matters.
The quotations are taken from C. S. Lewis's Reflections on the Psalms; Walter Brueggemann's Praying the Psalms; Marvin E. Tate's Psalms 51–100; John Calvin's Commentary on the Book of Psalms; and Martin Luther's Sermon on the Mount & the Magnificat.
Not a subscriber? Subscribe to Touchstone today for full online access. Over 30 years of content!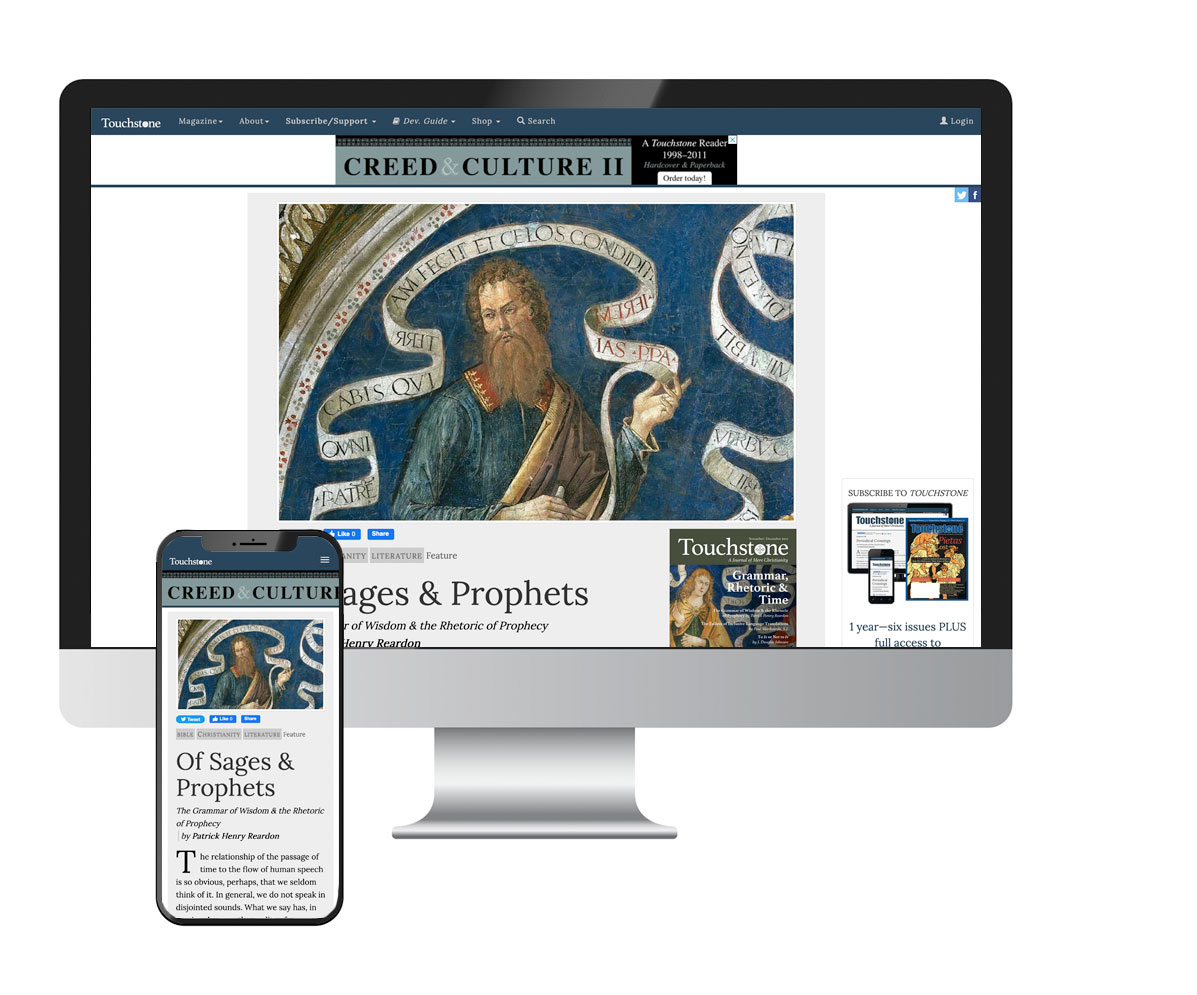 Get a one-year full-access subscription to the Touchstone online archives for only $19.95. That's only $1.66 per month!
Purchase Print &
Online Subscription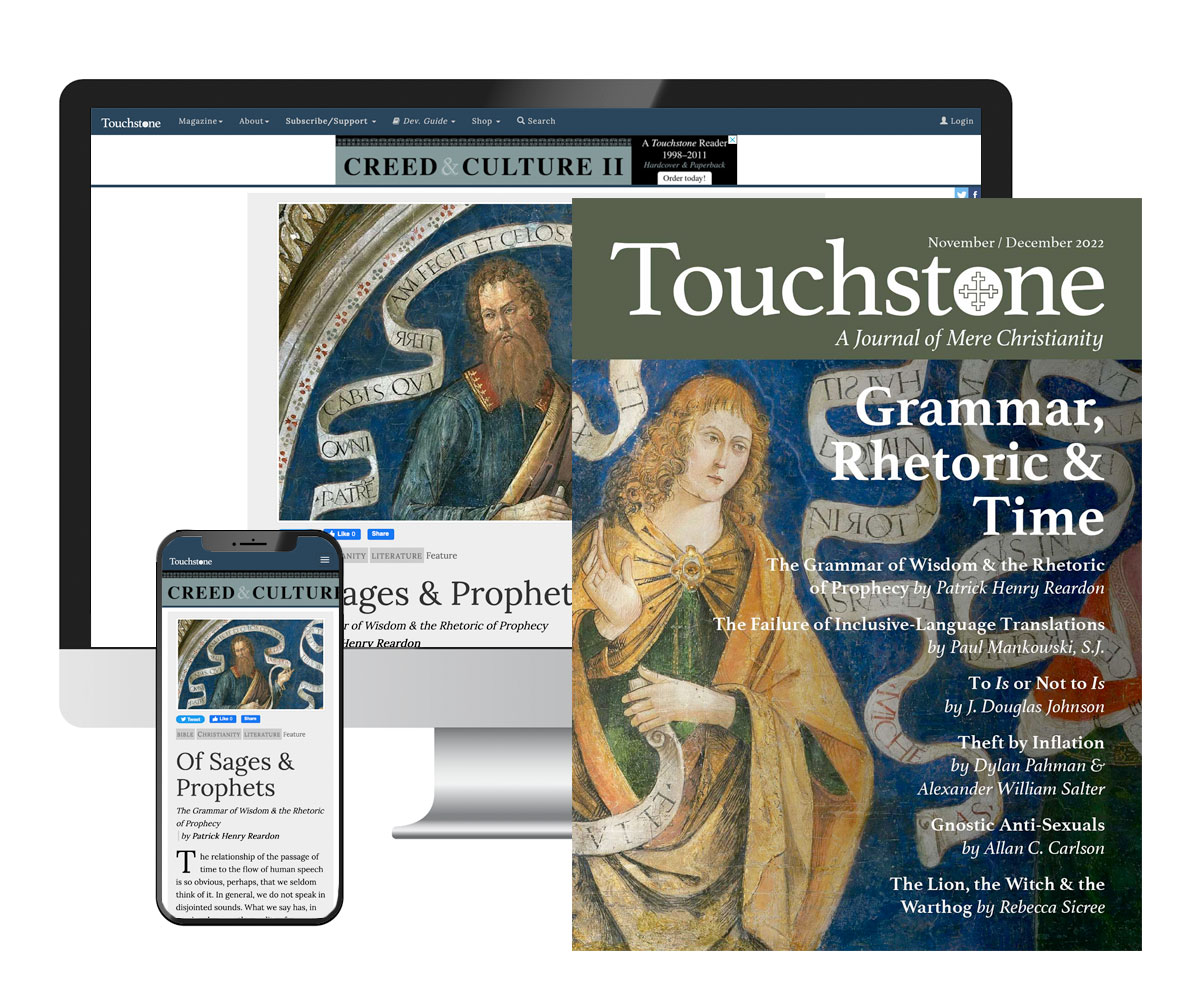 Get six issues (one year) of Touchstone PLUS full online access for only $29.95. That's only $2.50 per month!
Your subscription goes a long way to ensure that Touchstone is able to continue its mission of publishing quality Christian articles and commentary.
*Transactions will be processed on the secure server of The Fellowship of St. James website, the publisher of Touchstone.
from the touchstone online archives