New Life Sentence
Charles W. Colson: A Life Redeemed
by Jonathan Aitken
Doubleday, 2005
(436 pages, $24.95, hardcover)
reviewed by Joan Frawley Desmond
In an age that preaches tolerance and reconciliation, Charles -Colson resides in that special category of approved public villain. Tuck a book under your arm like Charles W. Colson: A Life Redeemed, and expect to draw unsolicited derision from skeptics who cross your path. Their skepticism embraces both the notion that a notorious individual like Colson could be redeemed, and that such celebrated religious conversions are the real thing and not political spin.
The cynicism is understandable enough. Charles Colson's role in the Watergate morality play still dwarfs his thirty-year record as an energetic, courageous leader in prison ministry and ecumenical dialogue.
A one-time British cabinet minister whose fall from grace ended in a prison term for perjury, followed by a celebrated Christian conversion, Jonathan Aitken appears uniquely qualified to explain Colson's conversion to the doubting Thomases. But Aitken's authorized narrative, more a fireside chat than a full-scale biography, falls a bit flat, for this reader at least.
It often lacks the kind of rich historical and theological landscape found in such biographical works as Paul Elie's The Life You Save May Be Your Own: An American Pilgrimage. Christians unfamiliar with the Evangelical world will be frustrated by the presumption that the reader knows the individuals, movements, and teachings that Colson embraced upon his conversion. These deficiencies leave questions about the relationship between Colson's faith and his political engagement unresolved.
Further, Aitken's often tentative treatment of Colson's complex, rough-edged personality suggests that he doubts his audience's capacity to suspend disbelief that Christ's grace can truly penetrate the soul of a hardened wheeler-dealer. In his folksy description of Colson's failing first marriage, for example, he notes the couple's alienation, then adds blithely, "To complicate these problems beyond repair was the fact that Colson had fallen in love with a new nearest and dearest." He assures the reader that Colson struggled to maintain a platonic relationship during a series of dinner dates, but ultimately he and his new love became "an item."
It is possible that Aitken identifies too closely with Colson and lacks the emotional distance to offer a full examination of his subject's story. This work, however, does supply the interested reader with the basic facts, and some thought-provoking details, of Colson's remarkable life.
Intemperate Obsessive
A prescient political strategist who once spurred the GOP to poach blue-collar voters from the Democrats, Colson must appreciate the irony of his new position: He has emerged as both a leader and a lightning rod in the culture wars—a phenomenon he once predicted and sought to manipulate as a means to Republican electoral dominance, yet Christianity did not affect his own moral life until Watergate changed his life.
Aitken depicts Colson's impatient struggle for success as partly an attempt to compensate for an eccentric, emotionally distant mother. The ambitious, hard-charging son of middle-class parents, Colson attracted as many loyal friends as committed enemies.
A young Marine officer following his graduation from Brown University, Colson rose quickly, earning high marks from his commanding officers, who noted his maturity, intelligence, and drive. In subsequent years, his successful Boston law firm was the first in the city to hire an African-American lawyer, a move that reflected his sense of justice and his often brash indifference to social codes.
Yet as an adult, Colson's obsessive work ethic made him a distant husband and father, ultimately destroying his first marriage. He was notorious for executing the kind of brutal practical jokes that can destroy—or forge—friendships. Later, in the increasingly paranoid Nixon White House, this lack of temperance led him to employ "dirty tricks"—such as smear campaigns—in an often surreal "game" of political combat with partisan foes.
Colson identified with Nixon's outsider status and deeply revered the president. The two men shared a rather curious sort of father-son relationship, with Nixon alternatively manipulating and confiding his deepest fears to his younger aide. Colson became Nixon's energetic deputy to the "silent majority" disdained by the political elite. It was Colson, for example, who cemented ties to Catholic leaders seeking support for parochial schools.
Colson helped Nixon deliver on his campaign promises to a variety of special-interest groups. But as the two men grew closer, some insiders questioned whether the aide's hyperactive devotion did more harm than good. "Colson understood and nurtured the darker side of Richard Nixon," Aitken observes.
Sometimes their conversations took a spiritual turn, with Nixon once acknowledging that he admired the Catholic Church and had considered converting. However, Aitken's depiction of their relationship suggests a series of missed opportunities for deeper moral reflection. In hindsight, Colson must view their exchanges with profound regret: A different sort of "son confessor" might have deflated Nixon's siege mentality and helped the president confront his self-justifying arguments.
Wrenching Insight
Aitken's compelling portrait of Colson during the White House years presents a man of passionate, almost overwhelming enthusiasms.
The "dirty tricks" that tainted Colson's reputation arose, in part, from his loyalty to his boss and the tendency of both men to compartmentalize unethical behavior. When Nixon was forced to turn over the secret tapes of Oval Office deliberations, his aide confronted not only the shameful record of his own immorality, but also the lapses and deceptions of the mentor he idealized.
As the Watergate hearings morphed into a media circus—and spread to cover additional "dirty tricks"—Colson emerged as a hated public figure. The embattled operative found himself accepting a handful of invitations to pray with Christian Evangelicals.
Before, he had rejected such overtures; now, his public humiliation forced him to accept. Soon he joined a small group of well-connected Christian men, who prayed with him and spent hours discussing his legal problems. It would have been interesting to get a sharper picture of this band of brothers who embraced Colson, but this is one of the places in which Aitken fails to tell the story adequately.
Their counsel helped him take a more honest view of his role in the break-in at the offices of Daniel Ellsberg's psychiatrist. Originally, the media attacks and Senate hearings had fueled Colson's sense of outrage at the unfair attacks on his reputation. After all, he told himself, he had no direct knowledge of the break-in, nor of the Watergate operation until after the fact.
Aitken vividly describes Colson's sudden, wrenching moment of insight. Reading a passage from Mere Christianity in which C. S. Lewis describes pride as the foundation for all other vices, Colson experienced a blinding awareness of the damage his pride had wrought on the lives of those closest to him. He told his wife he had experienced a religious conversion, but there was more to come.
A Penitent Plea
His conscience probed the pattern of his life in the White House. "What God helped him see was that his lack of direct involvement in the break-in at the offices of Ellsberg's psychiatrist was pure happenstance," writes Aitken.
He had obtained the money to pay for a covert operation against Ellsberg. He had tried to smear Ellsberg in the press. . . . Now that he [Colson] could see how prejudicial to a defendant's legal rights that kind of conduct could be, in all conscience before God he could not fight against his criminally culpable involvement. If surrendering on the battlefields of his old world meant going to prison, he knew he had to accept it as God's will.
Colson's decision to plead guilty to a criminal charge he devised with the help of his lawyer suggests that the penitent sought not only to atone for his moral failures, but also to preclude a return to the center of power. He expected a suspended sentence and probation, but instead landed in prison.
Life behind bars gave him the solitude he needed to delve into Scripture. He invited other prisoners to pray with him. But he also felt real despair as he faced long, lonely months of incarceration. When his second wife called to report that his son had been arrested on drug charges, he was devastated.
Prison Fellowship arose from the senses of both desolation and renewal that alternately haunted and restored Colson's spirit during this time. His autobiography, Born Again, described this time and became an international bestseller. The enthusiasm fired by his speaking engagements pointed toward the predictable path of a celebrity evangelist. But he feared the distorting impact of the spotlight on his struggle to curb his pride and build a deeper spiritual life.
Transcendent Leader
Ultimately, Colson and his wife determined that he should devote himself to prison ministry and restrict outside speaking engagements. So he went into maximum-security prisons to pray with the inmates. He met with prisoners on death row—the closest place to hell on earth—where men lived within excrement-smeared walls, policed by terrified guards.
In 1976, he founded Prison Fellowship, which now sends teams into thousands of prisons throughout the country. It has also given birth to a number of initiatives designed to reverse recidivism and to lift the dehumanizing alienation of prisoners and their struggling families. Angel Tree Ministry, for example, sends Christmas presents to 600,000 children of prisoners, an effort that has earned the gratitude of many prisoners who have since joined Bible-study classes.
But the impressive growth of Prison Fellowship is no more compelling than Colson's equally effective role as a Christian leader who has transcended denominational boundaries, gathering Christians from many different traditions to address challenges like prison reform, Christian unity, and the place of Christianity in public life.
Late to faith, Colson showed humility, courage, and discernment as he navigated the choices before him. There is considerable poignancy in the one-time hatchet man's struggle to moderate his hard-drinking, heavy-smoking, joke-cracking, controlling persona. Pushed to command the podium, he acknowledged his educational deficits and invited prominent theologians to tutor him in the fundamentals of the faith.
He has produced a number of important Christian works, including How Now Shall We Live? (written with Nancy Pearcey) , which articulated his thinking on the Christian worldview's impact on our culture. He had a critical role in the founding of Evangelicals and Catholics Together. Though this initiative angered some long-time supporters, who withdrew their financial backing, Colson refused to reconsider his commitment to the controversial but highly productive ecumenical dialogue.
Colson's indifference to denominational prejudices—not doctrinal distinctions—is a rare gift that benefits the whole Church. His collaboration with other denominational leaders also has provided opportunities for common advocacy on issues like abortion, gay marriage, embryo-destructive stem-cell research, school prayer, and judicial nominations.
Compelling Story
Liberals who demonize Christian social activists as members of a retrograde, "anti-choice" conspiracy have argued that in this book Nixon's "hatchet man" is, with Aitken's help, engaged in another cover-up.
"The more accurate story of Colson is less that of a life redeemed than of a life refrained. Colson no longer attacks individuals in the service of Nixon; he attacks them in the name of God," contends Max Blumenthal, contributor to The Nation, in a book review for the Washington Monthly. He dismisses Colson's brand of Christian compassion, because it includes support for capital punishment and opposition to homosexual marriage.
Similar attacks elsewhere in the mainstream press betray a self-serving cynicism about the proper political agenda for a true man of God. Nevertheless, Aitken might have offered a more thorough explanation for why the redeemed Colson found himself back in the Oval Office counseling President George W. Bush on faith-based initiatives. Does this political engagement supply evidence of ulterior motives, as his critics suggest, or is it the fruit of spiritual reflection? Did his work with Prison Fellowship prompt his return to politics as a means of addressing the social dysfunction that feeds the globe's largest prison system?
It is unfortunate that Colson's conversion will remain a mystery for many Americans who made up their minds about him long ago. Watergate constituted one of those "perfect storm" media moments when the complexity of character, moral intention, and culpability were swept away in a whirlwind of sound bites, screaming headlines, and flashing cameras.
Colson's compelling story suggests that we must reconsider our knee-jerk judgments of the men and women who draw our outrage. They are flesh and blood like us, and their restless souls long for fulfillment. And sometimes, as with Charles Colson, they find it in Christ.
Joan Frawley Desmond is a freelance writer who lives with her husband and three children in Chevy Chase, Maryland. She is a recent graduate of the John Paul II Institute for the Study of Marriage and the Family.
Not a subscriber? Subscribe to Touchstone today for full online access. Over 30 years of content!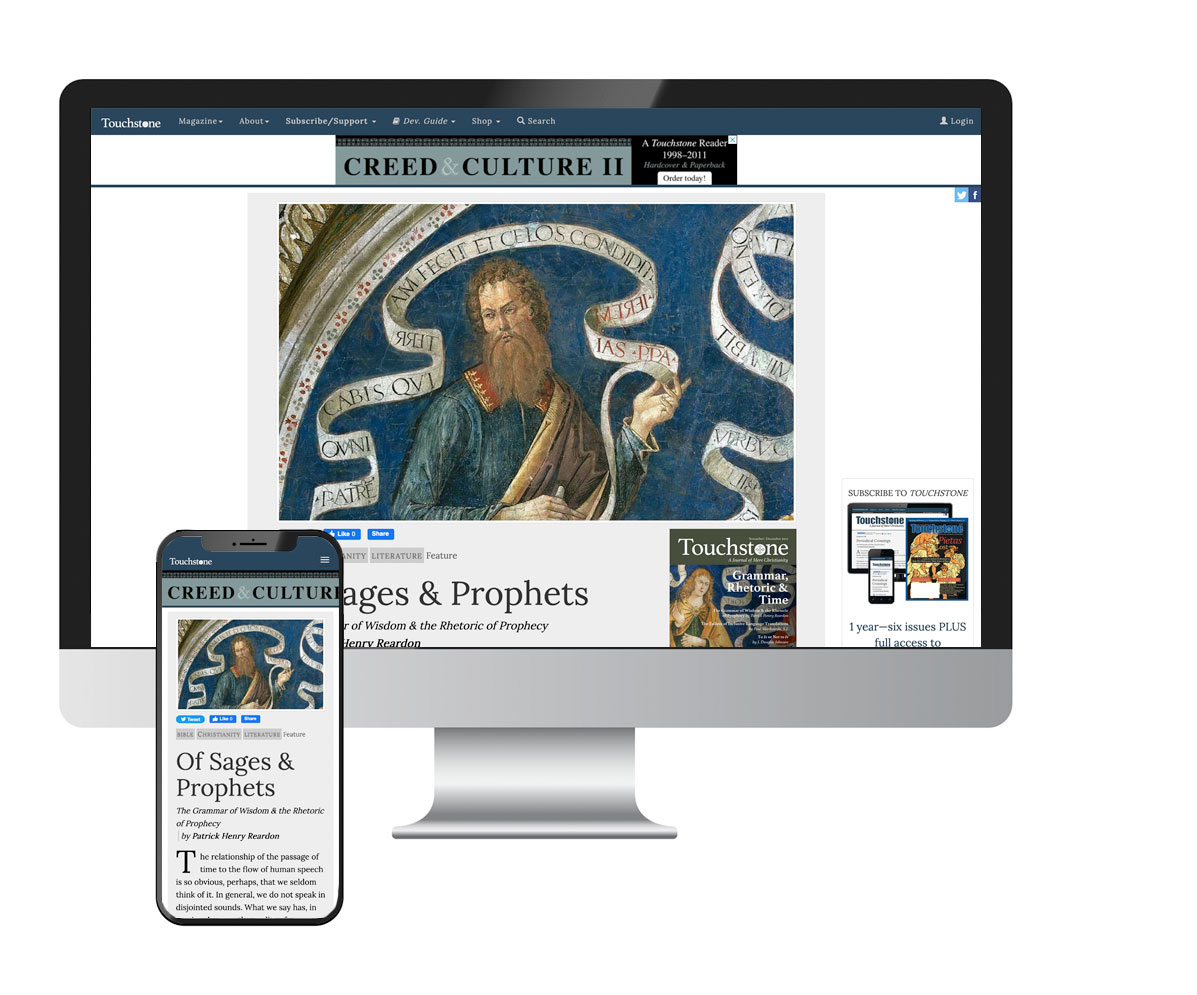 Get a one-year full-access subscription to the Touchstone online archives for only $19.95. That's only $1.66 per month!
Purchase Print &
Online Subscription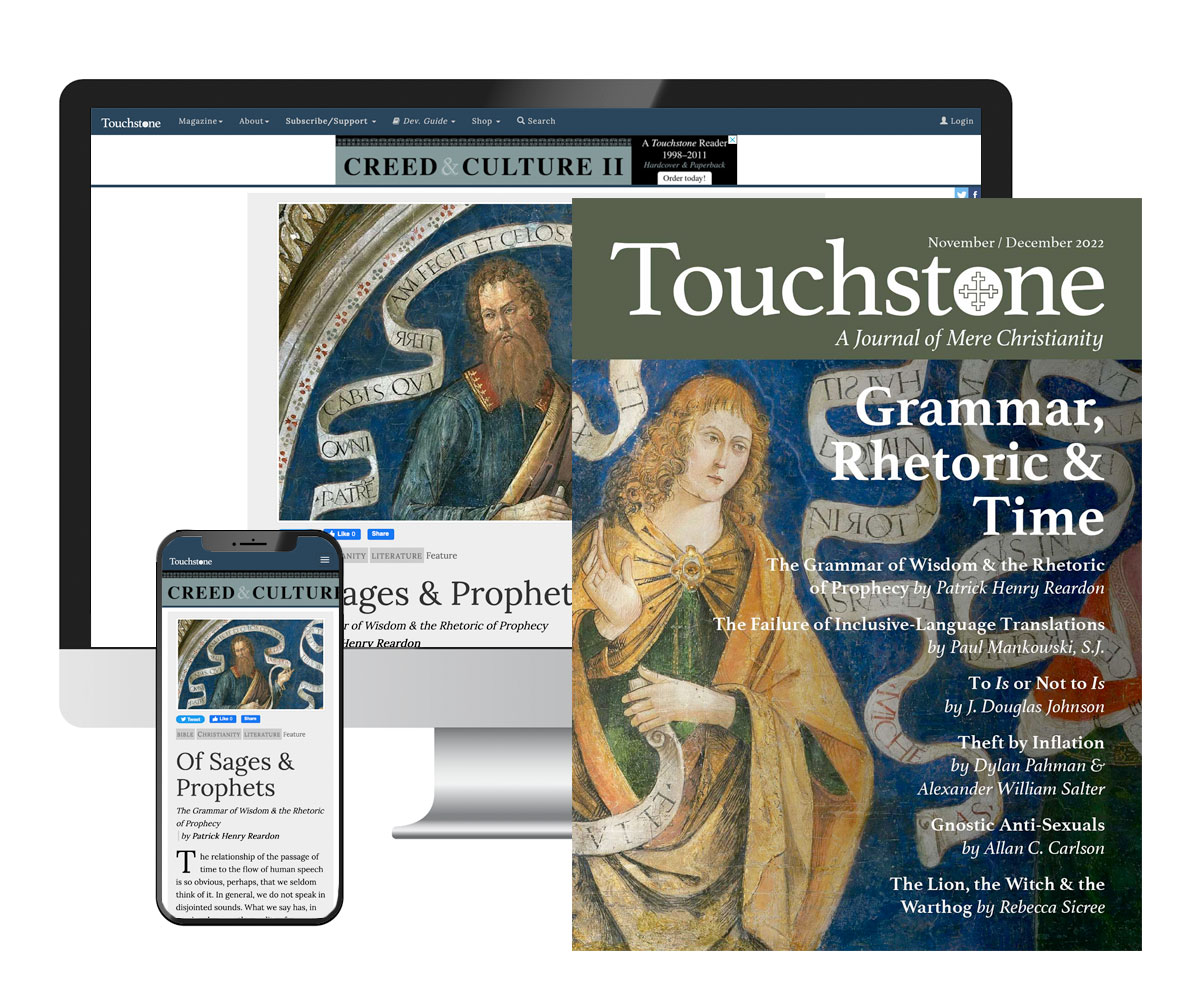 Get six issues (one year) of Touchstone PLUS full online access for only $29.95. That's only $2.50 per month!
Your subscription goes a long way to ensure that Touchstone is able to continue its mission of publishing quality Christian articles and commentary.
*Transactions will be processed on the secure server of The Fellowship of St. James website, the publisher of Touchstone.
from the touchstone online archives