Wardrobe Accessories
Further Up and Further In: Understanding C. S. Lewis's The Lion, the Witch and the Wardrobe
by Bruce Edwards
Broadman & Holman, 2005
(126 pages, $12.99, paperback)
Inside Narnia: A Guide to Exploring The Lion, the Witch and the Wardrobe
by Devin Brown
Baker Books, 2005
(255 pages, $12.99, paperback)
A Reader's Guide Through the Wardrobe:
Exploring C. S. Lewis's Classic Story
by Leland Ryken and Marjorie Lamp Mead
InterVarsity Press, 2005
(192 pages, $13.00, paperback)
reviewed by Donald T. Williams
With the release of a major movie version of C. S. Lewis's The Lion, the Witch and the Wardrobe this past December, we are predictably being inundated with products designed to seize the opportunity provided by what promises to be a cultural phenomenon second only to Peter Jackson's version of The Lord of the Rings. These three books by Evangelical scholars rise above the sea of commercial mediocrity to be deserving of our attention; they would make worthwhile reading even if no movie were coming out.
None of them advances a new or original interpretation or has a particular thesis to argue. Rather, they are informal commentaries, distillations of some of the best scholarship on The Lion, the Witch and the Wardrobe, which try to enhance the reading experience and understanding of normal readers, not scholars—while maintaining scholarly integrity. They differ not so much in their view of the work as in organization, emphasis, and focus.
Created Longing
Bruce Edwards, professor of English at Bowling Green State University in Ohio, offers the shortest, simplest, and most devotional treatment of the three. Short here does not mean insubstantial, nor does simple mean unintelligent, nor devotional shallow.
For example, Further Up and Further In has one of the best defenses (Ryken and Mead have another) of reading the Chronicles of Narnia in their original order of publication—as opposed to the more recent chronological reordering by a publisher that misapplied one of Lewis's offhand comments—that I have seen since Peter Schakel's "The 'Correct' Order for Reading the Chronicles of Narnia."
Entering the story in medias res, Edwards argues, allows us to experience Narnia the way the Pevensy children do, and it preserves as surprises those events that were originally written as surprises. "The truth is, we do not really have reasons to care about the origins of Narnia (which are, indeed, revealed in The Magician's Nephew) until we have first been there to discover for ourselves what has happened; and then we will find ourselves curious about how things got that way, hungry for history and, perhaps, chronology."
One of the stumbling blocks to reading secondary work on Lewis is having to wade through the interminable, dreary summaries of things Lewis already said better. Edwards, however, has a rare knack for bringing his readers along with summaries of the story that they actually won't mind reading, interspersed with commentary that focuses mostly on the spiritual and moral dimensions of the work, and often does so very profitably.
He is actually providing, almost unnoticed, what the experts would call "reader response criticism," subtly making sure by his retelling that we are not missing the spiritually instructive responses to the text that are actually embedded in the story. Each chapter ends with a section of more explicit spiritual and theological thoughts (titled "Reflecting on the journey so far") and background notes.
It is all there ultimately to elucidate the fact that "the testimony of many readers of Narnia is that C. S. Lewis has not just identified a longing or God-shaped vacuum already there; he has helped create the longing itself." Edwards does a good job of explaining how and why.
Narnia Commentaries
Devin Brown, author of Inside Narnia, is professor of English at Asbury College in Kentucky; Leland Ryken, co-author of A Reader's Guide Through the Wardrobe, is professor of English at Wheaton College in Illinois, while co-author Marjorie Lamp Mead is associate director of Wheaton's Marion E. Wade Center, an internationally known collection of material on Lewis, J. R. R. Tolkien, Dorothy Sayers, and other writers.
Neither of these books is hard to read or inaccessible to non-specialists, but both are full of solid and useful information. Both bill themselves as literary commentaries, but Brown's is actually more of a general treatment, dealing with background, philology, theology, and so forth, while Ryken and Mead's book focuses more on literary topics such as style and narrative technique, leaving background material for a separate section at the end.
Both books take more explicit notice of previous scholarship than Edwards does. Brown integrates quotations from the best of earlier interpreters into his commentary, while Ryken and Mead distribute such quotations, along with questions for reflection or discussion, into boxes and sidebars that are so numerous as almost to become distracting. Ryken and Mead include a very useful and enlightening chapter on the history of the reception of the Narnia books.
As I indicated earlier, these books differ not so much in content—they all represent a solid, ecumenical Christian consensus on the nature, meaning, and value of the Narnia books—as in approach. Ryken and Mead are almost like a teacher's guide, throwing out myriads of questions worth asking and sometimes only hinting about how to answer them, while Brown asks fewer questions but spends more time trying to wrestle out the answers.
Leaving Narnia
What Brown says about one of those questions represents well the message all three books are trying to convey. Why do the children have to leave Narnia? Because the readers do: When they finish the book, they too are "returned to the place where they started."
So the real question is, "What effect does the journey have on us?" Brown suggests three effects. We identify with the characters in their moral struggles, learning what they learn; we learn, in learning to trust Aslan, to trust Christ; and we find the everyday world to which we return re-enchanted itself in the process. No small gain, that.
Providentially, these three books complement one another very nicely. Each provides a useful and readable treatment of The Lion, the Witch and the Wardrobe, with surprisingly little overlap despite their overall agreement. All three include bibliographies, with Brown's being the most complete.
Lewis aficionados may want to own all three, and people who desire only one book on The Lion, the Witch and the Wardrobe will find any of them profitable: Edwards might be the best choice for non-specialists, Brown for a general audience, Ryken and Mead for English majors or teachers. Together, they go far toward explaining why, even as adults, we still want to be Friends of Narnia.
Peter Schakel's article appeared in the Spring 2001 issue of the journal Mythlore (www.mythsoc.org/mythlore.html).
Not a subscriber? Subscribe to Touchstone today for full online access. Over 30 years of content!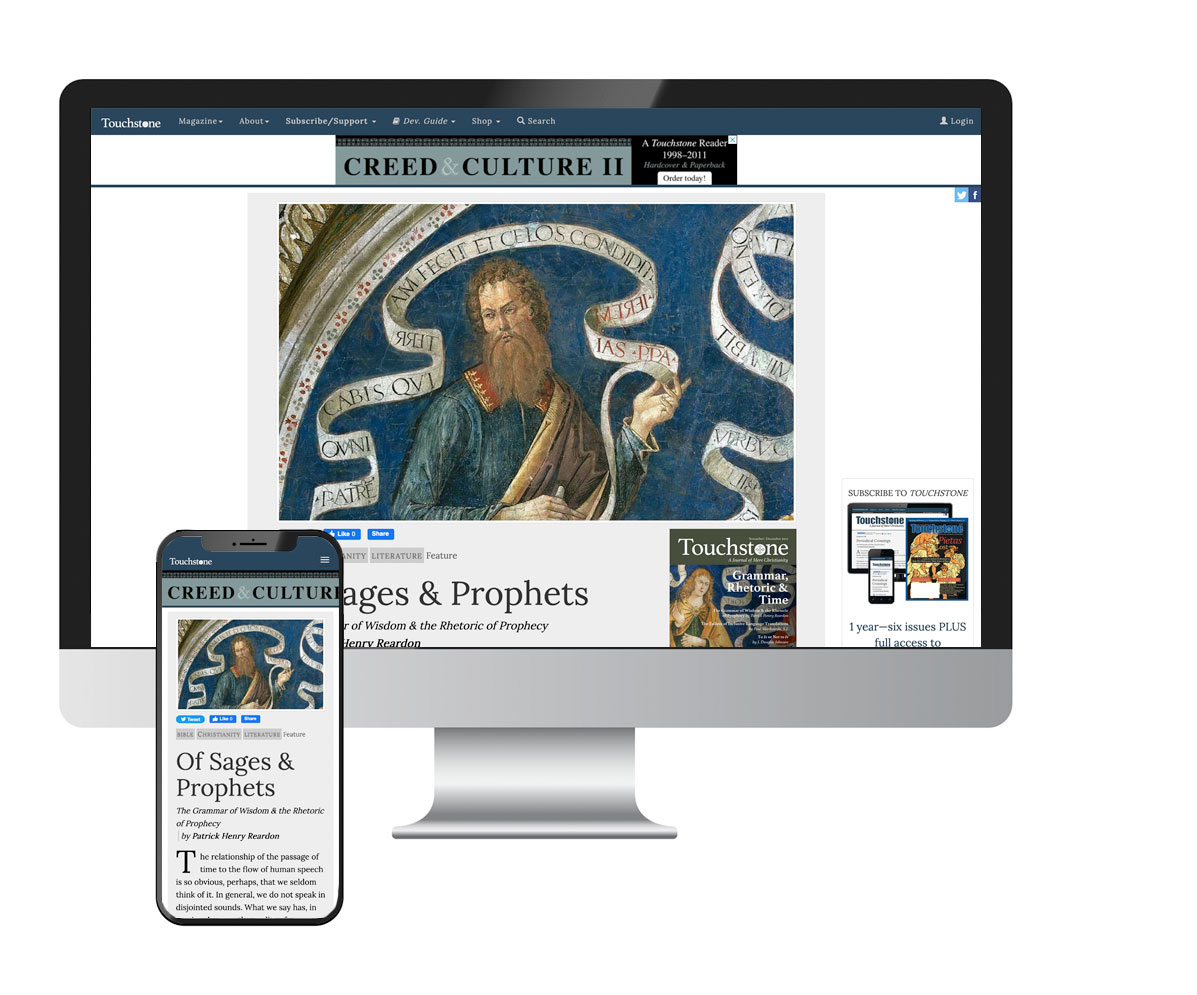 Get a one-year full-access subscription to the Touchstone online archives for only $19.95. That's only $1.66 per month!
Purchase Print &
Online Subscription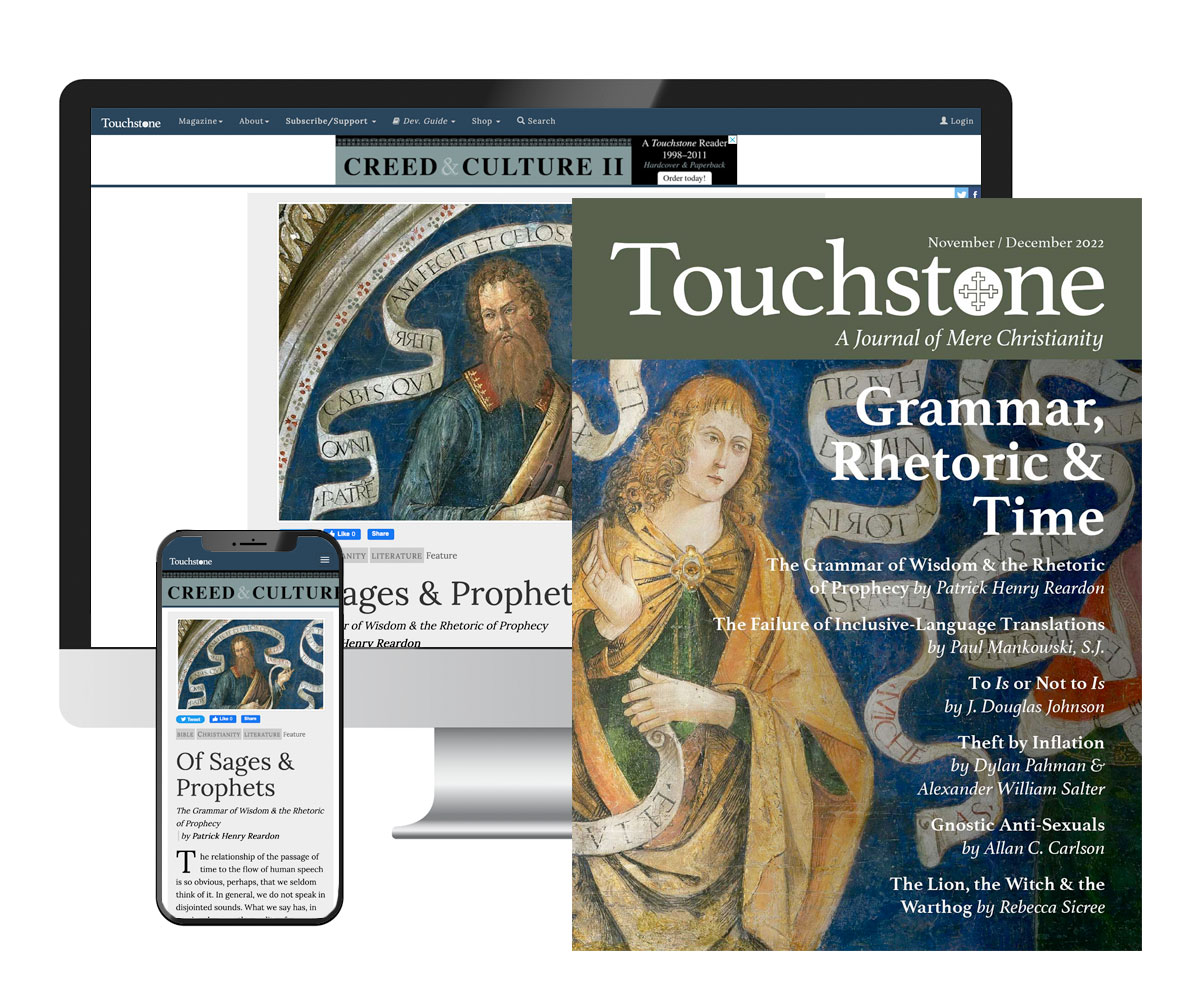 Get six issues (one year) of Touchstone PLUS full online access for only $29.95. That's only $2.50 per month!
Your subscription goes a long way to ensure that Touchstone is able to continue its mission of publishing quality Christian articles and commentary.
*Transactions will be processed on the secure server of The Fellowship of St. James website, the publisher of Touchstone.
from the touchstone online archives