Canada Dry Rot
It's Not Just Canadian Courts That Are to Blame
by Rory Leishman
What has gone wrong in Canada? Who is responsible for transforming this once democratic country into a state where anyone who publicly defends the traditional definition of marriage as the voluntary union for life of one man and one woman to the exclusion of all others faces possible judicial persecution?
The Evolving UCC
Canada's mainline Protestant churches bear much of the blame. Consider the rapidly evolving positions on sexual morality adopted by the United Church of Canada (UCC), a once-traditional church formed in 1925 by a merger of Methodists, Congregationalists, and Presbyterians. Despite having lost close to one-quarter of its members since 1981, it remains Canada's largest Protestant denomination.
As recently as 1960, the church's ruling general council described homosexual activity as sinful because
It violates the will of God as an offence against the proper expression of sexuality in monogamous marriage; by misuse of natural functions, homosexual activity is a sin against the self; since it involves at least one other person of the same sex, with or without his consent, homosexual activity is unedifying and destructive of "neighbour love"; it tends to undermine the foundations of stable society based on heterosexual marriage and family responsibility.
Since then, the UCC has abandoned this traditional teaching. In 1980, its Division of Mission in Canada suggested, in a report entitled "In God's Image . . . Male and Female," that fidelity within marriage might include "openness to secondary relationships of emotional intimacy and potential genital expression."
In 1984, this same division confessed: "The church has too readily accepted marriage as the norm for society and so has not valued single persons for themselves or . . . allowed them the opportunity of sexual fulfilment." And in 1988, the General Council cleared the way for the ordination of sexually active homosexuals.
Finally, in 2000, the General Council formally renounced the 1960 statement that homosexuality is a sin; declared that "lesbian, gay, bisexual and transgendered as well as heterosexual orientations are gifts from God, part of the marvellous diversity of creation"; and called upon the church to "affirm lesbian and gay partnerships, recognize them in church documentation and services of blessing, and actively work for their civil recognition." In conformity with this policy, the leadership of the UCC also urged the Martin government to legalize same-sex marriage.
The Declining ACC
In the meantime, the Anglican Church of Canada, Canada's second-largest Protestant denomination, has been proceeding on a slower march in the same direction.
While it has not yet explicitly repudiated the traditional Christian understanding of marriage, it has failed to discipline Michael Ingham, the bishop of New Westminster, for independently authorizing the blessing of same-sex unions. Last year, the church's General Synod adopted a resolution affirming "the integrity and sanctity of committed adult same-sex relationships." Only 9 of 34 bishops in attendance objected.
As a result, the church, like the Episcopal Church in the United States, is facing expulsion from the Anglican Communion at the next Lambeth Conference in 2008. Most Anglican bishops in Canada have shown no disposition to back down.
Meanwhile, Bishop Ingham has denounced the Supreme Court of Canada for suggesting that ministers of religion, as distinct from civil marriage commissioners, have a constitutional right not to marry same-sex couples. He said, "It means if you're a non-believer, you can't discriminate against gays and lesbians, but if you're a believer, you can."
The Inconsistent Catholics
While the Canadian Conference of Catholic Bishops has opposed the ongoing revolution in Canadian family law, most Catholic bishops have not insisted that Catholic politicians should likewise uphold the clear teaching of the Catholic Church.
Bishop Fred Henry of Calgary and Bishop Paul Marchand of Timmins are two conspicuous exceptions. In March, Bishop Henry said that if it were up to him, he would consider excommunicating Prime Minister Paul Martin. In June, Marchand authorized a priest to deny Communion to Charlie Angus, a New Democratic Party MP, who had voted for the government's legislation on same-sex marriage. More than 50 other Roman Catholic MPs, including Prime Minister Martin, have also voted to enact this legislation into law. None has been denied Communion by his parish priest and bishop.
That is fine with Cardinal Marc Ouellet, the archbishop of Quebec and primate of Canada. In a discussion with journalists, he said he disagreed with Marchand. "I think that politicians have to do their duty in Parliament and they have to work within the context of a pluralistic society, but they have to be aware of their own beliefs and when they are called to vote in conscience, I think they have to vote in conscience according to their own beliefs."
Is that not remarkable? One would have thought that a cardinal would insist that on essential questions of morality, a Catholic politician should vote in conscience according to the beliefs of the church. In Veritatis Splendor (The Splendor of Truth), Pope John Paul II advised: "It is never acceptable to . . . make the moral value of an act performed with a true and correct conscience equivalent to the moral value of an act performed by following the judgment of an erroneous conscience."
In March, Archbishop Marcel Gervais of Ottawa told LifeSite News that he regards Prime Minister Martin "a faithful member of my cathedral parish." How can that be? Martin regularly attends church, but he has no compunction about supporting same-sex marriage, abortion on demand, embryonic stem-cell research, and other policies that gravely conflict with Catholic teaching.
Disagreeing Pope
Following the example set by former Governor Mario Cuomo of New York and Senator John Kerry of Massachusetts, Canada's Catholic prime minister defends his defiance of church teaching on the ground that he is not obligated to uphold his private convictions as a Catholic in his public role as a politician. Speaking on a Vancouver radio station in June, he said: "I'm actually a very strong Roman Catholic. But I'm also a legislator, and I believe that clearly what I've got to do is take the widest perspective possible."
Archbishop Gervais rejects this rationale, but says, "I do not think, at this time, his position merits refusing him Communion." Cardinal Ouellet takes the same view: "You do not lose your right to belong to a community because you do not vote in the right way. We are a community of sinners. We are all sinners in one or the other way, so we have to be welcoming for all our members and help them to be more coherent and not to exclude them."
On this point, Pope Benedict XVI evidently disagrees with Ouellet, Gervais, and their likeminded colleagues. In a statement issued in his former capacity as prefect of the Congregation for the Doctrine of the Faith on June 3, 2003, he admonished that "all Catholics are obliged to oppose the legal recognition of homosexual unions."
He also wrote specifically that "when legislation in favour of the recognition of homosexual unions is proposed for the first time in a legislative assembly, the Catholic law-maker has a moral duty to express his opposition clearly and publicly and to vote against it. To vote in favour of a law so harmful to the common good is gravely immoral."
Given this papal directive, why is the Canadian Conference of Catholic Bishops so unwilling to stand up to the gravely immoral conduct of all the Catholic politicians in Canada who have voted same-sex marriage into law? David Warren, a prominent recent convert to Roman Catholicism from the Anglican Church of Canada, has offered a somber explanation.
Writing in The Ottawa Citizen, he said, "It's no secret that most Canadian Catholic bishops are cowards," and added:
With the important exception of the Bishop of Calgary, they run away from almost any opportunity to defend the faith they were entrusted to defend. They will act, grudgingly, when they get instructions directly from the Vatican, but then they let everyone feel their pain. Some appear to be themselves opposed to most Church teaching. It is thus left to the laity to do for the Catholic Church that for which its "hands on" leadership have not the stomach.
Vulnerable Laity
Alas for the laity, they are more vulnerable than ministers of religion to persecution by the state. Bishop Henry has come under investigation by the Alberta Human Rights Commission for his forthright defense of Catholic teaching on marriage and the natural family, but someone of his stature is unlikely to be prosecuted.
A relatively obscure layman like Chris Kempling, a high-school teacher charged for having deplored homosexual promiscuity in a letter to the editor of his local newspaper, is a much easier target for oppression. He is almost certain to lose his job in the public school system, unless he forgoes any more public statements about such matters as the dangers of homosexual promiscuity.
A worse fate looms for Orville Nichols, a civil marriage commissioner under investigation by the Saskatchewan Human Rights Commission for refusing to join two homosexual men in a same-sex marriage. Unless he apologizes for this offense to the orthodoxy of human rights in Canada, he could end up in jail.
Timorous clerics, unscrupulous politicians, and judicial activists are not alone to blame for the loss of religious freedom in Canada, or the advance of homosexual "marriage." The great majority of Canadian Christians bear some responsibility for this disaster in that they have failed to heed the timeless warning of John Philpot Curran, the eloquent nineteenth-century Irish politician and judge: "The condition upon which God hath given liberty to man is eternal vigilance; which condition if he break, servitude is at once the consequence of his crime and the punishment of his guilt."
For more on intolerance in Canada, see the author's "Mad Court Disease" from the March issue, which can be found at www.touchstonemag.com/archives/article.php?id=18-02-060-r.
Rory Leishman is a former lecturer in political science at the University of Western Ontario and national affairs columnist for the London Free Press. Now a freelancer, he writes a regular column on national affairs for his local newspaper as well as Catholic Insight magazine and the Interim: Canada?s Pro-Life Pro-Family Newspaper Online.
Not a subscriber? Subscribe to Touchstone today for full online access. Over 30 years of content!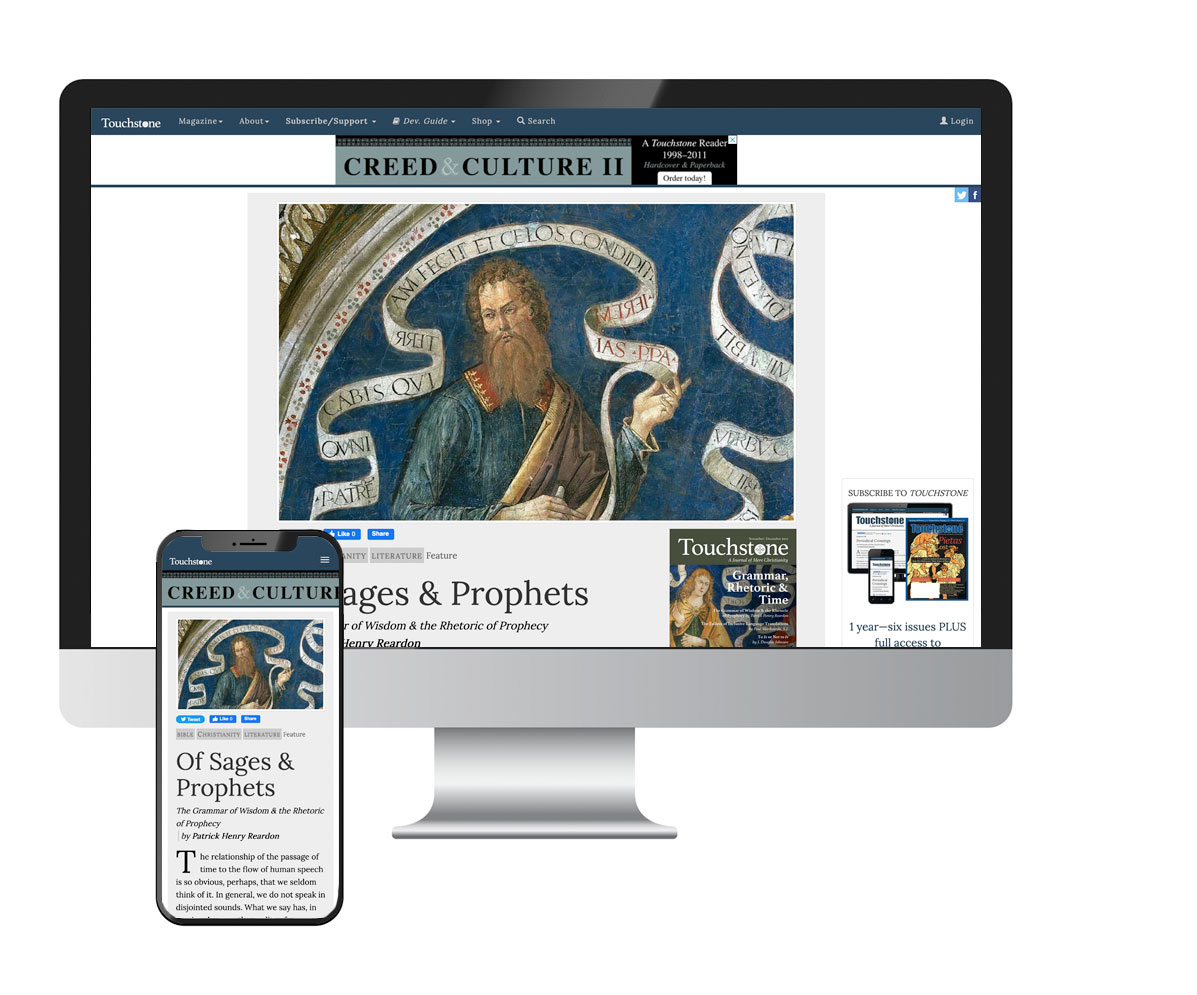 Get a one-year full-access subscription to the Touchstone online archives for only $19.95. That's only $1.66 per month!
Purchase Print &
Online Subscription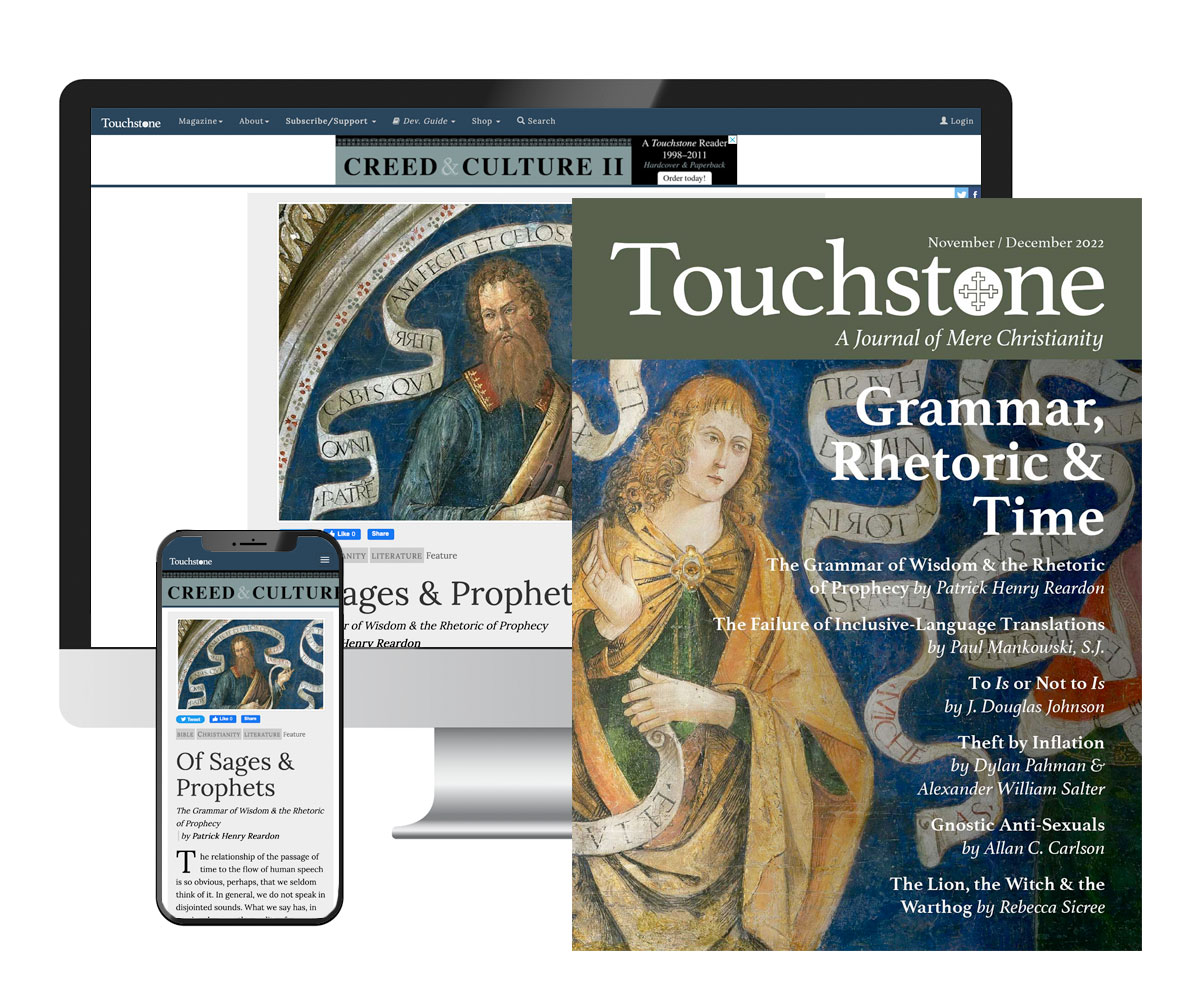 Get six issues (one year) of Touchstone PLUS full online access for only $29.95. That's only $2.50 per month!
Transactions will be processed on the secure server of The Fellowship of St. James website, the publisher of Touchstone.
Your subscription goes a long way to ensure that Touchstone is able to continue its mission of publishing quality Christian articles and commentary.
more from the touchstone online archives