Warrior Bishop
The Atterbury Plot by Eveline Cruickshanks and Howard Erskine-Hill
The Atterbury Plot
Palgrave Macmillan, 2004
(323 pages, $68.00, hardcover)
reviewed by Anne Barbeau Gardiner
The eighteenth-century Anglican bishop Francis Atterbury was not the first bishop to plan a revolution in England. Archbishop Stephen Langton had sided with the barons against King John and been the guiding force behind the Magna Carta in 1215, and Archbishop Cranmer had tried to make Lady Jane Grey queen of England instead of Mary Tudor.
In those days religion and politics were one. The seven high-church Tory bishops who—led by the Archbishop of Canterbury, William Sancroft—went to the Tower in 1688 and triggered the revolution that overthrew King James II and replaced him with William of Orange were convinced that James, a Catholic, was going to harm their church by letting non-Anglicans take public office.
Yet they were conservatives who did not intend to start a revolution. They trusted William of Orange to be regent, not king, and having helped bring him to power refused to take the oath of allegiance to him, for which they were deposed and replaced by bishops of the Whig party (Whigs were, roughly speaking, the political and theological liberals of the day). When George I came to the throne in 1714, he drove all high-church Tories out of national and local office and out of the armed forces and also put in more Whig bishops. Alarmed for their church and state, British conservatives were deeply disaffected.
The Atterbury Plot is the first fully documented account of the conspiracy in 1720–1722 to overthrow that government. The authors are both eminent scholars of the eighteenth century: Eveline Cruickshanks of Cambridge University recently published a monumental history of parliament from 1690 to 1715, and Howard Erskine-Hill is a noted literary scholar who has published much on Dryden and Pope.
Jacobite Rebels
Atterbury, the bishop of Rochester, was by 1716 the leader of the Jacobites in England. ( Jacob is Hebrew for James, the name of the Stuart heir James III, who had been nicknamed "the Pretender" for his claim to the throne).
Every plan to overthrow King George had to have Atterbury's approval. He persuaded the popular Duke of Ormonde—Chancellor of Oxford and the only Protestant duke in Ireland—to go abroad to facilitate the revolution. Ormonde became Captain-General of the Spanish armies, provided commissions for Jacobite officers, and got ready to invade Britain.
The year 1720 was an auspicious one for beginning a rebellion because of the widespread anger at George I over the crash of the South Sea Company. Large numbers of formerly well-to-do stockholders were suddenly destitute and blamed the king, who had been the governor of the failed scheme. Londoners were greeting the king with ominous silence, and aristocrats who had been hostile to "the Pretender" were suddenly trying to get his picture.
Atterbury used the crisis to plan a "general rising" for 1722. He had to be careful, because George had daunting military support: a standing army, soldiers stowed away in nearby Ireland, Dutch troops on call under the terms of the Barrier Treaties, and his own foreign mercenaries.
Disaffection was so deep that in the next two years, Atterbury's followers boldly recruited soldiers, sailors, and guards even from the king's own service. The new recruits were urged to go hear high-church firebrand Dr. Henry Sacheverell preach at the London parish of St. Andrew's, Holborn. Among others recruited were the Minters (those driven by debt after the South Sea Bubble burst to take legal refuge in Southwark, across the Thames from London), the Waltham Blacks (smugglers of brandy), and the Thames boatmen.
Atterbury also counted on troops from abroad (and from both Protestant and Catholic countries) to act as a spearhead and bring the needed arms. London and the Tower were to be seized first. Scotland promised 20,000 men, Ireland sent enough recruits to Spain for two battalions, and Sweden promised arms and ships. In 1722, 400 Jacobite officers with English crews were ready to sail and invade Britain.
Failed Rebels
But it was not to be. In the spring of 1722, the rising had to be postponed because only £200,000 had been raised to buy arms (a huge sum in those days, but half of what was needed). Around the same time, the French government informed George I about the planned insurrection.
Soon after, the government minister Robert Walpole announced that an Association in favor of "the Pretender" had been signed by many great nobles and that he had enough evidence to behead and hang 100 men of distinction. Immediately, Tories and Jacobites began burning their papers.
The bishop was arrested in August 1722, put in solitary confinement in the Tower without bail, and charged with treason, for which the penalty was death. For lack of evidence, he was tried on a lesser charge and condemned to perpetual exile.
What convicted the bishop were three letters, in cipher, apparently forged, supposed to have been sent through the Post Office—though Jacobites never used the Post Office, only couriers. He complained that the letters bore "the marks of fraud" and that he had not been allowed to cross-examine the postal agents and the decipherers. (His friend Jonathan Swift would later rise in his defense in Part III of Gulliver's Travels, plainly referring to the Atterbury trial and ridiculing the use of decipherers at state trials.)
During the trial, Alexander Pope appeared as a character witness for his close friend the bishop. The poet, though a Catholic, revered Atterbury as a great statesman suffering unjustly, like Cicero and Francis Bacon. When Atterbury died in Paris in 1732, Pope wrote an epitaph attributing to him these dying words: "Save my Country, Heav'n." A man's last words were supposed to reveal his true character, and Pope was saying that Atterbury had always been a great lover of his native land.
To the end Atterbury remained popular with the lower clergy (not with his fellow bishops, who were mostly Whigs). During his imprisonment and trial, public prayers were offered for him in most of the London churches, and when he was condemned to exile, a collection of £16,000 was made in the churches on his behalf. In exile, he declined to be secretary of state to James III, but still showed eagerness in 1725 to exploit the alliance of Bourbon Spain and the Hapsburg Empire for the Stuart cause. Mostly, he turned to philological studies.
It is surprising that this is the first time the complete story has been told of this learned warrior-bishop who managed a vast international conspiracy. For the boldness of his politics, he surely belongs in the line of Langton, Cranmer, and Sancroft.
Anne Barbeau Gardiner is Professor Emerita, Department of English, John Jay College, City University of New York. She is the author of Ancient Faith and Modern Freedom in John Dryden?s The Hind and the Panther (Catholic University of America Press) and a regular reviewer for New Oxford Review.
Not a subscriber? Subscribe to Touchstone today for full online access. Over 30 years of content!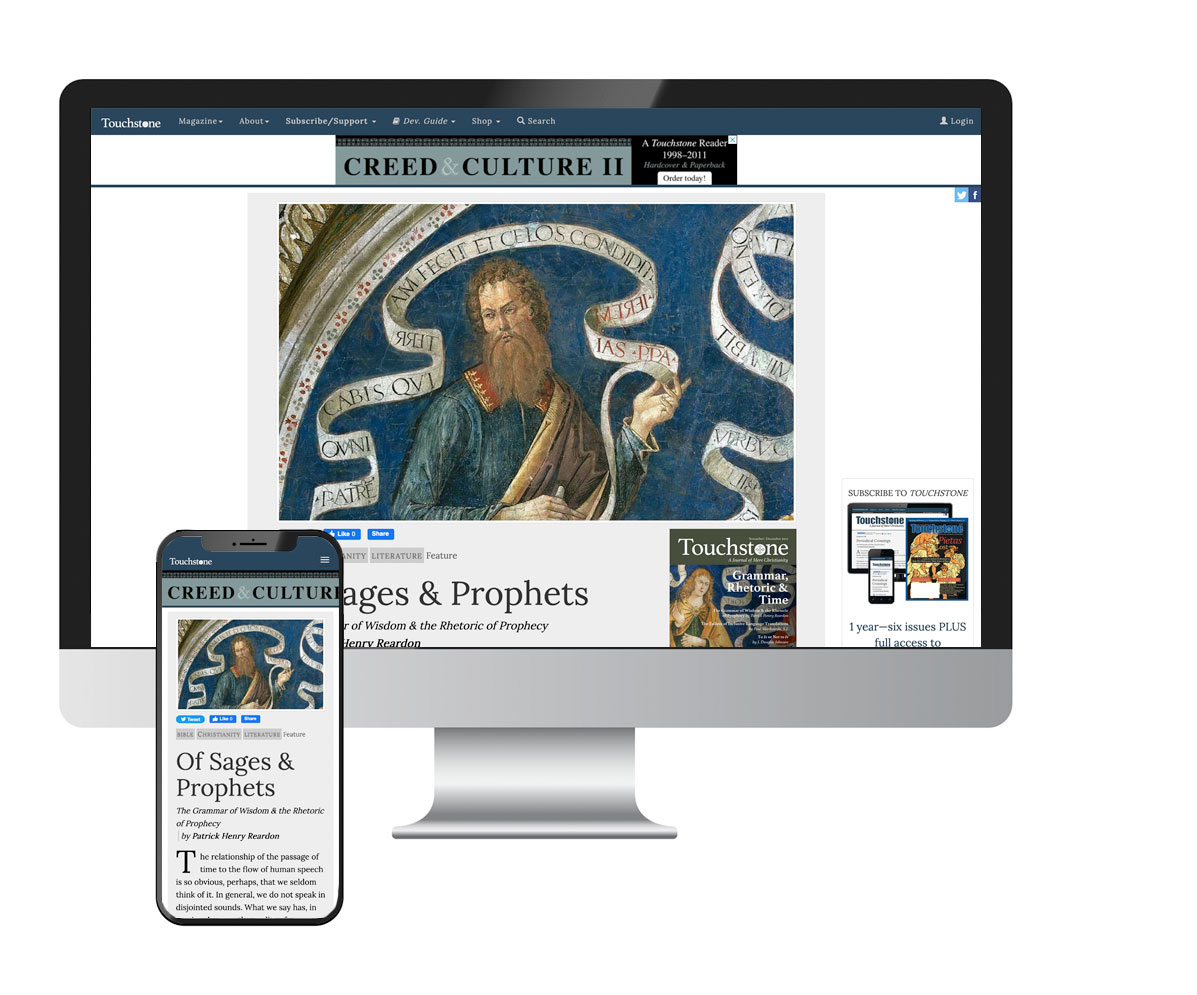 Get a one-year full-access subscription to the Touchstone online archives for only $19.95. That's only $1.66 per month!
Purchase Print &
Online Subscription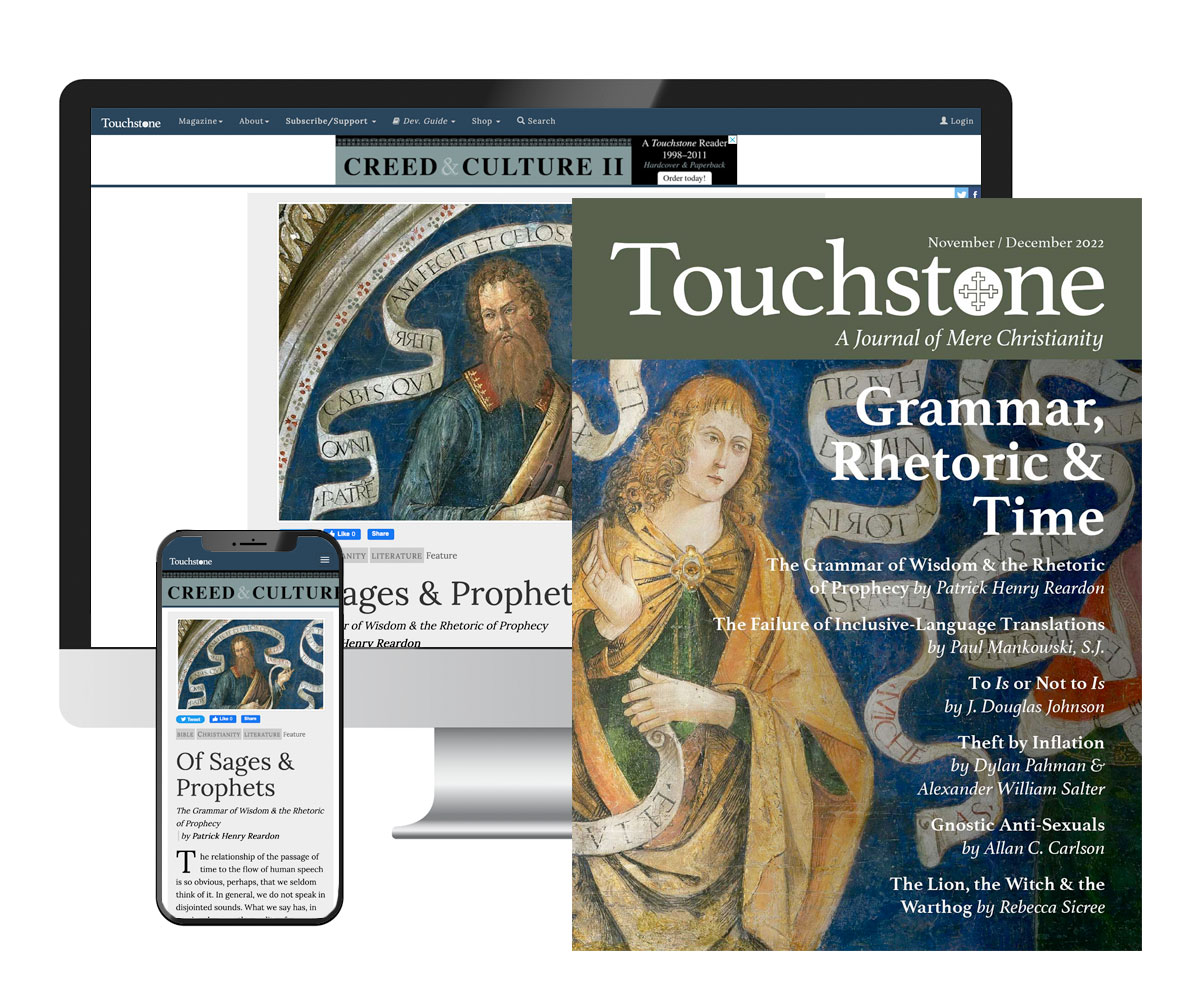 Get six issues (one year) of Touchstone PLUS full online access for only $29.95. That's only $2.50 per month!
Your subscription goes a long way to ensure that Touchstone is able to continue its mission of publishing quality Christian articles and commentary.
*Transactions will be processed on the secure server of The Fellowship of St. James website, the publisher of Touchstone.
from the touchstone online archives