Book Review
Dante's New Guide
Inferno
by Dante Alighieri, edited and translated by Anthony Esolen
New York: The Modern Library (Random House), 2002
(528 pages; $24.95, hardcover)
Purgatory
by Dante Alighieri, edited and translated by Anthony Esolen
New York: The Modern Library (Random House), 2003
(544 pages; $24.95, hardcover)
reviewed by R. V. Young
In the fourth canto of the Inferno, where Virgil leads Dante into the Limbo of souls who can never attain Heaven because they were never baptized and lacked faith in Christ, but who are spared the punishments of Hell because of their personal innocence or virtue, Dante is welcomed into the circle of the classical poets as their peer. In his commentary on this passage, Anthony Esolen rightly remarks, "False modesty is but a small-minded form of pride, and Dante, like the other great-souled men in his narrative, will have none of it."
And yet Dante is more modest than he probably knew. Of the five poets among whom he makes a sixth, only Homer and Virgil (possibly Ovid, certainly not Horace, much less Lucan) attained the same stature in Western letters; and since Dante's time, one could assuredly place only Shakespeare, Cervantes, Milton, Tolstoy, and Dostoyevsky in the same indispensable class. In fact, Dante is arguably the most important of all, precisely because he is the most explicitly Christian poet of Western civilization, expressing its Christian heart at the historical moment of its decisive realization.
A translation of Dante's Divina Commedia is, therefore, a formidable undertaking, and in the face of the numerous versions of the poem now available, many by eminent poets or scholars, it is a bold man indeed who will offer a new one. This translation by Anthony Esolen, professor of English at Providence College and translator of Tasso's Gerusalemme liberata, is, however, not only fully justified, but should, over the coming years, set the standard for editions of Dante read in college classrooms and by educated common readers (an endangered species that receives no federal protection).
Esolen's version walks the tightrope between fidelity to the original and English readability as well as any rendering that I know, and it distinguishes itself from all but a select few by providing the original Italian on facing pages. What finally sets his Inferno and Purgatorio apart from all the rest (his Paradiso is still in press as I write) is the superiority of his introductions and commentary.
Esolen is thorough and yet succinct: He tells contemporary students what they need to know with an engaging tone and without overwhelming them either with scholarly minutiae or the grim pedantry of postmodern theorizing. Moreover, unlike the typical academic or intellectual of our time, he regards Dante's Catholic faith as a living reality and an appropriate response to the human condition and treats the poet as his fellow Christian pilgrim, not as an anthropologist would treat the shaman of a primitive tribe.
It is important, first, to recognize what Esolen is not doing. He is not, for example, providing an alternative to Charles Singleton's bilingual edition in the Bollingen series, which is a monument of literary scholarship with a commentary of more than 300 pages for each of the three parts of the Commedia. Singleton deals with the philological intricacies of Dante's Italian, provides lengthy passages from often obscure sources and analogues in the original languages, and quotes interpretations from a variety of Italian scholars.
His translation is scrupulously accurate and literal prose, furnishing the same kind of help to scholars who are not experts in Dante's medieval Tuscan dialect as the Loeb Library does for those who are not professional classicists. Apart from its great cost—even in paperback the three volumes currently list for well over $100—Singleton's admirable edition is use-less for college students, who would disappear in the depths of this erudition like the simonists in the third ditch of Malebolge: Only the flaming soles of their quivering feet would be visible.
Esolen's introductions to the Inferno and the Purgatorio run 15 to 20 pages. The essential notes—the brief explanations required for students to keep reading and following the narrative—are placed at the foot of the page. More elaborate expositions of historical, literary, and doctrinal issues that arise in the poems are handled in the commentaries at the end of each volume, which are both under 100 pages.
Finally each volume includes several appendices of translated excerpts from pertinent sources, analogues, and influences. The Inferno includes a number of relevant passages from the Aeneid, an excerpt from the apocryphal but popular Vision of Saint Paul, describing the situation of the lost souls in Hell, passages from Dante's own prose works, which are countered by the text of Pope Boniface VIII's Unam Sanctam, an excerpt on battle from a poem by Bertran de Born, and, most important, substantial excerpts from St. Thomas Aquinas illustrating some of the key theological points regarding Hell and damnation. The appendices of the Purgatorio include similarly useful excerpts from St. Thomas, from the Church Fathers (on Purgatory), and from medieval lyrical poetry and hymns. A final, supererogatory enticement of this edition is a selection of the powerful Gustave Doré illustrations of the Commedia. This edition should thus prove to be remarkably "user-friendly" for its principal target audience.
Useful as such features may be, however, the real distinction of these volumes is Esolen's ability to be for contemporary students of The Divine Comedy what Virgil is for Dante within the narrative: a guide and teacher. A traversal of this vast, intricate poem is as daunting for modern readers as the spiritual journey figured forth in the poem was for its author—and as necessary. Dante presents intellectual and imaginative challenges—demands upon the powers of concentration—that are beyond the unaided capacities of today's college and university students, the victims of television and computer games.
In all candor, only a few will be able to avail themselves even of Esolen's guidance and instruction. But never has a generation been more lost in a dark wood, more pitifully strayed from the straight path. The small minority who can benefit will have made the first steps towards a real liberal education, which implies an awakening into spiritual liberty. For Esolen, while he not only meets but exceeds current academic standards, offers far more than a merely "academic" rendering of the Commedia: He shows that Dante is concerned with the perennial elements of the human situation, and that encountering this poem can change your life.
Here, for example, is Esolen's comment on Dante's painful meeting with his revered teacher, Brunetto Latini, in the circle of the sodomites:
The scene is built upon the foundations of eternal truths. If it does not matter what a man does, we cannot have this scene; if a man has no choice but to follow his impulses, we cannot have this scene. Only if we assume that what we choose really does have meaning, and that therefore the stakes of our actions are infinitely high, can we look with unspeakable disappointment and shock at the ruin of a Brunetto Latini. (xx)
No painstakingly logical refutation of "gay marriage" could possibly be as compelling as Dante's dramatic representation of Brunetto's shame—the worst of his torments—and his pupil's shocked and sorrowful realization that it lies in the power of admirable and amiable men to destroy the fabric of their souls, to lose the very essence of their selves in the burning sands of tawdry, infamous pleasures. All too often mendacious modern commentators explain away the power of such scenes: The poet Dante, the fountainhead of eloquence and wisdom, is the ignorant spokesman of an unsophisticated bygone age, says the shallow academic sciolist, with no more relevance than a mummy in a museum.
Anthony Esolen's new translation holds great promise because it offers a Dante whose insights we must acknowledge, whose questions we must answer, whose judgments we must confront. Give this version of The Divine Comedy to a young person: It will be like smuggling a hacksaw blade to a prisoner in the dungeon of materialist ideology. •
R. V. Young R. V. Young is Professor of English Emeritus at North Carolina State University, and the editor of Modern Age: A Quarterly Review. His most recent book is a bilingual edition of Justus Lipsius' Concerning Constancy (De Constantia libri duo). He and his wife are parishioners at Our Lady of Lourdes Church in Dunedin, Florida. They have five grown children and thirteen grandchildren.
Not a subscriber? Subscribe to Touchstone today for full online access. Over 30 years of content!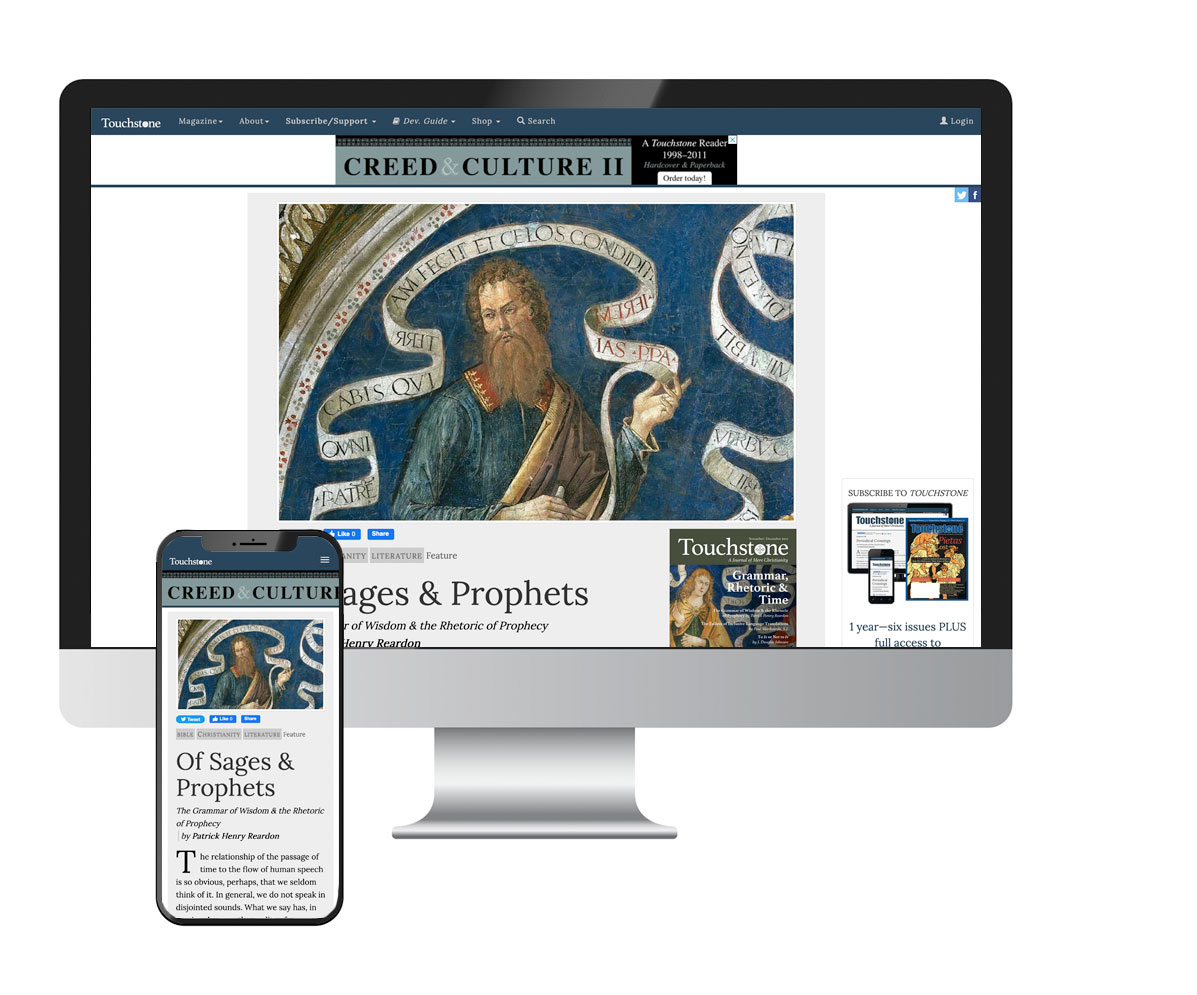 Get a one-year full-access subscription to the Touchstone online archives for only $19.95. That's only $1.66 per month!
Purchase Print &
Online Subscription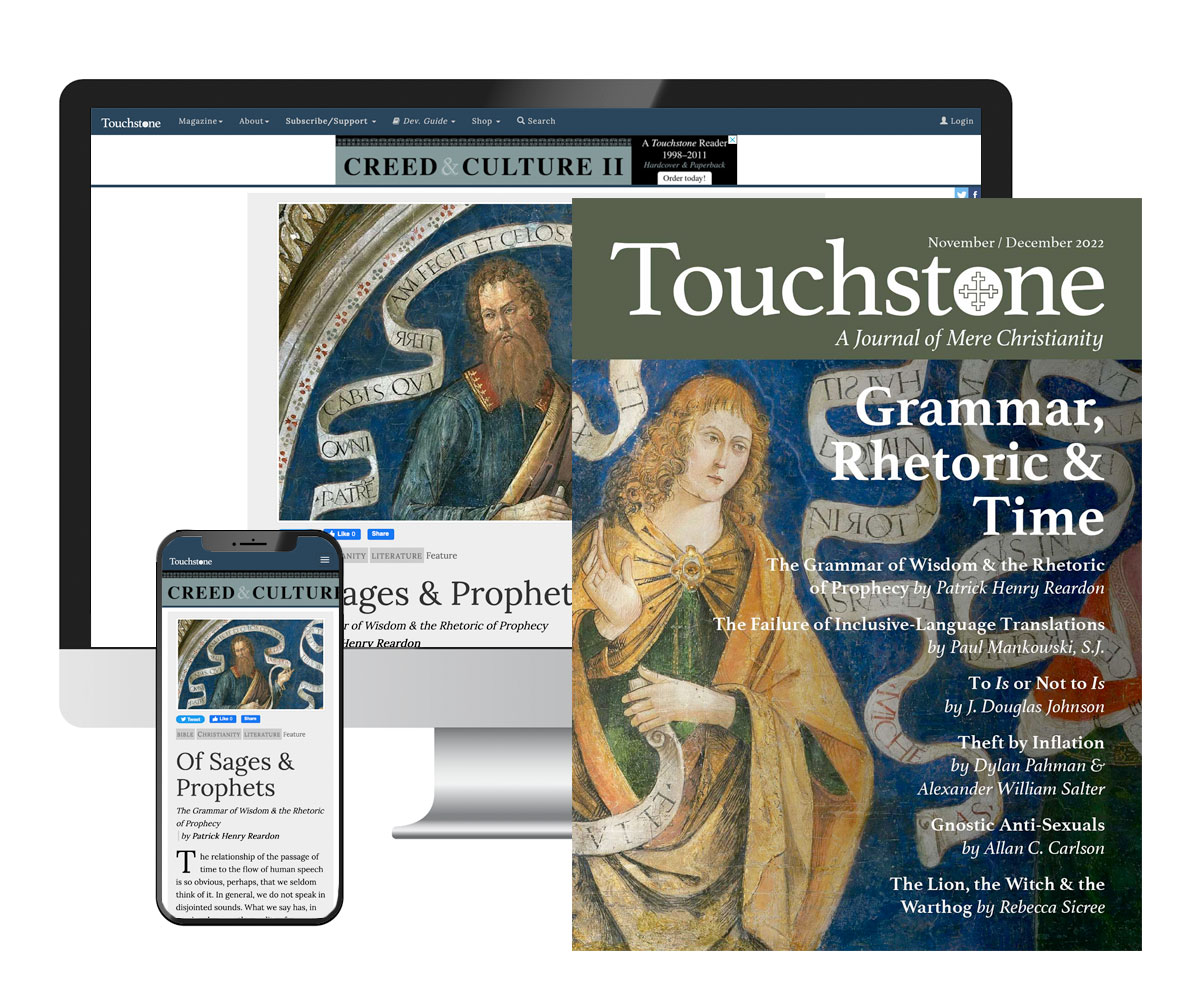 Get six issues (one year) of Touchstone PLUS full online access for only $29.95. That's only $2.50 per month!
Your subscription goes a long way to ensure that Touchstone is able to continue its mission of publishing quality Christian articles and commentary.
*Transactions will be processed on the secure server of The Fellowship of St. James website, the publisher of Touchstone.
from the touchstone online archives