The Very Last Straw?
Conservative Episcopalians Rally in Texas
by William Murchison
It isn't that the ruckus threatening now to cleave Anglicanism like an overripe cantaloupe has nothing to do with sex. It would be disingenuous to say such a thing. Sex, in all its manifold forms and expressions, pervades modern culture, from top to bottom. The almost 2,700 Episcopalians (including 46 bishops, 799 priests, and 103 seminarians) who turned up at Dallas's gargantuan Wyndham Anatole Hotel in early October had not come to revisit women's ordination (which most support) or even to debate modernized liturgical language (which most there seem to have adopted anyway).
No, it was the Reverend V.—for Vicky, oddly enough—Gene Robinson who had inadvertently lured them there: Robinson, whom the Episcopal General Convention, in August, had confirmed as bishop of New Hampshire in the succession of the holy apostles; Robinson, a man living unashamedly with his male lover; Robinson, a priest who, having taken a wife in the conventional way and sired children, had abandoned them in order to embrace his inner gayness.
Vicky Gene Robinson succeeded in getting Anglicanism's attention as not even John Shelby Spong, with his personal design for remodeling Christianity, ever managed to get it.
Come to This
So it has come to this at last, was what the Dallas 2,700 seemed unconsciously to be murmuring as they sat through a three-day prayer-meeting-cum-mobilization-rally. What has come to this? A large number of things, it would seem. Robinson's elevation to bishop (he was consecrated on November 2 by Episcopal Presiding Bishop Frank Griswold, among others) was the back-breaking straw for a camel panting under the massive weight of new affronts to old doctrines and convictions. The Anglican crisis is shaped by two oddly opposite commodities: (1) tolerance, and (2) tyranny.
Tolerance, openness, diversity, ambiguity—for many an Anglican these properties repose at the heart of Anglicanism. The idea of "living in ambiguity" infects Episcopal sermons and theological articles. No closed avenues of inquiry, no cut-offs for debate: Anglicans lap up this kind of thing. It prevents their ever coming to theological closure—the pastime, supposedly, of narrow Evangelicals.
A truly tolerant Anglican views Scripture the way most Supreme Court justices view the Constitution—as a document from which to unearth new, previously undreamt-of meanings. Such as the moral equivalence of heterosexual marriage and homosexual commitment.
The love of broad-mindedness led Episcopalians, in the 1960s, to tone down yucky matters like sin. Whereas the classic Book of Common Prayer had taken a somewhat dire view of human pastimes ("We have erred and strayed from thy ways like lost sheep. We have followed too much the devices and desires of our own hearts."), a more with-it version, adopted in 1979, eliminated much of the angst and guilt. As one theologian, the Reverend Kendall Harmon, reminded the Dallas 2,700, "We have gone from 'Sinners in the Hands of an Angry God' to clients in the palm of a satisfied therapist."
The rise of feminism prompted the Episcopal Church to discard the all-male priesthood as, among other things, a hindrance to workplace equality. From female priests to gay priests was in some sense a logical progression, the social criteria for the job having come to trump the theological ones.
Similarly, in a sex-infatuated age, Anglicans de-emphasized marriage as the solemn, lifelong union of one man and one woman. What more could Vicky Gene Robinson want? If the Episcopal Church would not uphold standards for heterosexuals, was it likelier to do so for homosexuals? As Richard Weaver observed, "Ideas have consequences." Gene Robinson was the beneficiary of ideas whose import those putting out the ideas may at the start have failed fully to grasp.
As fine as tolerance may be, how much of it can one church stand? Having won the theological battles, the apostles of tolerance and ambiguity began, unambiguously, to mop up the battlefield. Would the traditionalists just please, for the sake of the gospel . . . shut up and move on?
The church's General Convention has been trying since 1997, with conspicuous lack of success, to stamp out lingering opposition to the priesting of women. The diocese of Washington (D.C.), if not by policy then by practice, for a time ruled out the hiring of male heterosexuals as rectors. Pennsylvania Bishop Charles Bennison has made himself over as a heresy hunter extraordinaire—the hunted, you understand, being members of the traditionalist remnant Bennison would force to acknowledge his magisterium. His witch-hunts keep the Pennsylvania civil courts commendably busy.
The Signal
A little tyrannical tolerance goes a long way indeed. The Dallas 2,700, representing almost every diocese, and boasting the authority of long-headed bishops like Pittsburgh's Robert Duncan, are demonstrably ready to rumble, awaiting only the signal: what to do, when to do it. The long-awaited division of Anglicanism's troubled house cannot be far off.
The 2,700 met in prayerful, not to say joyous, expectation of good things to come the following week at the emergency meeting in London of all the Anglican Communion's primates (the heads of individual Anglican jurisdictions, such as the Episcopal Church). Bishops and theologians pumped up the audience with exhortations about its essential unity with the faithful in Africa and elsewhere, eager to join hands with Americans in the quest for theological redemption. Anglican lawyers caucused concerning strategy in the legal battles likely to follow any act of defiance aimed at the national Episcopal Church.
At the end, Duncan led the 2,700 in unanimous (or if not quite unanimous, who could tell?) affirmation of a manifesto called "A Place to Stand: A Call to Action." In direct and simple language the manifesto calls the Episcopal Church's leadership to repentance for "the unbiblical and schismatic actions of the General Convention"—specifically the acceptance of Robinson as bishop-elect and the predictable follow-up decision to allow (though not to authorize, as if there were a real distinction) same-sex blessings. The 2,700 declared their own repudiation of such moves, which they said "have broken fellowship with the larger body of Christ and have brought the Episcopal Church under God's judgment."
The American Anglican Council (AAC), sponsor of the Dallas event, is predominantly Evangelical. Hands and arms rent the air during moments of worship. But the Evangelicals are not in this thing by themselves; Anglo-Catholics are in it with them. The AAC went out of its way to blur the divisions between the two parties. The Anglo-Catholic organization Forward in Faith/North America was richly represented at Dallas. Anglo-Catholic Bishop Jack Iker of Fort Worth and Evangelical Bishop James Stanton concelebrated at the opening Rite II (modern language) eucharist—for which the Reverend Mary Hays was the preacher.
Said AAC president the Reverend David Anderson on the final day: "I have a vision of a mission-driven church, an explosive church, fixed on the lordship of Jesus Christ, a church that has love and grace and confidence to include Forward in Faith and their historic stand on priesthood and also include women who are in orders. Both views will be guarded during the time of testing and reception." Which time would seem to be upon us, thanks to the presumption of the diocese of New Hampshire, the vocational aspirations of Gene Robinson, and the exasperated pluck of Episcopalians who seem to recognize when enough is too much.
Sex—like everything else pertaining to the kingdom of God—can be a damned good thing; yes, and a fruitful one.
William Murchison a syndicated columnist, is author of Mortal Follies: Episcopalians and the Crisis of Mainline Christianity (Encounter Books).
Not a subscriber? Subscribe to Touchstone today for full online access. Over 30 years of content!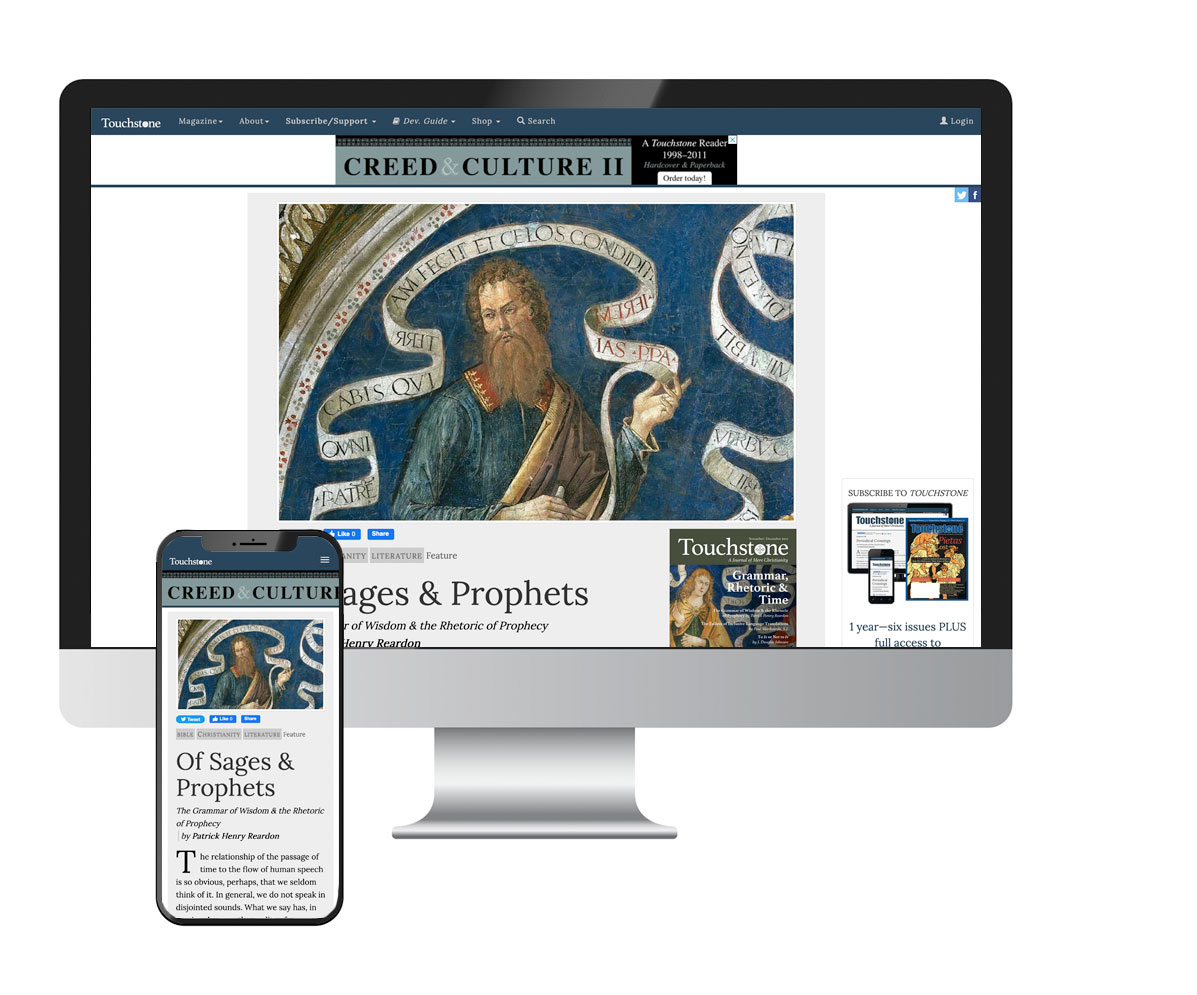 Get a one-year full-access subscription to the Touchstone online archives for only $19.95. That's only $1.66 per month!
Purchase Print &
Online Subscription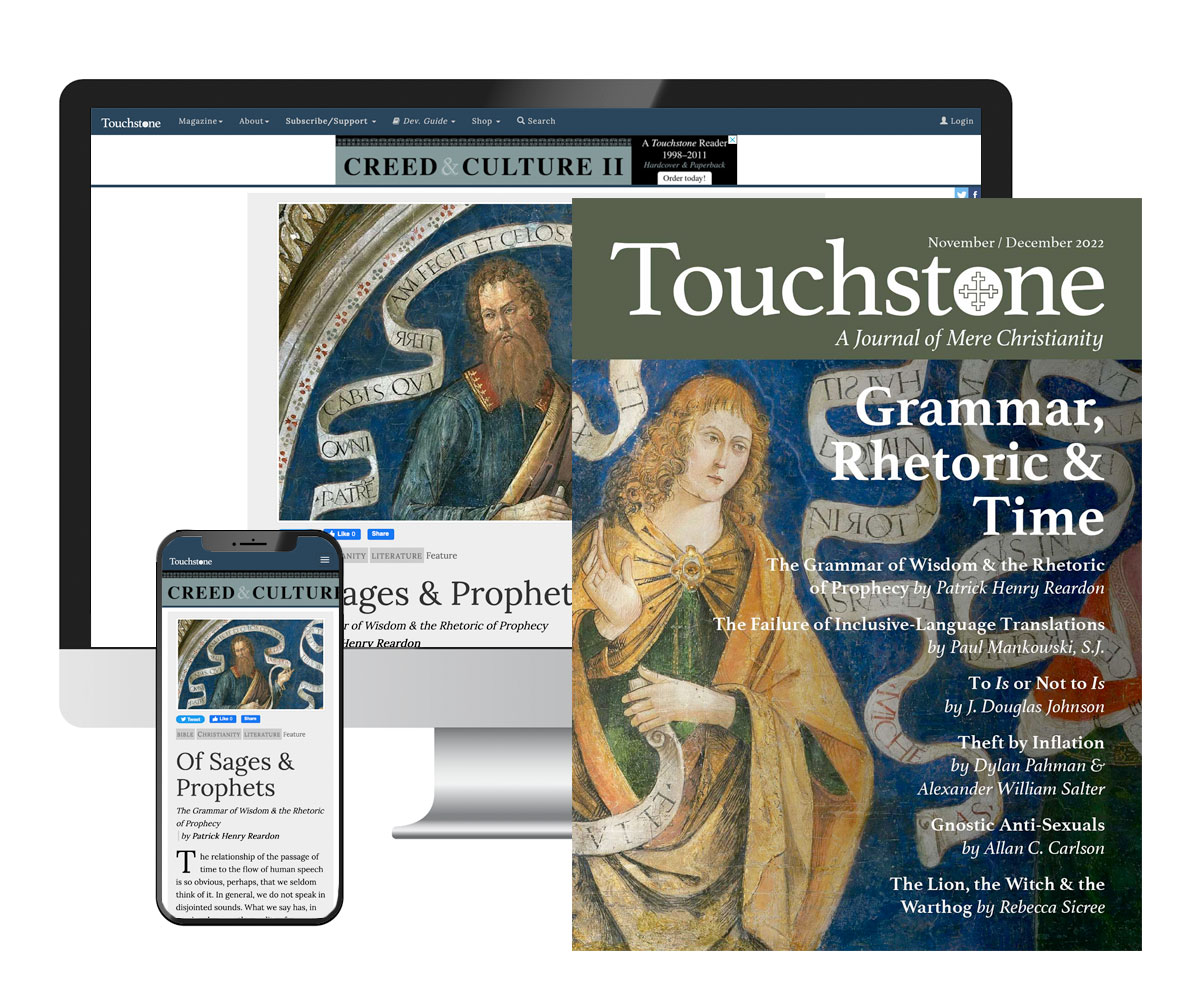 Get six issues (one year) of Touchstone PLUS full online access for only $29.95. That's only $2.50 per month!
Transactions will be processed on the secure server of The Fellowship of St. James website, the publisher of Touchstone.
Your subscription goes a long way to ensure that Touchstone is able to continue its mission of publishing quality Christian articles and commentary.
more from the touchstone online archives