Episcopal Road to Nowhere
ECUSA's "Gay" Bishop Is Not Christianity's Future
by Mark Tooley
At its General Convention this summer, the Episcopal Church approved the first openly homosexual bishop in a major Christian denomination. Will the November consecration (by the church's presiding bishop) of the Reverend Gene Robinson as New Hampshire's new Episcopal bishop, a ceremony that Robinson's male lover will proudly attend, presage acceptance of homosexual conduct in other Christian churches?
Probably not. Contrary to public perception, almost no major denomination, even the most liberal, formally approves of homosexual relations. Those who perform the relatively rare ordinations of practicing homosexuals and celebrations of same-sex unions generally do so in violation of the national denominational standards—or take advantage of "gray areas" in the denomination's rules that either leave those standards undefined or leave the matter to the discretion of local churches.
An Oldline Debate
Christian churches in the United States have at least 152 million members. The vast majority of them are in churches where there is little to no possibility of any reconsideration of Christianity's historic teaching reserving sexual intimacy for the marriage of man and woman, even in the long term. The Episcopal Church, it should be remembered, has just two million of these 152 million members.
Debates over homosexuality within the Christian community are largely confined to the liberal-led mainline or oldline Protestant denominations: the Episcopal Church, the United Methodist Church, the Presbyterian Church (PCUSA), the Evangelical Lutheran Church in America (ELCA), the American Baptist Churches, the Christian Church (Disciples of Christ), and the United Church of Christ.
The combined membership of these denominations comprises only about fifteen percent of American Christians. And even among these liberal-led bodies, the largest of them—the United Methodists (eight million members), ELCA (five million), and PCUSA (three million)—have maintained prohibitions against practicing homosexual clergy. So too have the American Baptists (over one million members). Among the Methodists and Presbyterians, the majorities upholding these policies have actually increased in recent years.
United Methodism has one of the stronger policies. It declares homosexual practice to be incompatible with Christian teaching, precludes actively homosexual clergy, prohibits same-sex unions by its clergy or in its churches, forbids national church funding for homosexual advocacy, and expects monogamy in marriage and celibacy in singleness.
The ELCA has also been clear. Its Conference of Bishops said in 1993 that "there is basis neither in Scripture nor tradition for the establishment of an official ceremony by this church for the blessing of a homosexual relationship," a point reiterated in 2000 by its presiding bishop, who said that the ELCA "upholds heterosexual marriage as the appropriate context for intimate sexual expression." ELCA clergy are expected to be celibate outside heterosexual marriage.
The PCUSA in 1997 approved new language in the church's Book of Order (its constitution) that said ordination shall be denied to persons who are not monogamous in heterosexual marriage or chaste in singleness, and every attempt to revoke this standard has failed. For example, the General Assembly in 2001 removed such language from the Book of Order, but the presbyteries around the country rejected this by a margin of three to one. (However, although the General Assembly in 1991 had forbade clergy from conducting or churches from hosting homosexual "marriages," a recent church court declared that same-sex rites not deemed the equivalent of marriage are not forbidden.)
Two of the smaller churches, the Disciples of Christ (800,000 members) and the United Church of Christ (over one million), are often counted as pro-homosexual. But the reality is more complicated. Because both denominations are decentralized, they have never had explicit national standards for acceptable sexual conduct. Some local congregations have taken the initiative to ordain practicing homosexuals and celebrate same-sex unions. But these congregations remain the exception rather than the rule. Despite vociferous encouragement from national UCC agencies, fewer than 500 of the 6,000 UCC congregations have officially declared themselves to be "open and affirming" of homosexuality.
Episcopal Temptation
A similar situation has prevailed in the Episcopal Church for about the last fifteen years. Liberal bishops ordained homosexual clergy as they saw fit, although the church's General Convention (its governing body) had not authorized such ordinations and had repeatedly declined to authorize them—although it left open the possibility that it might do so in the future.
Even the final vote at the Episcopal General Convention confirming the election of Gene Robinson was hardly overwhelming. Forty-three bishops voted against him, as opposed to 62 voting in favor (the bishops' votes to approve an episcopal election are usually unanimous). Episcopal traditionalists are now gathering support from Anglican bishops in Africa, Asia, and South America, who (in contrast to most Anglican bishops in Western countries) vigorously oppose any acceptance of homosexual practice.
What may emerge is a realignment within the Episcopal Church and a change in its relation to the Anglican Communion. Traditional churches will align themselves with the majority of the communion, taking their people and their money with them. The liberal rump will become significantly smaller in membership and poorer financially, as well as estranged to some degree from the growing Anglican churches of Africa and Asia. This result hardly will encourage other denominations to follow the Episcopal Church's example on homosexuality.
Few will be tempted, in any case. The two largest churches are not even seriously discussing the matter. An ecumenical spokesman for the Catholic bishops said the Episcopal Church's decision "reflects a departure from the common understanding of the meaning and purpose of human sexuality and the morality of homosexual activity as found in sacred Scripture and the Christian tradition." The Catholic Church, with over 60 million members, is the largest church in the United States.
The chief ethicist for the Southern Baptist Convention, Richard Land, was more blunt. "People who are engaging in sexually deviant behavior should not be in positions of leadership in the churches," he said. "The vultures of theological liberalism have now come home to roost in the mainline denominations. These Episcopal Church leaders are embracing the deadly theology that says parts of Scripture are inspired and parts are not." Southern Baptists, with 16 million members, are the largest Protestant church in America.
Many of the smaller churches are not discussing it either. The president of the 2.6-million-member Lutheran Church-Missouri Synod sounded a similar theme: "This action . . . constitutes a momentous break from the Christian Church's 2,000-year-long understanding of what the Holy Scriptures teach about homosexual behavior as contrary to God's will and the biblical qualifications for holding the pastoral office," said the Reverend Gerald Kieschnick. He added that the election will "undoubtedly provoke controversy throughout all of Christendom."
The leading bishops of the Orthodox Churches in America, representing about five million members, also issued a recent statement reaffirming their stance. The Standing Conference of Canonical Orthodox Bishops of the Americas said that they were "deeply concerned about recent developments regarding 'same-sex unions' and noted that "neither Scripture nor Holy Tradition blesses or sanctions such a union between persons of the same sex."
The bishops regretted that the "divine purpose" for marriage was being challenged "even within some faith communities" as political pressures work to normalize same-sex unions. "The Orthodox Church cannot and will not bless same-sex unions," they insisted emphatically. "Like adultery and fornication, homosexual acts are condemned by Scripture."
Besides the Roman Catholics, Southern Baptists, Missouri-Synod Lutherans, and Orthodox, there are thousands of Evangelical churches in America (such as the 2.6-million-member Assemblies of God) for which homosexuality is also an issue of no compromise. Nor is there much sign of a widespread pro-homosexual movement among churches historically identified with African-Americans and other ethnic minorities.
International demographics among Christian churches are even less favorable to any acceptance of homosexuality. Outside of a few Western European Protestant denominations, it is hard to find much support for jettisoning the traditional teachings limiting sexual relationships to marriage.
Episcopal Stragglers
Many leaders of the Episcopal Church, with their allies in other liberal-led denominations, like to style themselves as harbingers of America's religious future.
But in fact the Episcopal Church is almost a unique case: unusually wealthy, unusually captive to the fashions of America's cultural elites, with a long history of disdain for lower-class Christians who are more "dogmatic" in their doctrines and more "enthusiastic" in their pursuit of a holy life. Surveys show that even their closest mainline cousins—the Methodists, Lutherans, and Presbyterians—are markedly more conservative than Episcopalians in their beliefs and morals.
So it may be a rather small procession that follows behind the pro-homosexual Episcopal bishops. Far from being the vanguard of a new Christendom, they may prove to be a small minority of stragglers that turned aside to chase the dreams of yesterday's sexual revolution.
Not a subscriber? Subscribe to Touchstone today for full online access. Over 30 years of content!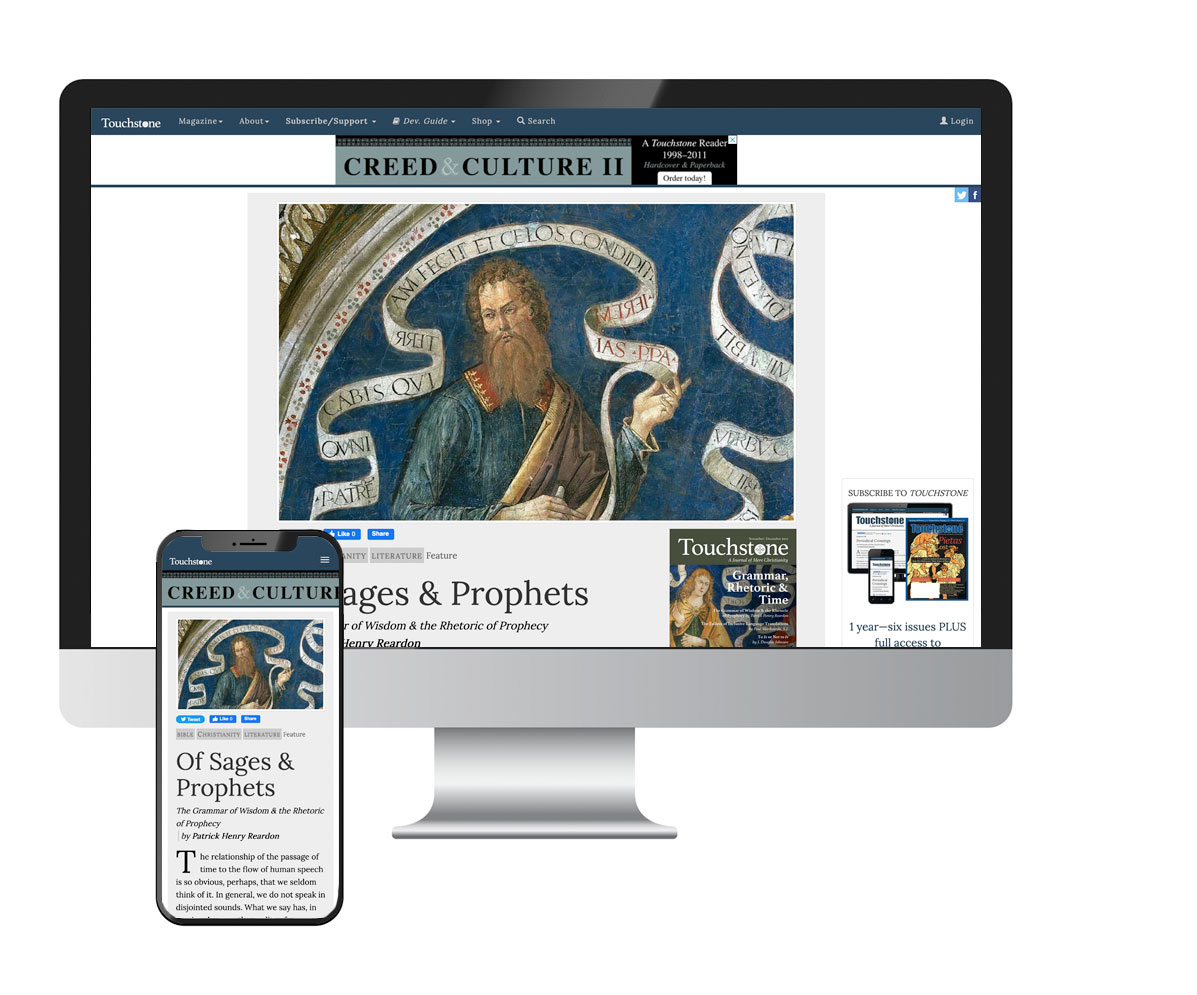 Get a one-year full-access subscription to the Touchstone online archives for only $19.95. That's only $1.66 per month!
Purchase Print &
Online Subscription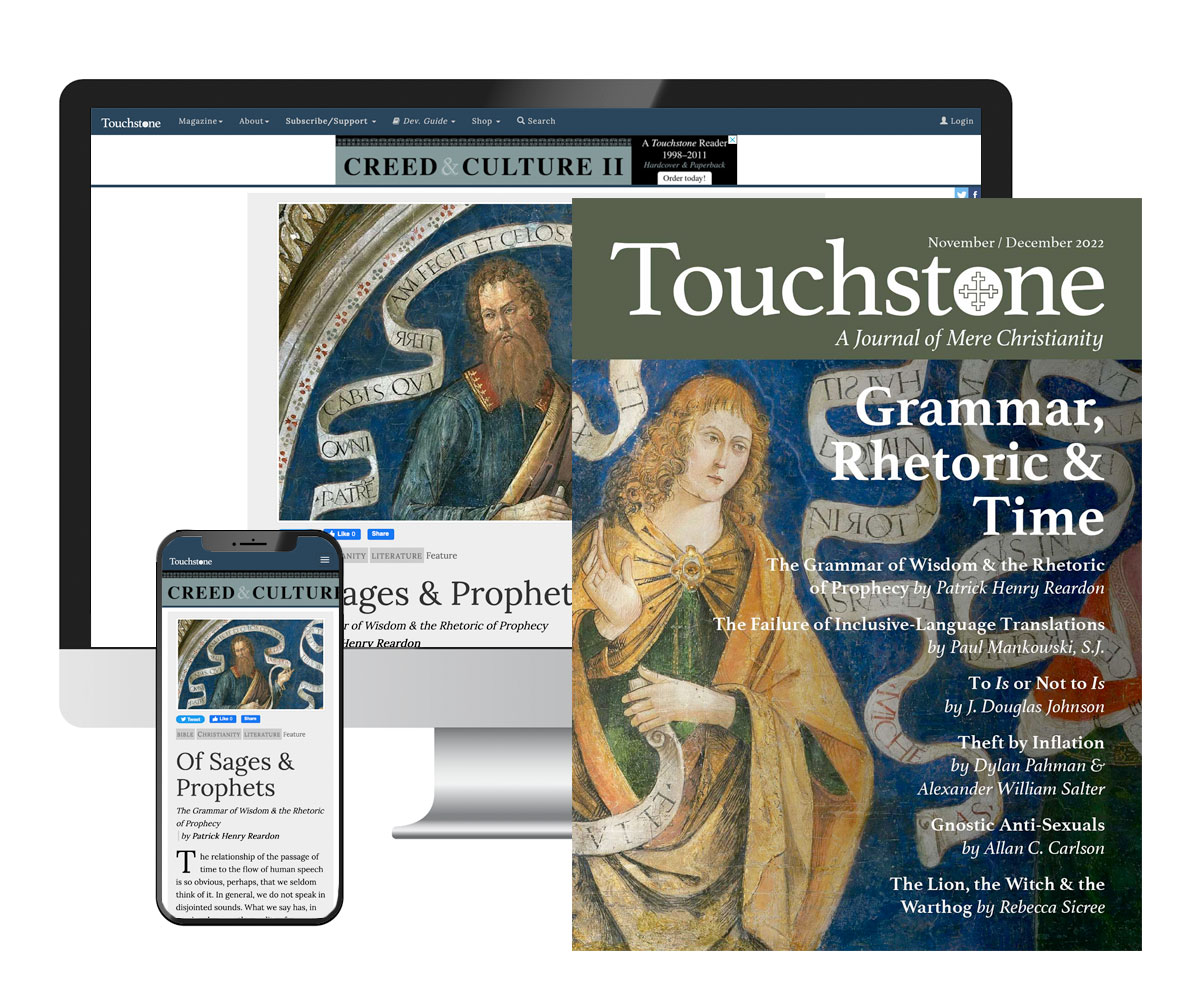 Get six issues (one year) of Touchstone PLUS full online access for only $29.95. That's only $2.50 per month!
Your subscription goes a long way to ensure that Touchstone is able to continue its mission of publishing quality Christian articles and commentary.
*Transactions will be processed on the secure server of The Fellowship of St. James website, the publisher of Touchstone.
from the touchstone online archives