Wayfaring Between Two Infinities
The Life You Save May Be Your Own: An American Pilgrimage
by Paul Elie
New York: Farrar, Straus and Giroux, 2003
(555 pages; $27.00, hardcover)
reviewed by Addison H. Hart
The Life You Save May Be Your Own, named after a short story by Flannery O'Connor, is a rare, possibly unique, work of biography. Paul Elie, an editor with Farrar, Straus and Giroux, has produced an account of the lives of four post-World War II American Catholic writers. It is the combination of being Catholic and postwar American that makes the small literary "school" he explores distinctive, and that also makes Elie's exercise in collective biography an engrossing piece of historical insight.
The book's subtitle, "An American Pilgrimage," indicates the theme, and Elie has done such a deft job of interweaving the four life stories that the use of the singular "pilgrimage" for four very different stories is fitting. Since the four writers had little, occasional, or no direct contact with each other, the fact that their stories merge so naturally is testimony to Elie's perspicacity. It is his first book.
The four thinkers and writers are Dorothy Day, Thomas Merton, Flannery O'Connor, and Walker Percy: a journalist-social worker in New York, a Trappist monk in Kentucky, and two Deep-Southern writers of fiction. Three of the four were converts to Catholicism, Flannery O'Connor alone being a lifelong member of the Catholic Church. The imbalance reflects a larger truth about English-speaking Catholic intellectual life: It was the converts who were mainly responsible for its existence for more than a century.
Having said that, my own impression is that, of the four, O'Connor stands out in a particularly engaging way in Elie's book, and I believe this reflects accurately the very real and matchless contribution she made in life. When she dies of lupus at the age of 39 in 1964, the first of the four to die, the reader of this moving account becomes keenly aware that the texture and pattern of Elie's biographical tapestry has been altered appreciably, and that probably the most gifted artist of the lot has taken something important and irrecoverable away with her.
When Elie attempts to articulate his own master theme in the Prologue and Epilogue, though, he patches together such elements as the role of literature in his subjects' lives, the idea of pilgrimage, the postwar American Catholic setting, and the legacy of these writers for readers today. It comes across as something of a jumble, especially at the conclusion of the work. Still, we sort of get the picture, and the work holds together well irrespective of his rationale as to why it should.
Unfortunately, at times he can write sheer nonsense. For instance: "We are all skeptics now, believer and unbeliever alike. There is no one true faith, evident at all times and places. Every religion is one among many. The clear lines of any orthodoxy are made crooked by our experience, are complicated by our lives." This is like saying that the straightness of a yardstick is made crooked when we draw wavy lines, or that the law of gravity is complicated by falling objects.
One can imagine how Flannery O'Connor might have dressed him down for stuff like that—probably with something akin to her justly famous response to Mary McCarthy's dismissal of the Blessed Sacrament as "a symbol": "Well, if it's a symbol, to hell with it." If there really is "no one true faith" or if "every religion is one among many," a Christian can, and probably should, say, "To hell with it." Such an apparently cavalier attitude towards the existence of revealed truth on Elie's part does not well fit a biography about men and women who regarded the same as a matter of life or death.
When it is all said and done, Elie's real theme is perhaps to be found as he recounts what Percy discovered in his newly adopted faith regarding the condition of man: that "the human person [is] part angel, part beast . . . a creature suspended between two infinities, a pilgrim and wayfarer." Now, here indeed is a worthy theme, beautifully stated. There is a suitably Augustinian ring to this, and Elie's biography, like Augustine's autobiography, is not a work of hagiography. He fleshes out his subjects with all their anxieties, contradictions, failures, and falls.
In their lives as much as in their writing, they face the dual nature of man, angel and beast that he is, as this nature is brought into transfiguring contact with God's grace through the Incarnation of Christ. To read about (and to read) these writers is to see four expressions of what it means when someone's life and work become radically responsive to the truth that the Word was made flesh and dwelt among us. Remove that anthropology and the concomitant dogma of the Incarnation from their "pilgrimage" and you really have no common theme to speak of between them.
Elie's book would, I believe, have been better if this had been the theme he had highlighted. But the theme is not entirely absent, and Elie is at his best when he leaves his own abstractions behind and just tells the interlaced story.
Dorothy Day moves from pious girlhood to atheistic and Communist bohemianism, to painful romances, abortion, and single motherhood, to conversion and her founding (with the remarkable and odd Peter Maurin) of the Catholic Worker. Thomas Merton's story takes him from his early life in France, the son of a New Zealander artist and American mother, through the pain of being orphaned at an early age, through his miserable time at Cambridge University (where he fathered an illegitimate child and generally misbehaved), on to his years at Columbia University, his conversion, and his eventual entrance into Gethsemane Abbey in Bardstown, Kentucky.
Flannery O'Connor, born in Georgia 27 years after Dorothy Day and 10 years after Thomas Merton, lost her father to lupus when she was young, was an editor of the literary magazine at her college, attended the famous Iowa Writers' Workshop, and returned to her farm in rural Georgia to live out her short life with her mother, raising peacocks and writing her brilliant, disturbing, Christ-centered fiction. Walker Percy was the son of a father who had committed suicide (who was, in turn, the son of a father who had committed suicide) and of a mother who had died in a car accident when he was 16; he then went to live with his uncle, the renowned writer William Alexander Percy, studied medicine at Columbia University, contracted tuberculosis and abandoned medicine to write philosophical essays and "diagnostic" novels, converted to Catholicism, married, and settled in Louisiana.
Elie takes us back and forth from one to another of these four throughout the course of their lives, giving us some solid and penetrating analyses of their literary works, and the reader begins to perceive a remarkable concurrence of highs and lows in their respective careers.
And lows there are. O'Connor is weakened, crippled, and twisted by lupus, dead before age 40. Day is challenged with the unruliness of younger Catholic Workers in the 1960s, and pays the price of loss of popularity because of her adamant promotion of pacifism in the face of governmental and ecclesiastical antagonism. Merton becomes unexpectedly his own worst enemy in 1966, falling in love with a nurse and going off the monastic rails before returning to his senses and gaining in the process, it seems, a wiser head. Percy confronts the difficulties, after the success of his award-winning first novel The Moviegoer, of getting other novels off the ground, and goes through an emotionally bleak period in the mid-1970s.
These are only a few of their various troubles, agonies, foibles, and failures, but through them all, a determined, even desperate faith in Christ carries each one through. Each of them is a witness for Christ before the modern world mainly through his or her writings, and each testimony is made with unflinching honesty.
If they do not always come across as saints in the book (despite Dorothy Day's real prospects for eventual canonization), it is not to be blamed on any debunking of their images by Elie. It is because they were as straightforward about themselves as they were about the serious issues of war and peace, poverty, race relations, and the narcissism and nihilism of the America they knew. The portraits we have of them are largely the portraits they gave us.
Elie also fascinates us with the diverse assortment of people who knew or communicated with them: Eugene O'Neill, Allen Tate and Caroline Gordon, Evelyn Waugh, Robert Lowell, Robert and Sally Fitzgerald, Shelby Foote, Jacques Maritain, Boris Pasternak, and many others, not to mention their fairly ubiquitous editor and publisher, Robert Giroux. All in all, it is quite an array of characters, which, when coupled with the list of great influential thinkers who made their impact on this school of four, shows the latter to be situated in the great, ongoing intellectual conversation of Western man. More importantly, they were profoundly aware of being rooted and living in the Mystical Body of Christ, an enthralling reality never far from their minds and art.
There are some minor faults in Elie's text that an editor should have caught. For example: On page 51 Elie remarks that the author of The Imitation of Christ was a contemporary of Martin Luther (he was not, by nearly two centuries); on page 168 he mentions a pre-Revolutionary Maryland family of "Baltimores," whom he likens to Waugh's English Marchmain family in Brideshead Revisited (wrong from beginning to end); on page 175 he comments that the feast day of St. Thérèse of Lisieux is March 4 (it's October 1); on page 208 he fails to recognize that what he refers to as "the [Catholic] catechetical formulation of the period" is actually a direct quote of Hebrews 11:1.
The list could go on. Most surprising to me is the assertion that the great Thomist philosopher Etienne Gilson's book, The Spirit of Medieval Philosophy, which so inspired Merton, presented "a conception of God" which is not that of "a divine lawgiver" or "the heavenly Father of Jesus Christ" (pp. 80–81)! This is the sort of stunningly blithering statement that causes me to groan.
Still, blunders aside, The Life You Save May Be Your Own is a worthwhile read. It is elegantly written, never dull, and has the drive and verve of a good novel. If he sends us back to the works of Flannery O'Connor, Walker Percy, Dorothy Day, and Thomas Merton, he has done well by us and by them. I will leave the last, good word about these unique writers to Elie: "Certain books, certain writers, reach us at the center of ourselves, and we come to them in fear and trembling, in hope and expectation—reading so as to change, and perhaps to save, our lives."
Addison H. Hart is retired from active ministry as parish priest and university chaplain. He is the author of Knowing Darkness: On Skepticism, Melancholy, Friendship, and God and The Yoke of Jesus: A School for the Soul in Solitude (both from Eerdmans). His forthcoming book is a study of the Sermon on the Mount. He lives and writes in Norheimsund, Norway.
Not a subscriber? Subscribe to Touchstone today for full online access. Over 30 years of content!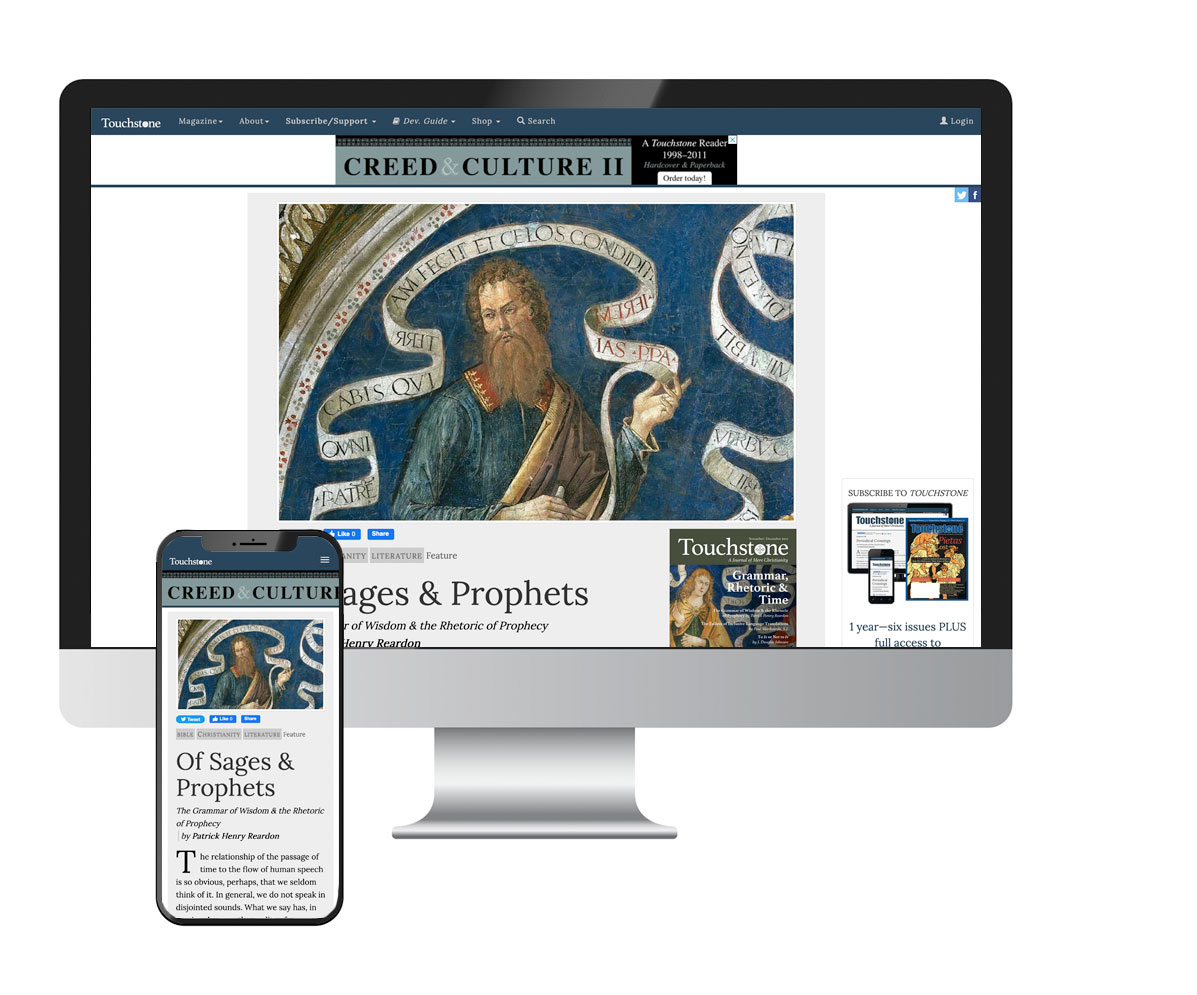 Get a one-year full-access subscription to the Touchstone online archives for only $19.95. That's only $1.66 per month!
Purchase Print &
Online Subscription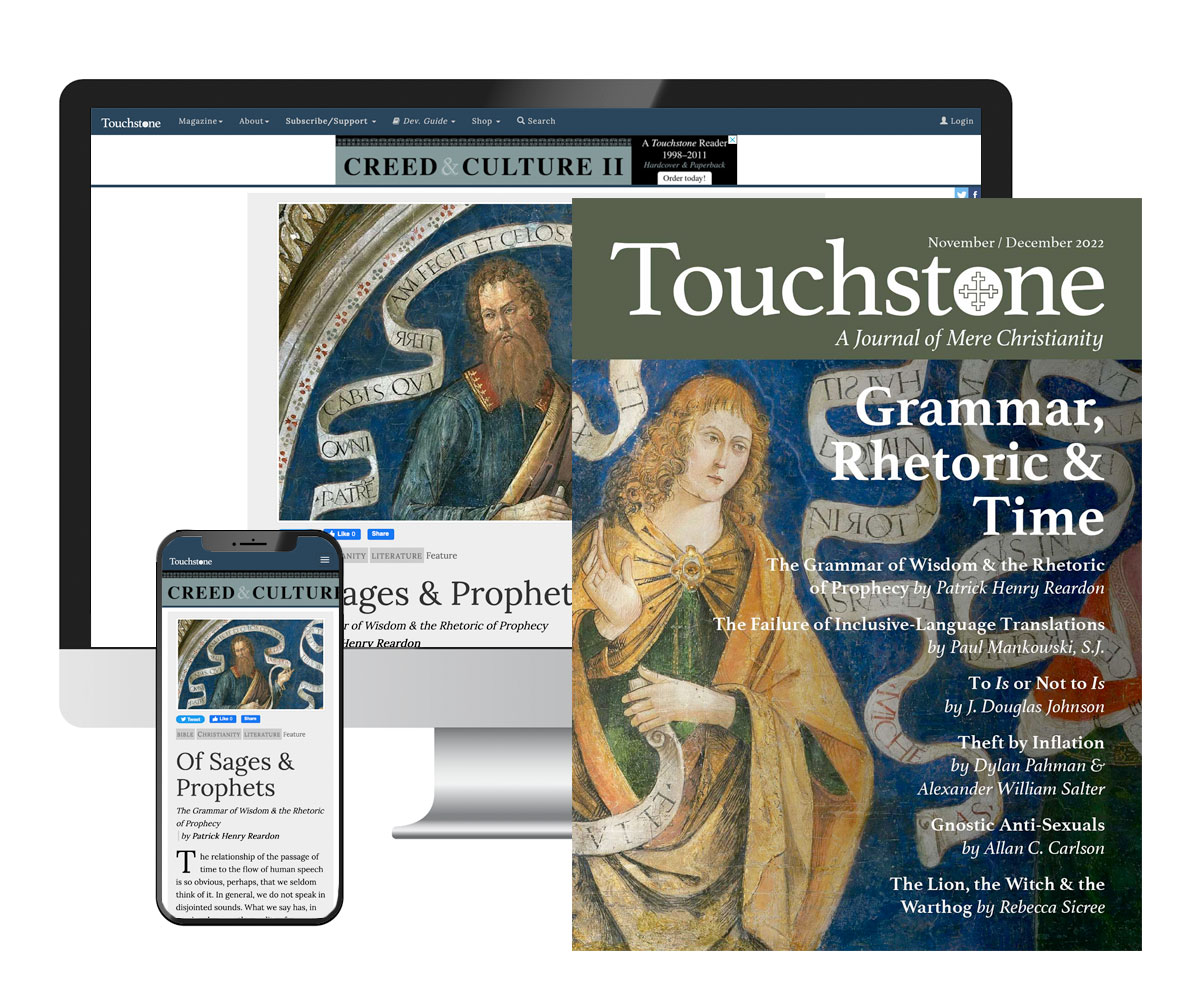 Get six issues (one year) of Touchstone PLUS full online access for only $29.95. That's only $2.50 per month!
Your subscription goes a long way to ensure that Touchstone is able to continue its mission of publishing quality Christian articles and commentary.
*Transactions will be processed on the secure server of The Fellowship of St. James website, the publisher of Touchstone.
from the touchstone online archives