Praying with Jesus
James M. Kushiner on Jabez & the Lord's Prayer
A few months ago I saw a tabloid headlinein the drug store: "Better than the Prayer of Jabez: Prayer to the Virgin of Guadalupe: How those who pray this prayer will never have to worry about finances again!" While most Catholics know who the Virgin of Guadalupe is, do most tabloid readers know about a little book from a small religious publisher?
Probably. Among several of the Harry Potter books and two John Grisham novels in USA Today's list of last year's best-selling books, The Prayer of Jabez placed third. It was a very high rank for an explicitly religious book, but I do not think its rank good news for Christians. Its success—the book has sold over eight million copies so far—may tell us much about the great spiritual need of religious Americans, but the book gives them the wrong answer.
The Prayer of Jabez, its author says, is about "a daring prayer that God always answers." It "contains the key to a life of extraordinary favor with God." According to the cover, it offers a "Breaking Through to the Blessed Life" by devoted use of a prayer dug out from the middle of a genealogy given in 1 Chronicles 4:10. Jabez called on the God of Israel: "Oh, that You would bless me indeed, and enlarge my territory; that Your hand would be with me, and that You would keep me from evil."
The book is written in the language of American ingenuity and know-how: "That's the catch"; "the little prayer with the giant prize"; "You can change your future. You can change what happens one minute from now"; "dependence is just another word for power." And finally: "If Jabez worked on Wall Street, he might have prayed, 'Lord increase the value of my investment portfolios.'"
The book's extraordinary success is probably due in great part to the American fascination with discovering new things and new methods. It has all the marks of the typical how-to, self-help books that Americans buy like soft drinks. Like most such books, it offers a great profit from a small investment—success is achieved not by hard work but by knowing the trick.
Christian Prayer?
The author of Jabez, Bruce Wilkinson, heads the respected Walk Thru the Bible Ministries. Multnomah Press is a small but mainstream Evangelical publisher. While millions have bought their little book, it has its critics. One, in a letter to Christianity Today, complained that the book is "all about us" and "focuses on little other than 'what God can do for me.'"
That seems like a fair critique. The editors wrote in his defense: "Wilkinson has repeatedly explained that his book is not 'about us' but about ministry."
But his explanation won't wash. I saw a Jabez spin-off in Toys R Us: The Prayer of Jabez for Little Ones. It's a kiddie book for two-to-five-year-olds, with thick pages, color pictures, and one phrase from the prayer on each page. And what about the postcards that I have received in the mail from Capturing the Jabez Phenomenon™, which includes a list of book, audio, Bible study, leader's guide, devotional, journal, teens, leather, and wallet prayer card products, all with prices? There is even a Jabez hotline and website. This is not about ministry, but about sales.
But perhaps this would be less of a problem if Jabez qualified as a Christian book. There is little, if anything, in it that couldn't be prayed by a Jew or a Muslim, though I would hope that pious Jews and Muslims would not pray such a prayer and expect "the giant prize." The latest spin-off product is a Jabez "Hebrew Prayer Shawl" with the words of the prayer woven into the fabric.
Jabez simply is not about Christian prayer. It is prayer in an Old Testament sense, without the further revelation that tells Christians how they should pray. The prayer is offered simply to "God"; it is not prayer in Christ, through the Holy Spirit, to God the Father. There is no christological foundation for the prayer.
The apostles, who did pray the psalms and understood them christologically, did not pray the prayer of Jabez, nor did generations of Christians who followed them. It is simply not part of the tradition, and its absence from the tradition—and the absence of any similar prayers from the Old Testament—is not an oversight. This is not the way Christians pray.
The Prayer for Christians
Christians have been given the proper prayer to pray daily. The Lord's Prayer is the Christian prayer and the model for all other Christian prayers. And it is markedly different from the prayer of Jabez.
For one thing, when we pray the Lord's Prayer, we open with a fundamental act of Christian worship. We begin with the address of God as "our Father," and as St. Paul tells us, "when we cry, 'Abba!' 'Father!' it is the Spirit himself bearing witness with our spirit that we are children of God" (Rom. 8:15–16). When we say, "hallowed be thy name," we acknowledge the holiness of our God and Father, which is a worshipful confession.
The prayer of Jabez, in contrast, teaches us to begin with a petition for God to "bless me." The critic was right; the prayer is about us and what God can do for us. That is where it begins and ends.
Throughout the Lord's Prayer, it is "us" and not "me" that prays. The Christian prays only as a member of the Body of Christ and therefore in communion with his fellow Christians. He asks nothing for himself that he does not also ask for them. Jabez prays as a lone individual asking only for his own gain.
In contrast, the Lord's Prayer, having begun in worshipful confession of God's name and holiness, goes on to ask that God's territory be enlarged: "Thy kingdom come; thy will be done, on earth as it is in heaven." In praying the Lord's Prayer, we ask not about our territory but God's.
Only after this do we make our first petition, one much more modest than that of Jabez: "Give us this day our daily bread." In this we admit how dependent upon God we really are for our needs. Jabez, on the other hand, asks that he be given more than he already has.
The next petition brings us to a crucial act of the Christian life: forgiveness of sins. Forgiveness of sins lies at the center of the church's experience of life in Christ. The life of the Christian begins with the forgiveness of his sins and new life in Christ. Our Lord also said, "If you do not forgive men their trespasses, neither will your Father forgive your trespasses" (Matthew 6:15).
The only apparent similarity between the Lord's Prayer and Jabez's would seem to be in Jabez's final petition: "Keep me from evil." The New Testament prayer, though, is certainly broader: "Lead us not into temptation, but deliver us from evil." We recognize that we face temptations to sin (as did our Lord), and they come from "the evil one," which is one way, perhaps the correct way, to translate the last phrase of this petition.
I can recall only one instance in the New Testament that deals with an appeal to enlarge one's territory: Christ's temptation in the wilderness. The evil one offers the Lord all the kingdoms of the world, if he will only "fall down and worship" him. Jesus rebukes Satan with, "You shall worship the Lord your God and him only shall you serve." The Lord's Prayer, as traditionally prayed, ends on the same note, a confession that to God alone belong "the kingdom, and the power, and the glory."
A Powerful Prayer
The Lord's Prayer is a powerful prayer, which the Incarnate Son of God handed on to his disciples in the Sermon on the Mount with the expectation that they would "pray then like this" (Matt. 6:9). If Jabez himself had met the Lord in the first century, he would have been instructed to pray the Lord's Prayer. Jesus ended his sermon by comparing those who hear his words and do them to "a wise man who built his house upon the rock." Those who hear them but don't do them build on sand.
Users of Jabez may have started a habit of prayer where they had none before, but the habit of praying this Old Testament prayer is not enough for the Christian life. They are not praying as Christians have been taught to pray. Even Oprah Winfrey talks openly on her show about the power of prayer, the power of faith in God, but there is nothing Christian about it. That a prayer like Jabez has caught on like wildfire shows how dry the fields are, how lacking are the wells of spiritual refreshment and discernment. It shows how eager people are to build anything, even if they build upon sand.
But perhaps there is still hope: In the Christian Book Distributor's catalog, a new book appears in a small box on the page opposite the Jabez page. Written by Hank Hanegraff, The Prayer of Jesus invites those who pray the prayer of Jabez "to move to the next level with Jesus' prayer." They will "learn our Lord's seven secrets to real intimacy with God. It's sure to transform your walk forever!"
Well, the appeal here is, like that of Jabez, offered in the language of self-help and knowing the secret. Nevertheless, I am tempted to hope that this language is just marketing hype, and that more than eight million Christians will take the appeal seriously and begin to pray daily the Lord's Prayer.
It would be a blessing if Christians were to pray the Lord's Prayer every day, and also pray several times during the day for the Lord's mercy on the sins of our country and for a spirit of repentance. The Prayer of Jabez at best is a distraction from the real tasks of Christian prayer: the worship of God, prayer for forgiveness and the ability to forgive, prayer for mercy, prayer for our enemies, prayer for repentance.
It is a distraction because we don't need to have our territories enlarged—we can barely manage what we have—but rather to beseech God earnestly that his kingdom come, that his will be done, on earth as it is in heaven. We need not pray like Jabez but like the Son, who alone can tell us how we should speak to the Father.
Not a subscriber? Subscribe to Touchstone today for full online access. Over 30 years of content!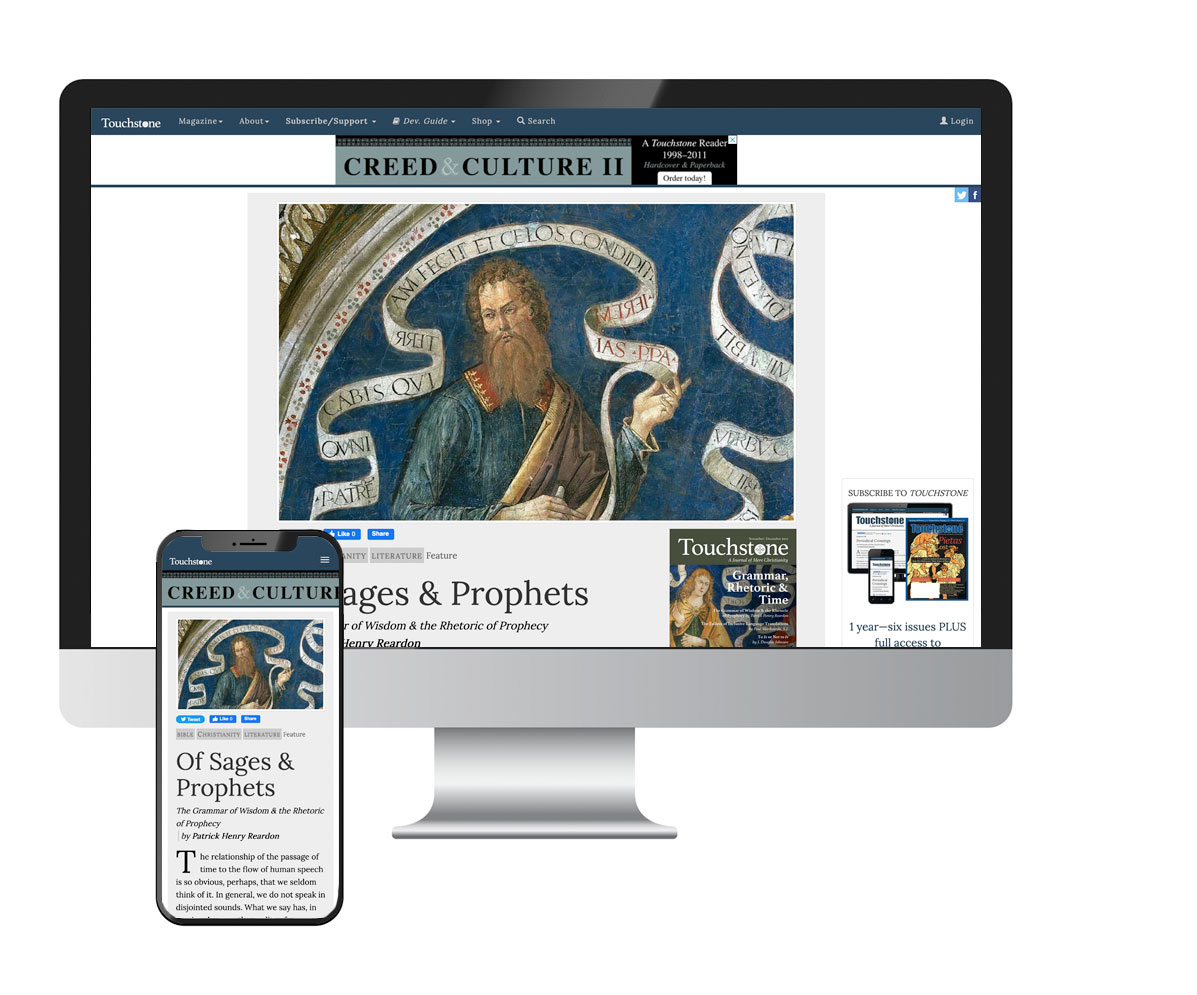 Get a one-year full-access subscription to the Touchstone online archives for only $19.95. That's only $1.66 per month!
Purchase Print &
Online Subscription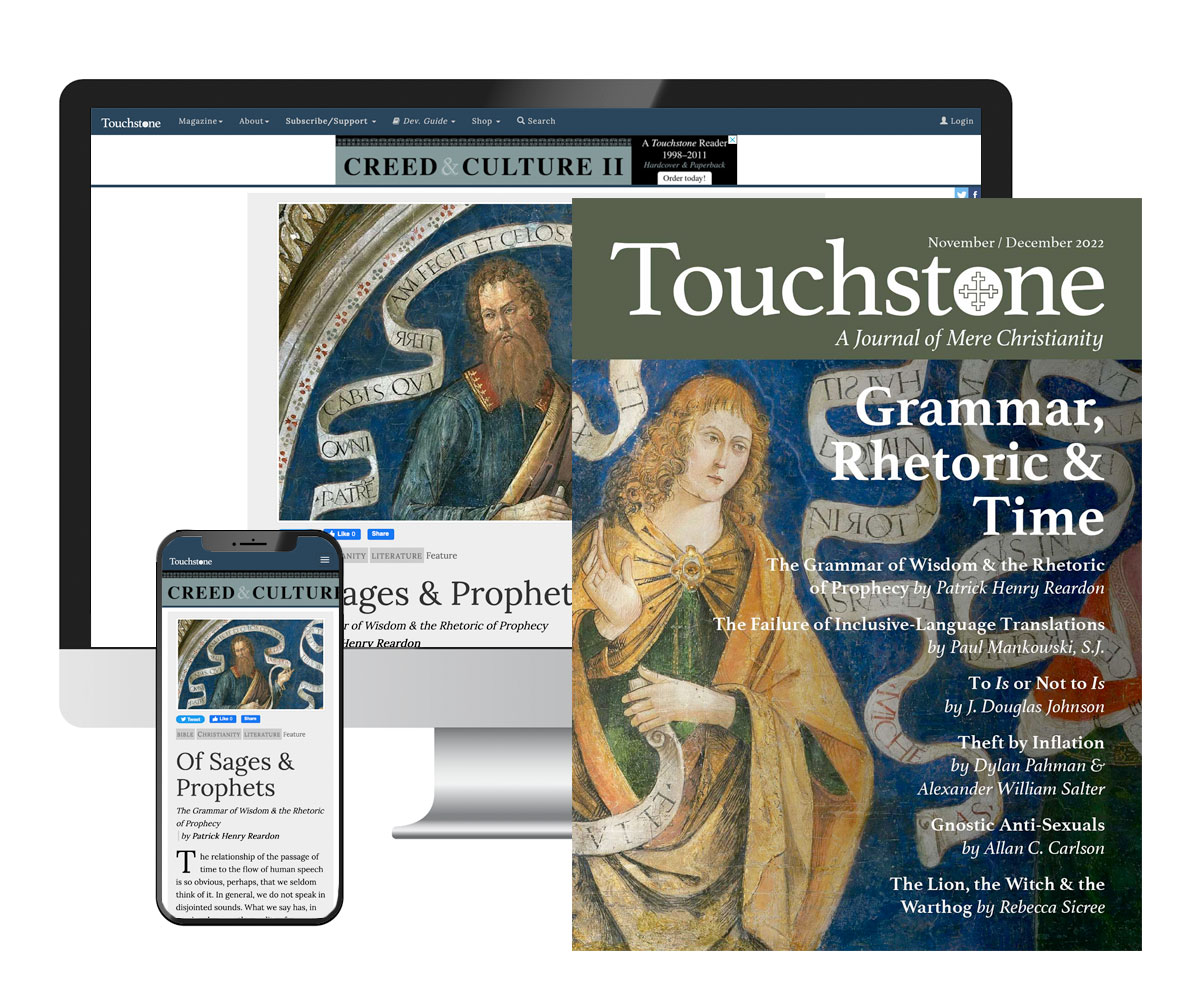 Get six issues (one year) of Touchstone PLUS full online access for only $29.95. That's only $2.50 per month!
Your subscription goes a long way to ensure that Touchstone is able to continue its mission of publishing quality Christian articles and commentary.
*Transactions will be processed on the secure server of The Fellowship of St. James website, the publisher of Touchstone.
from the touchstone online archives