Faith & Order, Act II
Notre Dame Conference Plans New Faith & Order Effort
by Thomas C. Oden
One hundred twenty theologians and church leaders met October 7–9, 2001, at Notre Dame to consider a second North American Conference on Faith and Order. (The first North American Faith and Order conference was held in 1957.) According to the final report of the Notre Dame conference, today the ecumenical movement is "imperiled by ineffective institutions, outmoded methodologies, and above all, by an unclear vision and a weakness of faith." The participants approved a Faith and Order Conference to meet in 2004–2005.
William G. Rusch, former executive director of Faith and Order of the National Council of Churches (NCC), resigned from the NCC last summer. He then formed the Foundation for a Conference on Faith and Order in North America (in Formation) for the purpose of examining the prospects and possibilities for a Second North American Conference on Faith and Order. Board members included Archbishop Demetrios, Thomas W. Gillespie, Robert Jenson, Cheryl Bridges Johns, William Cardinal Keeler, and Richard Mouw. Other members of the planning committee for the Notre Dame consultation included Augustine Di Noia, Douglas Jacobsen, and Philip Krey.
Norman Hjelm presented the final report of the Notre Dame conference to the foundation board. It acknowledged "the tension between ancient ecumenical witness and modernity. Those who take the ancient testimony seriously are marginalized within Protestantism." It candidly acknowledged, "many at the consultation noted with dismay the increasing ineffectiveness of many 20th-century ecumenical institutions. Such institutions now represent only parts of the total Christian community, and their life and programs have also become at best only fragments of the total Christian witness to the world required in the present time. Many feel that in these institutions the essential role of Faith and Order has been marginalized."
No NCC Fingerprints
Pentecostals made it clear that "if there is any visible tie or traceable evidence leading back to the National Council of Churches," they could not participate. They cannot take anything back to their judicatories if it has NCC fingerprints on it. "Pentecostals cannot support the foundation unless it is disconnected with NCC. Faith and Order must make a clear break from the NCC," stated the leading Pentecostal spokesman, Cecil Melvin Robeck of Fuller Seminary.
Lydia Veliko, ecumenical officer of the United Church of Christ, responded that there was no assumption that the NCC would remain a defining or controlling partner in future Faith and Order discussions. Robeck indicated that he was not asking member churches to disaffiliate with the NCC, but simply that the NCC disconnect from Faith and Order.
The idea behind the foundation is to provide something other than the NCC as a sponsoring entity. Consultants were assured that no one from the staff of the NCC is working on the next stage of Faith and Order planning. Faith and Order is to operate within the new, post-NCC configurations of the ecumenical movement and not within the NCC.
Robeck reviewed Pentecostal policy toward ecumenical participation, indicating that in March 2001 "the European Pentecostal Churches took an official action to bar all participation in such ecumenical activities by its members." In May the presidium of the Pentecostal World Fellowship generally "opposed such engagements." The General Council of the Assemblies of God officially disapproves "of ministers or churches participating in any of the modern ecumenical organizations on a local, national, or international level in such a manner as to promote the ecumenical movement."
In his paper prepared for the Notre Dame consultation, Robeck noted,
Pentecostals are not convinced that current ecumenical structures are the best means of demonstrating this visible unity. . . . They are not convinced that these organizations have given adequate attention to the doctrinal basis for membership in these organizations. In short, they wonder just how many of those who hold membership in these ecumenical organizations are genuinely Christian. . . . They believe that many of these churches have given up on evangelistic and missionary efforts in which the proclamation of the Gospel is made in clear and uncertain terms, and that it has been replaced by efforts in social justice. Both are essential. . . . Pentecostals will continue to reject out of hand . . . all calls to embrace theologically pluralistic or inter-religious agendas that exclude evangelization, and all demands that they adopt what they believe to be the relativistic standards of special interest groups and lobbies, for the sake of ecumenical agreement.
Other Qualms
The Orthodox representative on the planning committee, Professor Peter Bouteneff of St. Vladimir's Seminary, called for a more thoroughgoing Orthodox-Evangelical-Pentecostal dialogue. He warned that if the Orthodox are not better represented in the next Faith and Order conference, there will surely be a separate statement from the Orthodox.
In the Statement of Goals and Purposes (adopted in January 2001 by the new foundation), the conference is pledged to seek to "further the unity of the church, recognizing that unity is intrinsically related to holiness." "While we are all firmly committed to the goal of visible unity, we acknowledge that we do not yet fully agree on what this means." Among the objectives of the next phase of Faith and Order are: "enlisting new partners in the ecumenical venture; preparing a new generation of ecumenical leaders; reflecting on the structures of conciliar ecumenism."
The modern ecumenical movement, having detached itself from the ancient ecumenical movement, again must become grounded in apostolic and classic ecumenical teaching. Only this can avert the mistakes made by modern ecumenists. Modern ecumenism began in mission, then lapsed into bureaucracy and politicization, with unity in apostolic truth an increasingly ancillary aspect.
Evangelical voices at Notre Dame urged that "conversion precedes convergence." There was a direct line of succession from the interdenominational Evangelical revivals of the nineteenth century to the international mission movement to the formation of the ecumenical movement at the World Missionary Conference in Edinburgh in 1910. In 1919 the Holy Synod of the Church of Constantinople issued an invitation to the churches of the world to form a league of churches after the pattern of the League of Nations.
The First World Conference on Faith and Order was held in Lausanne in 1927, the second in Edinburgh in 1937. From the outset, Faith and Order was a study project, not a body empowered to negotiate church unions or make binding decisions on communions. It was a process in which theological leaders were participating without being bound by any of its conclusions. The World Council of Churches (WCC) was born in 1948 as a result of the uniting of two movements, Faith and Order and Life and Work.
The Third World Conference on Faith and Order was held in Lund in 1952, in preparation for the Evanston Assembly of 1954. In 1955 sixteen study groups were formed, looking toward the Oberlin 1957 conference on "The Nature of the Unity We Seek." At Oberlin it was stated: "We are saddened by the absence of members of other churches who we recognize as fellow Christians, and we ask forgiveness for any failures of charity or understanding in us which may have kept them apart from our fellowship." Some who were not there had excluded themselves out of concern that by participating in Oberlin their witness to Christian truth might be obscured. As one commentator noted, "More Christians in North America were not officially represented at Oberlin than were."
A New Day?
What will be the successor to Faith and Order, which has been under the aegis of the NCC until recently, but has now broken off, set up its own foundation, and begun planning apart from the NCC? The gist of the development at Notre Dame: A new effort at Faith and Order will be developed looking toward a conference in 2004 or 2005. An amalgam of old and new voices, some from the old Faith and Order Commission, including NCC member churches, Orthodox, and Roman Catholics, and new voices, including Wesleyan-holiness traditions, Pentecostals, charismatics, and renewing and confessing movements within mainline Protestantism.
Is this a new day for ecumenical affairs, with Faith and Order leading the way out of the old NCC for the future ecumenical movement? At least the Notre Dame meeting was a promising expression of what is being called "the new ecumenism." Voices were heard there that had not been seriously heeded in previous Faith and Order discussions, among them Missouri-Synod Lutherans, Pentecostals, Nazarenes, Wesleyan and Holiness tradition participants, and the renewing and confessing movements within the mainline. Susan Brown of Bangor Seminary, a member of the foundation board, noted that the NCC was not the only bearer of ecumenism, and that "no one has a corner on ecumenical relationships—the Spirit blows where it [sic] wills, not where we want."
I was the only person at Notre Dame representing the growing voices of the Association for Church Renewal, which reflects the views of the confessing and renewing movements within the mainline. I was asked to participate as a quasi-representative of these movements, I think, although that was never spelled out as such.
Some of us who attended the Notre Dame consultation have an ambiguous relationship to modern ecumenical efforts, despite many decades of ecumenical engagement. We are like displaced persons within our church ecumenical delegations. Since we do not always agree with our denomination's ecumenical efforts, especially on sexuality and organic unity issues, we are not representatives of our denominations' bureaucracies, but rather of large numbers of Evangelical and orthodox members within our churches.
We think we were heard at Notre Dame, but what will happen to the voices of renewing and confessing movements in the new phase of Faith and Order remains unpredictable.
Thomas C. Oden is Henry Anson Buttz Professor of Theology at the Theological School of Drew University in Madison, New Jersey, and an ordained United Methodist minister. He is General Editor of the Ancient Christian Commentary on Scripture and the author of many theological works, including a three-volume systematic theology.
Not a subscriber? Subscribe to Touchstone today for full online access. Over 30 years of content!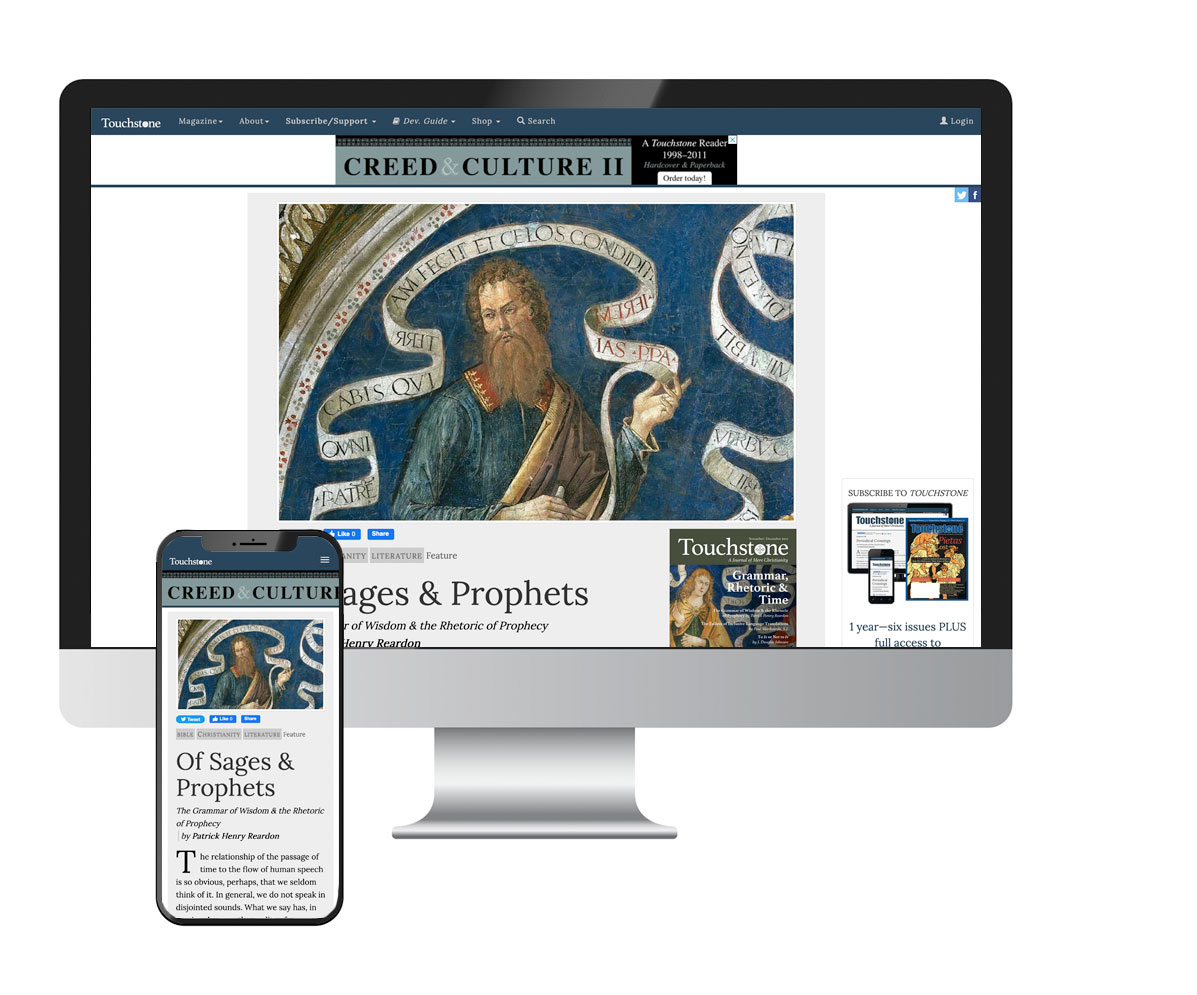 Get a one-year full-access subscription to the Touchstone online archives for only $19.95. That's only $1.66 per month!
Purchase Print &
Online Subscription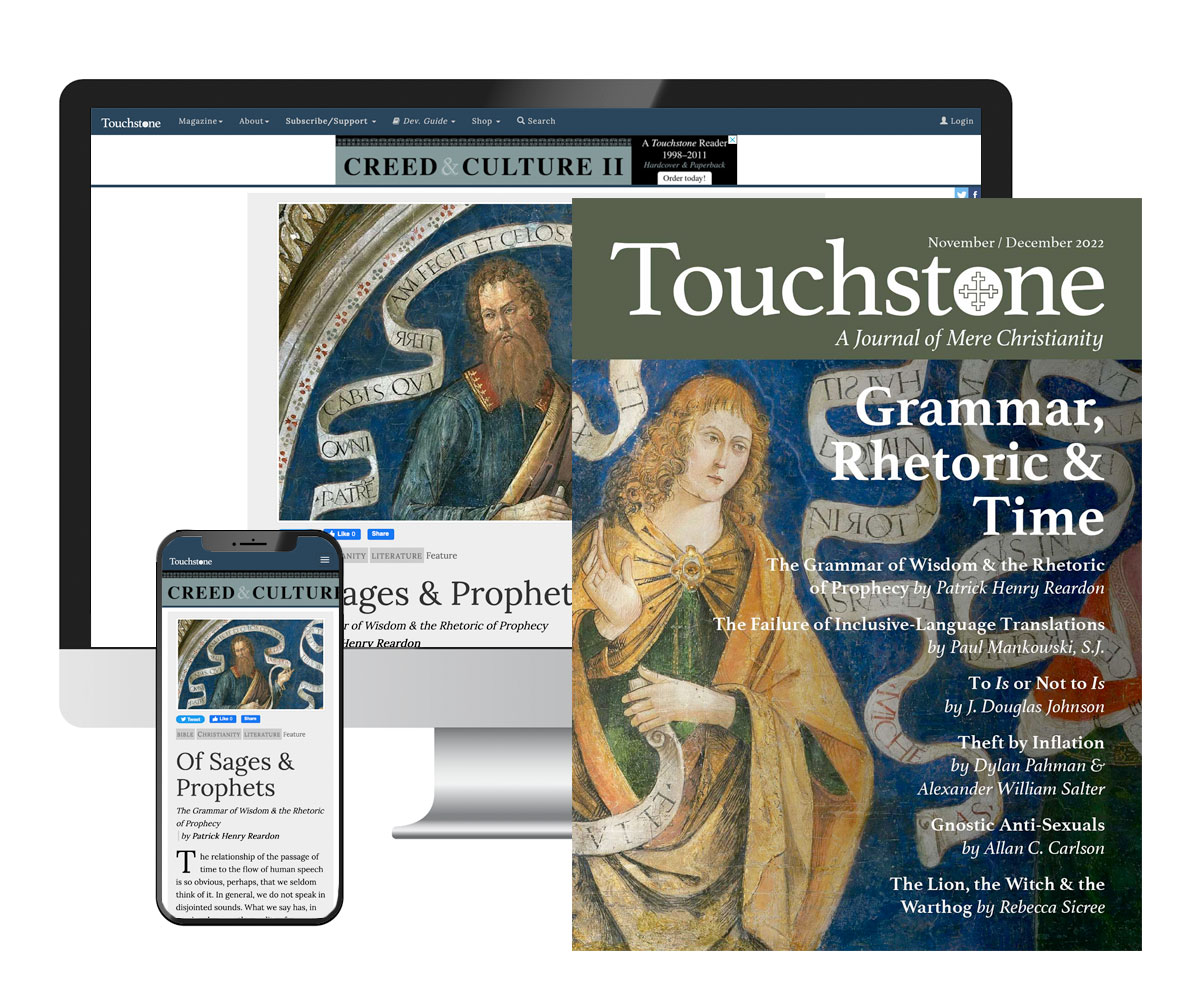 Get six issues (one year) of Touchstone PLUS full online access for only $29.95. That's only $2.50 per month!
Your subscription goes a long way to ensure that Touchstone is able to continue its mission of publishing quality Christian articles and commentary.
*Transactions will be processed on the secure server of The Fellowship of St. James website, the publisher of Touchstone.
from the touchstone online archives