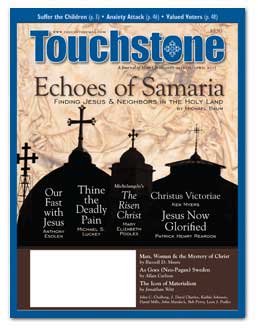 Communiqué
Man, Woman & the Mystery of Christ
An Evangelical Protestant Perspective
Feature
Why Scientism's Cherished Progress Narrative Fails
Editorial
How Can the Young Flourish Without Peace?
View
On Divine Worship & the Natural Limits of Community
---
---
Touchstone January / February 2015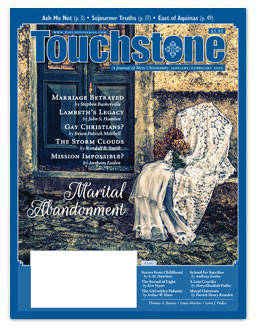 Feature
The Unevangelized May Be Better & Worse than Savages
View
Education, Handheld Devices & A Young Girl Reading
View
On State Impositions & Church Acquiescence
---
---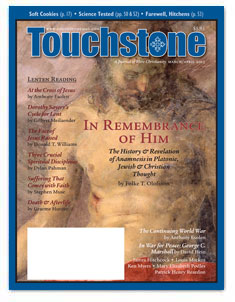 Feature
General George C. Marshall's Core Convictions & Ethical Leadership
View
The Suffering of Faith & the Paradox of Psalm 88
Book Review
Death and Afterlife: A Theological Introduction
by Terence Nichols
Book Review
Where the Conflict Really Lies: Science, Religion, and Naturalism by Alvin Plantinga
---
---
Read what others are saying about Touchstone
Search the Touchstone archives
Browse books by Touchstone authors
Touchstone is a Christian journal, conservative in doctrine and eclectic in content, with editors and readers from each of the three great divisions of Christendom
—Protestant, Catholic, and Orthodox.
The mission of the journal and its publisher, The Fellowship of St. James, is to provide a place where Christians of various backgrounds can speak with one another on the basis of shared belief in the fundamental doctrines of the faith as revealed in Holy Scripture and summarized in the ancient creeds of the Church.