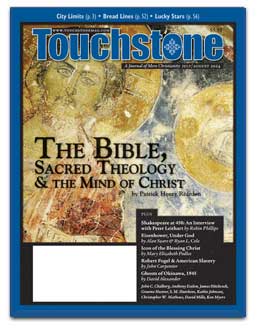 On the Compromise of a Man's Strength
The Bible, Sacred Theology & the Mind of Christ
---
July/August 2014 - Purchase Issue - Subscribe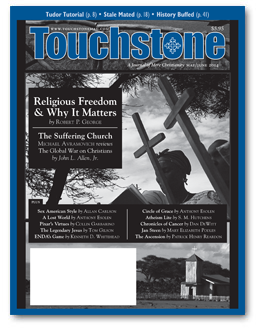 What Happens to Apologetics If We Add "Legend" to the Trilemma "Liar, Lunatic,
or Lord"?
The Global War on Christians: Dispatches from the Front Lines of Anti-Christian Persecution by John L. Allen, Jr.
---
May/June 2014 - Purchase Issue - Subscribe

---
Featured issue from the archives--most articles newly available online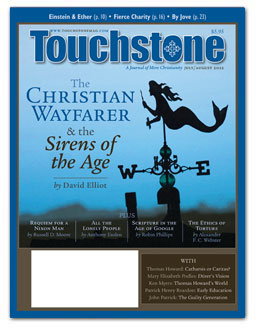 On an Unnoticed Transformation of the Cause of Disease
On Albrecht Dürer's Vision of the Seven Candlesticks
---
July/August 2012 - Purchase Issue--reduced price, free shipping - Subscribe
Read what others are saying about Touchstone
Search the Touchstone archives
Touchstone is a Christian journal, conservative in doctrine and eclectic in content, with editors and readers from each of the three great divisions of Christendom
—Protestant, Catholic, and Orthodox.
The mission of the journal and its publisher, The Fellowship of St. James, is to provide a place where Christians of various backgrounds can speak with one another on the basis of shared belief in the fundamental doctrines of the faith as revealed in Holy Scripture and summarized in the ancient creeds of the Church.